Now you can color and condition your client's hair in just five minutes with one quick and easy step thanks to the new Biolage ColorBalm Color Depositing Conditioners. These color depositing conditioners come in seven natural-to-bold vegan shades, are paraben- and mineral oil- free, and will leave your client's hair ten times more conditioned after just one use. Plus, ColorBalms is suitable for use on all hair types and on all levels.
We love how ColorBalm shade Earl Grey provides a silver tone for light bases level 8-10, and even more to love is just how easy the application is.

Step-by-Step:
1. Shampoo with Biolage ColorLast Shampoo and towel dry hair.
2. Spread ColorBalm evenly through the hair using fingers and a comb.
3. Process five to ten minutes depending on desired level of intensity.
4. Rinse and style.
5. Direct clients to reapply once or twice a week, depending on hair porosity and desired results.

Pro Tip:
Prior to ColorBalm application, gently cleanse with a low pH shampoo like ColorLast Shampoo to prep the hair.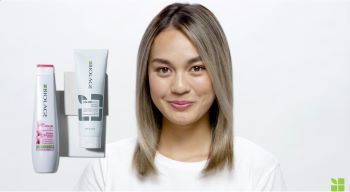 About Expert
Discover expert advice from Biolage and the industry's most trusted artists and educators. Whether it's the latest, on-trend techniques or tips that will boost your business, they're here to make sure you reach your full potential!
up next
5 Secrets For Strengthening Your Clients' Hair
5 Secrets For Strengthening Your Clients' Hair
Written by 
Biolage Education Team
Oct 2, 2023
Read time  min