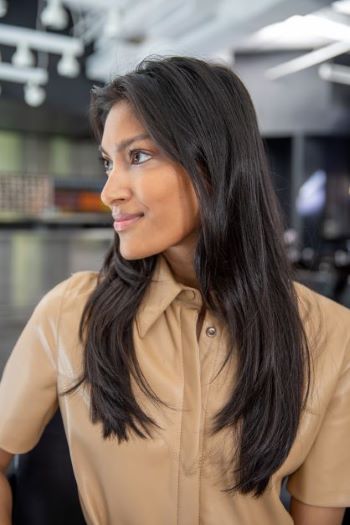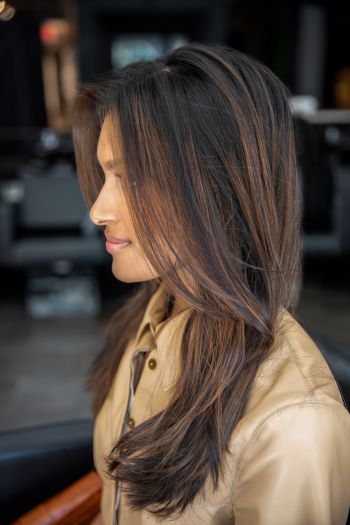 Source: Courtesy of Redken
Redken Brand Ambassador Philip Foresto (@philipforesto) knows that his clients express themselves through their hair. And so he takes pride in creating a tailor-made approach for each guest, and his client Pritika was no exception. She came in with beautiful level 4 virgin hair, and Philip gave her the caramel highlights of her dreams. Check out how he created Pritika's look below.
Lightener Formula:
Flash Lift Bonder Inside Lightener + 30-volume Pro-Oxide Developer
Lightener Technique:
Balayage in Foils
Section hair into four quadrants starting at the nape of the neck and working up the back of the head.

Take diagonal back sub-sections and create large weaves with a soft backcomb.

Paint the hair and then secure between two foils.

Then, move towards the front of the head, starting with the temple areas, and work with a pie section up the head to the natural part. Use a large weave and soft tease at each section. Paint the hair and then secure between two foils.

Process at room temperature for up to 50 minutes.

Rinse and shampoo thoroughly.
Shades EQ Gloss Formula:
2oz. 06NB + 2oz. Shades EQ Processing Solution
Apply globally.

Process for 20 minutes.
Haircare and Styling:
Shampoo and condition with Acidic Bonding Concentrate Shampoo and Conditioner

.

Prep damp hair for bouncy curls with Big Blowout.

Once dry, finish with Oil For All for incredible shine.

To ensure a prolonged style, add some Deep Clean Dry Shampoo in the part line and around the face.
About Expert
Discover expert advice from Redken and the industry's most trusted artists and educators. Whether it's the latest, on-trend techniques or tips that will boost your business, they're here to make sure you reach your full potential!