Summer in the salon is a special time. Clients are happy and relaxed and bursting with stories and memories from their beach getaways and family get-togethers. Unfortunately, their hair often bears the evidence of all that summer fun. Throughout June, July and August, you're dealing with dry, dehydrated strands; damage from sun, salt and chlorine; oily scalps; droopy curls and faded and off-tone hair color. Are you up to the summer hair health challenge? Here's how three of your fellow pros deal with summer hair woes.
COLOR CARE
As a celebrity stylist in Florida, Sunnie Brook handles hair color maintenance challenges year-round. She encounters unwanted undertones, off tones, fading and general damage from frequent exposure to saltwater, sunlight and pool chemicals. The key to avoiding these problems, she asserts, is prevention. "Before my clients start spending time at the beach, I suggest they use Biolage All In One Coconut Infusion Multi-Benefit Treatment Spray for heat and color protection," she says. "It's a great all-purpose formula that also keeps the hair shiny and fights frizz. I love to spray it on the ends before swimming to protect hair from pool chemicals and make it easy to detangle after swimming." Hair masks are the other go-to tools in Brook's hair care arsenal. "Any time is mask time—before and after sun exposure," she says. "Biolage Color Last Deep Treatment Pack is a must for reviving hair color. Another idea? Tell your client to apply the mask to damp hair before she heads to the beach. The heat will activate the formula while protecting her hair, and when she rinses it out her strands will be unbelievably soft and hydrated."
LIMP, NO BODY
Some hair types swell like crazy in hot and humid summer conditions. Other simply fall flat, losing all body and volume, as well as curl definition. Biolage Artist Danielle Keasling turns to Hydra Source Detangling Solution for Dry Hair when clients' curls have lost their spring and bounce. "This is my go-to product to hydrate and define natural texture," she says. "It locks in curl moisture without losing curl bounce. It's lightweight and doesn't weight the hair down. It also controls frizz and flyaways."
Clients with fine, straight hair may also experience a loss in body and volume in hot summer months. In these instances, Keasling recommends switching to lightweight hair care products that add some extra volume. She often recommends Biolage Volume Bloom Shampoo and Conditioner for Fine Hair. "These products are gentle on fine hair," she says. "They never add weight to delicate strands, so you don't sacrifice volume for moisture. I also show my clients how to get an extra boost with a hair expanding leave-in like Biolage Volume Bloom Full Lift Volumizing Spray for Fine Hair."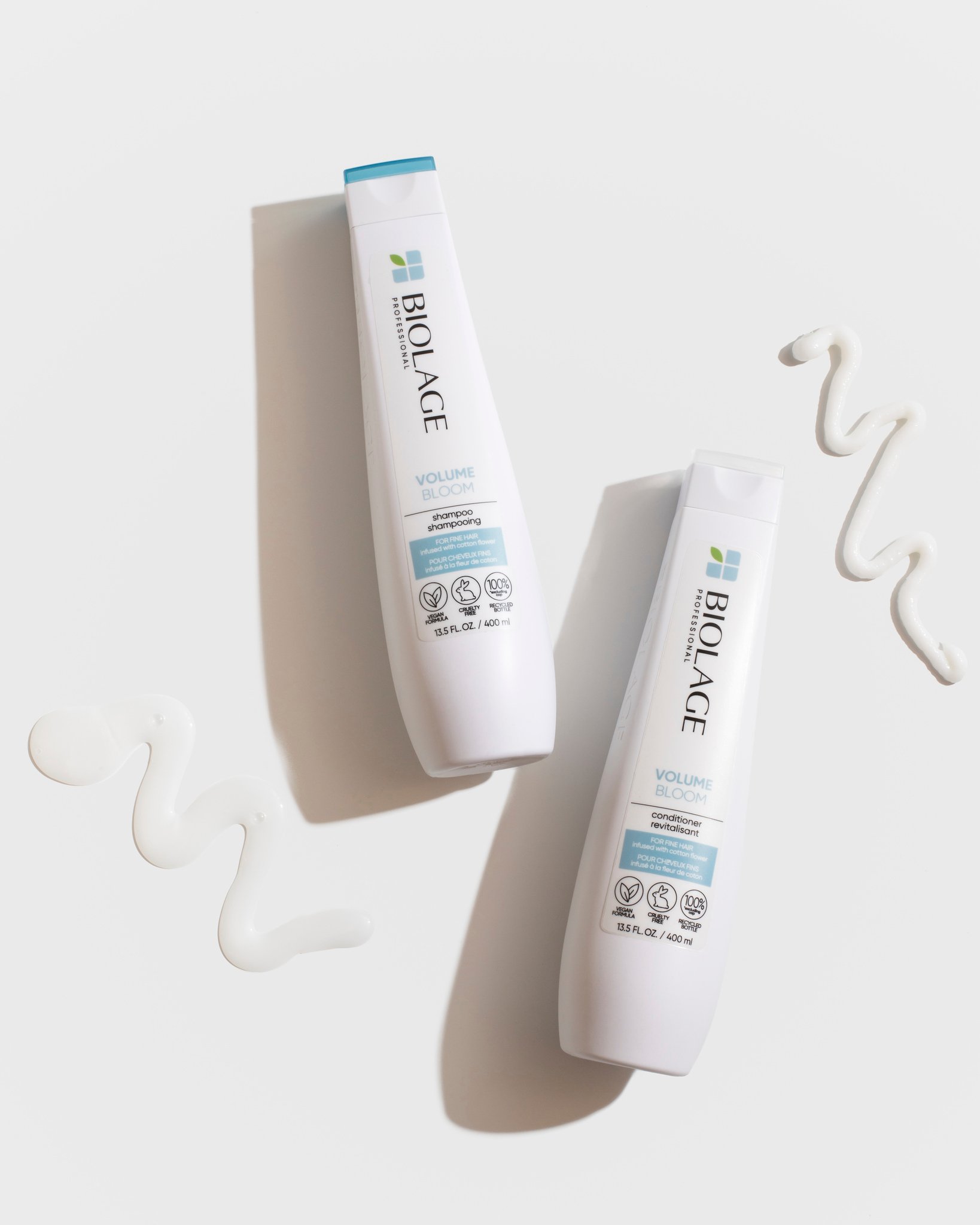 MOISTURE LOSS
Summer can suck hair dry, especially if it already tends to be short on moisture, and dryness can lead to dullness, frizz and flyaways. "Whether it's too much pool chlorine or too much sun exposure, I see massive amounts of dry, damaged hair in the summer," says Celebrity Stylist Monae Everett. Her strategy starts with a deep cleanse, using Biolage Clean Reset Shampoo
"It's a deep cleanser that removes all residue and prepares the hair to receive moisture," she explains. "If there is buildup on the scalp, I may treat it with an exfoliator like Biolage All In One Shampoo Scrub." The next step is a deep conditioning mask. Everett usually turns to the Biolage Hydra Source Deep Treatment Pack, which provides intense, penetrating moisture.After treating hair with the Hydra Source mask, she says the deep hydration takes effect instantly and fried summer hair is revived. "For hair care throughout the rest of the summer," she says, "I recommend cleansing with Biolage Hydra Source Shampoo and using the Hydra Source Deep Treatment Pack regularly. My clients tell me these formulas transform hair from damaged and uncooperative to hydrated, shiny, and bouncy."
About Expert

Discover expert advice from Biolage and the industry's most trusted artists and educators. Whether it's the latest, on-trend techniques or tips that will boost your business, they're here to make sure you reach your full potential!
up next
How-To: Effortless Holiday Updo

How-To: Effortless Holiday Updo
Written by 
Biolage Education Team
Nov 6, 2023
Read time 5 min