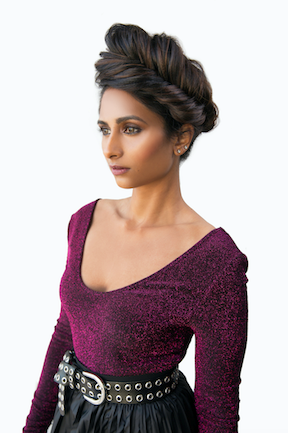 When cooler weather hits, it's the perfect time to learn new styles for the season that will excite guests. "This look is for the gal that has a tremendous amount of hair. Locks are woven into a fishtail crown to create a quick up style that has tons of volume in all the right places, with a delicate natural detail that makes it wearable for any event," explains Anna Peters, Sam Villa ArTeam.
Holiday How To: Braided High Crown
1. Apply Redken Guts 10 through first inch of roots for control and volume, and then apply
Redken Satin Wear 04
through out mids and ends for heat protection and an easy blow dry.
2. Using the
Sam Villa Artist Series Professional Blow Dryer
for faster drying and extra shine (with the ions option on) and a
Sam Villa Artist Series Polishing Paddle Brush
, directionally blow dry hair from the back to the front hairline.
3. With the
Sam Villa Signature Series Textur Professional Texturizing Iron
, inject texture, volume, and grip into the hair by sliding the iron down random sections and compressing versus going section by section. This will create a more natural finish and save on time.
4. Flipping head up side down and starting at one corner of the nape, create an attached fishtail braid incorporating all the hair from the sides and moving diagonally up the back of the head to the opposite side hairline. Once at the hairline, continue the fishtail braid all the way to the ends and secure with an elastic.
5. Gently pull braid to create fullness, one side at a time, starting at the elastic and working up towards hairline. Then, pull braid back onto itself and place along hairline. Tuck ends into hair and secure braid with grips.
Credits: Hair/Sam Villa ArTeam; Photo/Katie Parker; Wardrobe/Brittany Hart; MUA/Nicole Schimel; Model/Nausheen Ahmed @nausheen_ahmed
About Expert
For over a decade, Anna Peters has been sharing her passion and love for our industry, motivating others to grow and thrive! And as a full-time stylist and salon owner, she can relate to the challenges salon pros face. Education has always been a constant in her career and a catalyst for success. As a former Redken educator, she understands the importance of what a beautiful cut or style can do for color. "Whether I'm on a photo shoot, at the MTV VMAs or with a bride in my salon, I find a calming energy in [styling]," she adds. She realized early on that Sam Villa® tools were different and created to give stylists the highest quality tools to better their lives and inspire them to stay passionate and curious about what they do every day. "The tools and knowledge that Sam Villa has shared with me has allowed me to reach new levels as a stylist and business owner…and I want to pass that knowledge on to others," says Peters. Peters believes that there are no closed doors in our industry, you just have to put in the work!
up next
The Secret to Making Thicker Braids
The Secret to Making Thicker Braids
Written by 
Anna Peters
Nov 4, 2019
Read time 5 min