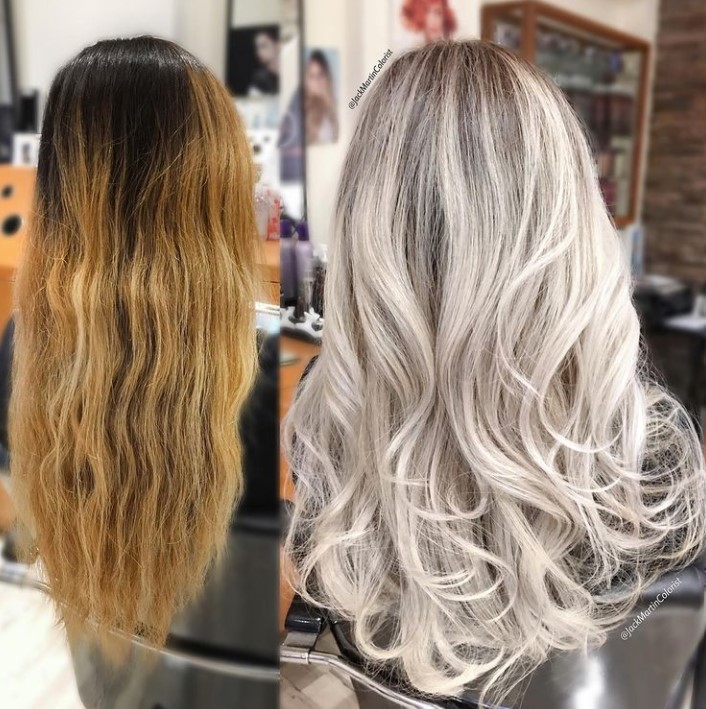 Source: Photo Courtesy of Jack Martin (@jackmartincolorist)
It's the declaration you dread from every hair color client. Sick of her ashy roots and too-often trips to the salon, she informs you, "I think I'm ready to go grey." Ugh. Bye-bye every three-to four-week retouches. So long big, regular hair color tickets. It was nice knowing you.

But don't give up yet. Gone gray doesn't have to mean gone for good. There are still plenty of ways to contribute to your gray clients' ongoing upkeep. "As a hairdresser, you need to help clients and their aesthetic identity—that's what you do for a living," says Aquage Founder and color expert Luis Alvarez (@luis.alvarez_hair.color). "If a client says, 'I'm at a point in my life where I want to play off my gray,' it's your job to help them do it in the best way possible."

Here are strategies that will keep your gray clients looking chic…and keep your service and retail income looking healthy. It all starts at the beginning, with the transition.

Matching Gray Roots to Colored Hair
If your grey client has been coloring her hair rather than gray blending, a "cold turkey" stop may not be viable. For example, say she has been sporting (thanks to you) a warm, auburn brown hair color. Very shortly, as an inch or two of ashy gray roots appear, she'll see a very unattractive contrast! Transitional color specialist Jack Martin, (@jackmartincolorist), routinely performs gray matching and blending services, and each one is a lengthy, multi-step process. A recent post on his Instagram feed, for example, shows a beautiful transition that required nine hours in the salon. The process included color removal, micro-highlights, lowlights, pre-toning and toning, plus shampoo and conditioner, a trim and blowout. Ka-ching! If you, like Jack, become known as a gray specialist, you will be able to charge a premium for these labor-intensive transition services. To build your reputation, post plenty of before and afters of your gone gray work on social media.

Highlights and Lowlights
"Natural" gray hair isn't always the best gray hair. If a solid white client has fine hair, for example, some cool lowlights will give the hair dimension and a thicker appearance. The flat white may be a favorite coffee order at Starbucks, but when it comes to gray hair, it's rarely flattering. "You want the same type of dimension that you see in natural hair color—namely, deeper roots that gradually morph into lighter ends," says Los Angeles hairstylist and SalonCentric #ItTakesAProTeam Member Jessica Warburton, (@hairhunter). "I always create a darker base that floats into lighter dimension on the ends," says Jessica. "Solid gray or silver hair color looks like a mistake."

Toners
Nothing is worse than dull-looking gray hair. In those instances, it's not the color that ages a client, it's the drabness. So for many gray clients, regular toning is a must. A violet- or blue-based toner will cancel out unwanted warm tones and keep gray hair looking cool and sparkling, and Martin believes silver foxes should be toned every four to five weeks. Your gray clients can also have fun with toners. Gray strands offer a beautiful base for subtle fashion tones like rose quartz or glacier blue or lavender macaroon. Keep the toner sheer to maintain dimension and be sure your color choice is harmonious with her complexion, eye color and overall style.

Frequent Haircuts
If a client opts to embrace her gray hair, a sharp haircut will make all the difference between looking sloppy and looking intentional. A chic pixie, bob, shag or lob will make the most of your client's dimensional gray color, and together, the silver hue and well-executed cut adds up to a stylish statement of confidence. Sharply-executed hair cuts require regular maintenance, so your client should be rebooked for frequent trims, at which time you can also refresh her gray with toner.


Makeup Makeovers
If you offer makeup in your salon, it's time for an update. Your newly-gray client will likely need to explore new foundation shades and revised color palettes for eyes, cheeks and lips. Beautifully groomed and regularly maintained brows are also essential when a client opts for gray color to keep her overall appearance on point. This is the time to book her in for brow shaping or waxing and get her on a regular maintenance schedule.
Retail Refreshes
If you don't take your client directly from the chair to the retail area after finishing her transition service, you're losing out big time. There are quite a few beauty items that should be on the gray guy or gal's checklist and it's likely they don't own any of them, yet.
First, gray hair can be coarse and wiry in texture, so start with a rich, nourishing hair mask to keep hair soft and supple. Instruct your client to apply it once or twice a week. Add a
purple shampoo
formulated for blonde, gray and silver tones to help keep unwanted warm tones out of her hair between toner applications. As mentioned before, shine is critical for a healthy, youthful appearance. Take a cue from Matrix Artistic Director Michael Albor (@michaelalborhair), who recommends sulfate-free
shampoos
and
conditioners
that are infused with lightweight oils, as well as oil-treatments that prep damp hair for styling, to his gray clients. Thermal tools can cause gray hair to become dull. So top off her shopping spree with a heat protection product that will protect her color from fading and her hair from becoming damaged when she uses her blow dryer or styling irons. Finally, add a styling cream or gel that will allow her to air-dry her cute cut whenever possible!
Most important of all is to assure your client that you will continue to be her guide on her newest hair color journey. "I tell my gray clients it's like baseball," Jessica says. "They have to trust me to be the coach and follow my instructions. If they do, I can make them a star player."
For more on how to increase your revenue check out our pricing guides.
All The Ways To Price Your Specialty Hair Color
3 Ways To Price Your Balayage.
How To Charge For Add-On Services