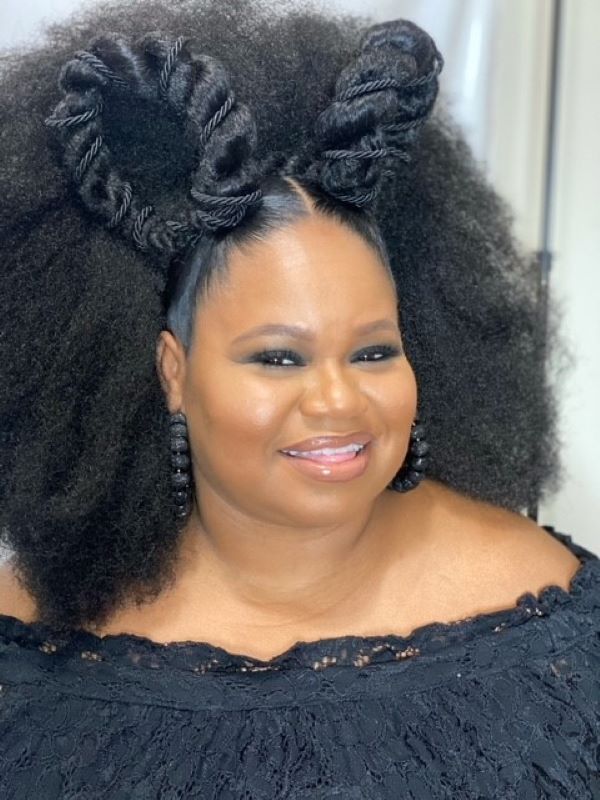 Known as The Knotless Queen, natural hair stylist and cosmetologist Kamilah Gerestant (@MsHairandHumor), is all about celebrating the beauty of braids and natural hairstyles. Her most recent collection, #TheZodiacQueenProject, brought natural hairstyles inspired by each sign of the zodiac to life. The first look in her collection called "The Twisted Capricorn" is a mix of natural texture with two shiny and sleek twisted ponytails set against a big, beautiful backdrop of afro-textured hair. "This style is perfect for natural hair clients because they can get the look of 'big hair' without compromising the health and integrity of their natural hair as it's tucked away," says Gerestant. Here, she walks you through the steps for re-creating this style.
Step-by-Step:
Prep hair by blowdrying the front and flat-ironing.

If needed, use a great edge control product which provides amazing hold for natural hair while also giving high shine. No need for extra hairspray at the end.

At the front of the head, part hair in two.

Using Marley hair, create two jumbo twists and pin into position. When creating the twists, make sure you are twisting each "leg" of the twist individually and then crossing over so it is neat. Make sure the jumbo twists are not too heavy as it will not be able to support itself and hold the circular shape.

Wrap a smaller twist around the jumbo twist and secure.

Once the jumbo twist is created, take a small rope twist or create a smaller twist, wrapping it around the base and looping it around the full length of the jumbo twist.

Shape the jumbo twist into a circle and lock into place with hair pins.

At the back of the head, use Marley hair to create textured fullness.

Finish the look by applying a sheen spray for a natural shine.
Pro Tip:
For stylists unfamiliar with servicing natural hair clients, seek out education on the basics of natural hair and products. Natural hair looks powerful but is extremely fragile so before exploring what can be done, it's necessary to learn about coily, kinky hairin order to understand how to manipulate curls and coils safely.
About Expert
Maureen is a veteran beauty and style editor having worked at AmericanSalon, Woman's Day, People StyleWatch and Teen Vogue, and a contributor for CR Fashion Book, Well + Good, Elite Daily and Glam. You can find her reporting on the latest trends from backstage at New York Fashion Week, interviewing celebrities and beauty industry heavyweights, and fashion styling for editorial photo shoots. The self-professed product junkie, super foodie and wannabe hand model is obsessed with rose gold jewelry, the NYC Flower Market and planning her next big getaway.
up next
What I Learned About Beauty From My Abuela
What I Learned About Beauty From My Abuela
Written by 
Maureen Sheen
Sep 14, 2023
Read time 5 min