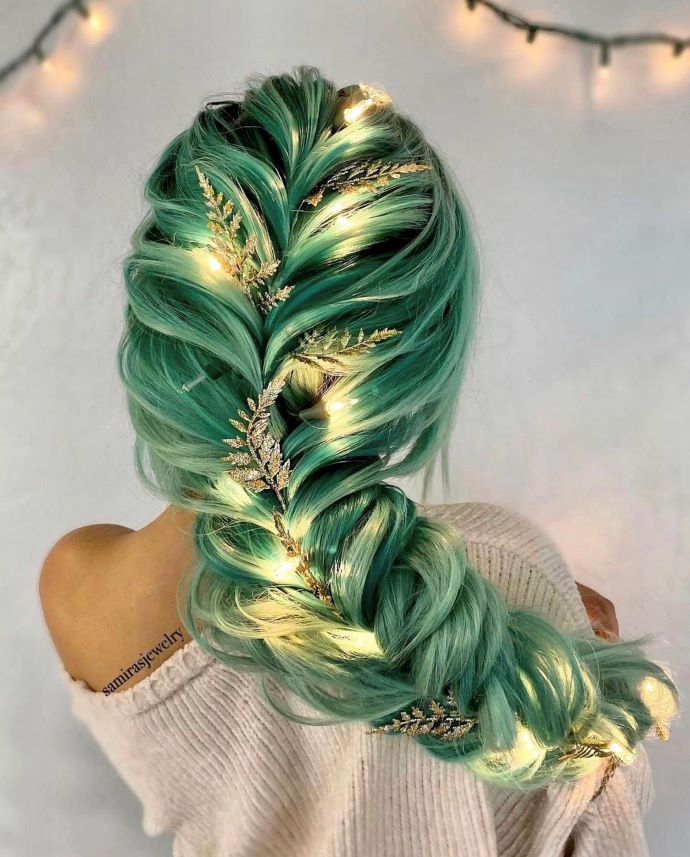 Source: Courtesy of Shayla Robertson (@samirasjewelry)
Step-by-Step
Spray hair with a shine spray like SexyHair Rose Elixir or SexyHair Re-Dew and brush well.
At the crown, take a one-inch section and create a small ponytail with clear elastic.
Secure the switch on lights in that ponytail. Make sure it's divided into equal-length when hanging from ponytail.
Then take one-inch sections from both sides and the lights in the middle, holding together lower than the ponytail above, and create another small ponytail. Keep the elastic in with a medium hold, don't make it too tight. This braid is like a Topsy Tail, but without twisting it or turning the ponytails.
Continue taking sections from outer corners towards the middle and creating ponytails in the middle back.
They should start looking like braids. Spray with shine spray as needed to tame flyaways. Keep creating small ponytails until you reach the ends.
Starting at the bottom of the braid, pinch with two fingers and expand outward so that some pieces of hair slightly create light ridges and volume. Spray SexyHair Get Layered for hold.
Don't expand the hair too much. Start with a little and expand more as you need.
Add accessories from a crafts store for additional detail. These lights and leaves were purchased at Hobby Lobby.
Products Used
SexyHair Rose Elixir
SexyHair Re-Dew
SexyHair Get Layered
About Expert
Discover expert advice from SalonCentric and the industry's most trusted artists and educators. Whether it's the latest, on-trend techniques or tips that will boost your business, they're here to make sure you reach your full potential!