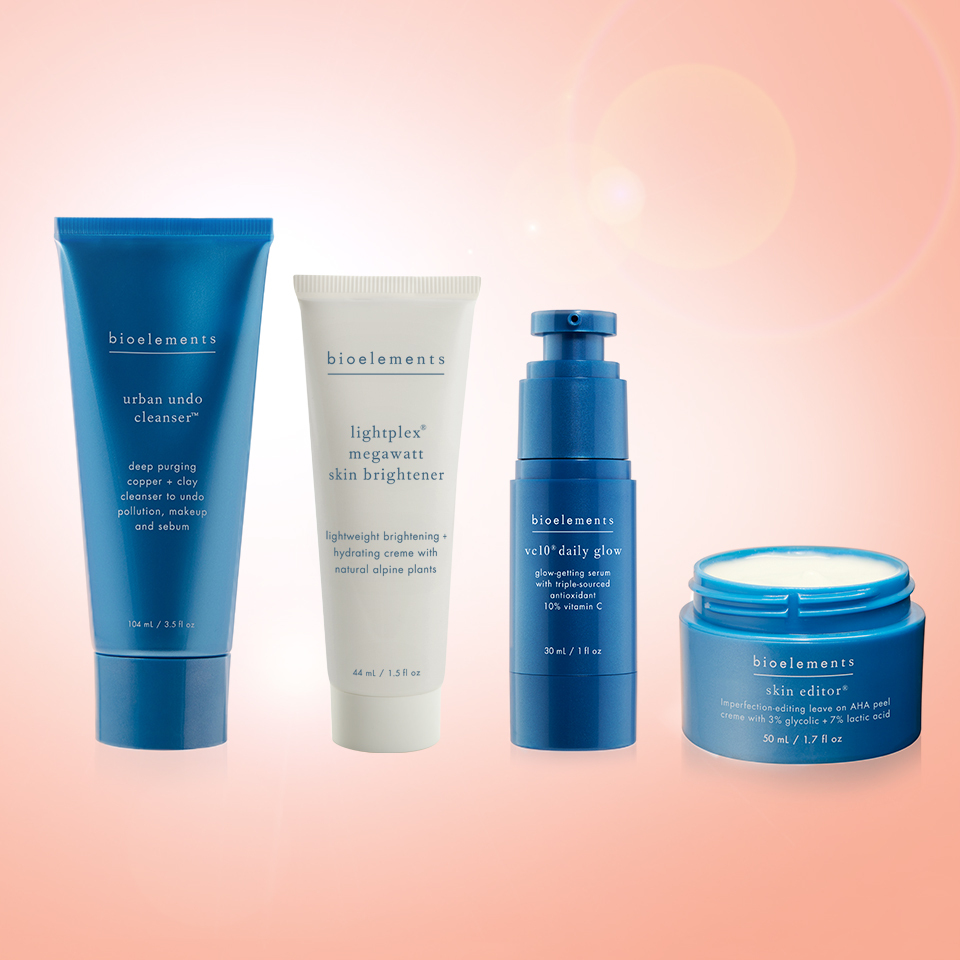 Source: Courtesy of Bioelements

A serious shift in skin care has occurred. You may think it coincided with the pandemic, but this seismic change had begun well before COVID-19. And since the pandemic began, it has only fueled the transformation of how our clients view their own beauty standards and personal care mindset.
So what is this big shift? Let's start by looking at which demographic is most likely a significant percentage of your clientele: millennials. In 2020, millennials are 24-39 years old which means that many of them they are starting to take skin care seriously. They may be worried about new dark spots and UV damage, or signs of skin elasticity breakdown and loss of firmness, or they may be frustrated about hormonal breakouts that pop up each month.
A few years ago, if you asked these clients what their ideal skin would look like, many of them would have praised the appearance of a heavily made up Kardashian, a glittery eyeshadowed pop star, or a famous YouTuber who posts hour-long makeup tutorials. But if you ask these same clients today what their ideal skin would look like, many will say this: they simply want naturally glowing, healthy-looking skin. Not artificially produced or covered up by makeup or an Instagram filter, but achieved naturally through proper skin care.
In the past year alone, Google searches for 'glowing skin routine' rose by a whopping 90 percent. In contrast, searches for the term 'contouring' hit a five-year low this past March. The same goes for the makeup term 'strobing.' These were originally the makeup techniques that millennials loved and sought out for themselves as they were the "hacks" to faking glowy, flawless, 'gram-worthy skin. But just before the pandemic, these trends were fading away in favor of attaining great skin sans makeup. According to The NPD Group(1), during February and March of 2020, total U.S. prestige beauty sales grew three percent in dollars, with skincare showing stronger performance than makeup and fragrance.
The COVID-19 pandemic only solidified this changing preference. Minimalist and low maintenance routines are becoming the norm for many who began working from home. Makeup sales continue to decline, and recent studies conducted by Opinium(2) revealed several supporting statistics, including:
25 percent of Americans are wearing fewer color cosmetics

39 percent are enjoying feeling like a more natural version of themselves

29 percent are using skin care products more often

28 percent are using more face masks
So, we know now that millennials want glowing skin naturally, achieved through smart skin care agendas. And that's where you come in. We may be entering the golden age of aesthetics, and it's the perfect time for you to establish yourself as the ultimate glow guru. Here, the glow-getter's guide for client talking points, at-home agenda strategies, and professional service recommendations for you to share with your clients and to establish yourself as the skin care authority.
The Glow-Getters Guide for Millennial Clients
1. Talk Toxins
Talking points to share with client:
In today's world, we are constantly bombarded with factors that can cause skin toxicity and make it harder for skin to glow. Pollution, stress, and poor nutrition are some of the top causes of skin toxicity. If you don't protect against these factors, and encourage skin's natural detoxification process, skin will be vulnerable to a slew of concerns from dullness to clogged pores and more. Wearing a protective face covering due to COVID-19 can also increase these signs of irritation and congestion due to humidity and friction when in use.
At-home agenda:
Undo the daily damage of pollution and environmental stressors with a malachite-based formula like Bioelements Urban Undo Cleanser. It's clinically proven to inhibit the skin-aging damage caused by urban dust (the particulate matter found in pollution).
Professional Service:
Add the Bioelements Pollution Neutralizing Facial to your service menu, and educate clients on its ability to target and revive dull, prematurely aging skin with deep purging and heavy-metal scavenging formulas.
2. Teach Good Glow Habits
Talking points to share with client:
A big component of glowing, healthy skin comes from lifestyle. Improper skin care habits, vaping, tanning, lack of physical exercise, poor diet, stress, and lack of sleep all contribute to an unhealthy body, which reflects in the skin's appearance. To make skin glow, get more sleep, avoid the sun, exercise, eat a diet high in vegetables and fruits, and use the right antioxidant skin care.
At-home agenda:
Add an antioxidant vitamin C serum to their daily routine. For clients who may have had a negative experience with vitamin C serums in the past (irritation, product oxidation or bad odor), make sure you offer a clinical formula that is precisely calibrated for effectiveness and stability, with a natural scent they'll love. Bioelements vc10 Daily Glow is the ideal recommendation.
Professional Service:
Practice makes perfect, right? A good glow habit for clients to practice is receiving regular facials personalized to deliver exactly what their skin needs throughout the year. Offer a promotion on your vitamin C serum when client books a series of facial services.
3. Be Hyperaware of Hyperpigmentation
Talking points to share with client:
Many women first notice skin discoloration or dark spots during their 20s and 30s, right where millennials are today. Hyperpigmentation is triggered by UV exposure, hormonal imbalances, or injury, robbing skin of its natural glow. Rather than grab a heavy concealer, it's better to protect skin from potential hyperpigmentation, and target discoloration before it becomes pronounced. Consistency is key when it comes to targeting hyperpigmentation, so stick with the recommended agenda and you'll see results.
At-home agenda:
Discoloration can be successfully spot-treated with ingredients that target melanin production by helping to interrupt tyrosinase activation. Bioelements LightPlex GiigaWatt Dark Spot Corrector and LightPlex MegaWatt Skin Brightener include alpha arbutin, a patented molecule called dimethylmethoxy chromanyl palmitate, and natural alpine plants. Combined, they work on all seven stages of pigmentation development. The sun also fuels hyperpigmentation, so daily use of a broad spectrum sunscreen is a must for successful results.
Professional Service:
Every spa menu should include a Depigmenting and Brightening Facial to help clients achieve glowing skin. Make sure it includes clinical formulas with high-tech skin brighteners backed by proven results. And don't forget to show off before + after service images on your social media accounts!
4. Ditch Dead Skin Cells
Talking points to share with client:
As we age, our ability to shed dead skin cells decreases, which leads to dull, dry, flaky skin with zero glow. Millennials are now experiencing the effects of a slowing cellular turnover process. The cycle of cell production, shedding and replacement can be 28-45 days by age 30, and 45-60 days by age 40. To assist with speeding up this process, you need to exfoliate. Chemical or physical exfoliation will minimize congestion in pores and remove dead skin cells, which cause the skin to look flat and dull.
At-home agenda:
Choose the physical or chemical exfoliator that best works for your client's skin according to their SkinReading. If they are new to an at-home exfoliator, make sure they ease into use so skin can adjust accordingly. And be sure to teach them not to over-use it, or scrub too hard, as this can damage the skin barrier. Bioelements Skin Editor is a perfect choice for new-to-AHA skin.
Professional Service:
Millennials may be scared of traditional chemical peels, and rightfully so. Just as they do not want to hide their skin behind heavy makeup, they also do not want to hide their skin for days recovering from the peeling and flaking of an old-school chemical peel. Offer them a peel with instant glow gratification but no downtime like Bioelements Ultra-Detox Chemical Peel.
4. Hydrate Hydrate Hydrate. Then Hydrate Some More
Talking points to share with client:
When skin is dehydrated, it lacks needed water, which can lead to dullness. Dehydration can also lead to congestion, and breakouts, or exacerbate other skin conditions. Drink plenty of water each day, but don't forget that your skin is your body's largest organ, and can still be dehydrated even when you consume enough water. Topical daily hydration is essential for maintaining glow.
At-home agenda:
Take advantage of the millennial uptick in facial mask use, and recommend a super hydrating mask one to three times a week. Some of the best professional formulas are designed to be left on overnight for a serious skin soak like Bioelements Collagen Rehab corrective treatment mask.
Professional Service:
Get personal. Custom Blend your clients' daily moisturizer with a few drops of a multi-level, deeper hydration blend. Talk to your clients about how you are personalizing the formula for their individual skin, to create instant loyalty, and ensure your client becomes a regular.
On second thought, maybe it's not the "golden age of esthetics" but the "glowing age of esthetics." Our clients no longer want to be influenced by celebrities, they want to be educated by those with real authority. The aesthetician who establishes themselves now as a glow authority with millennial clients may just keep those clients for life.
References:
(1) https://www.npd.com/; (2) https://www.opinium.co.uk/