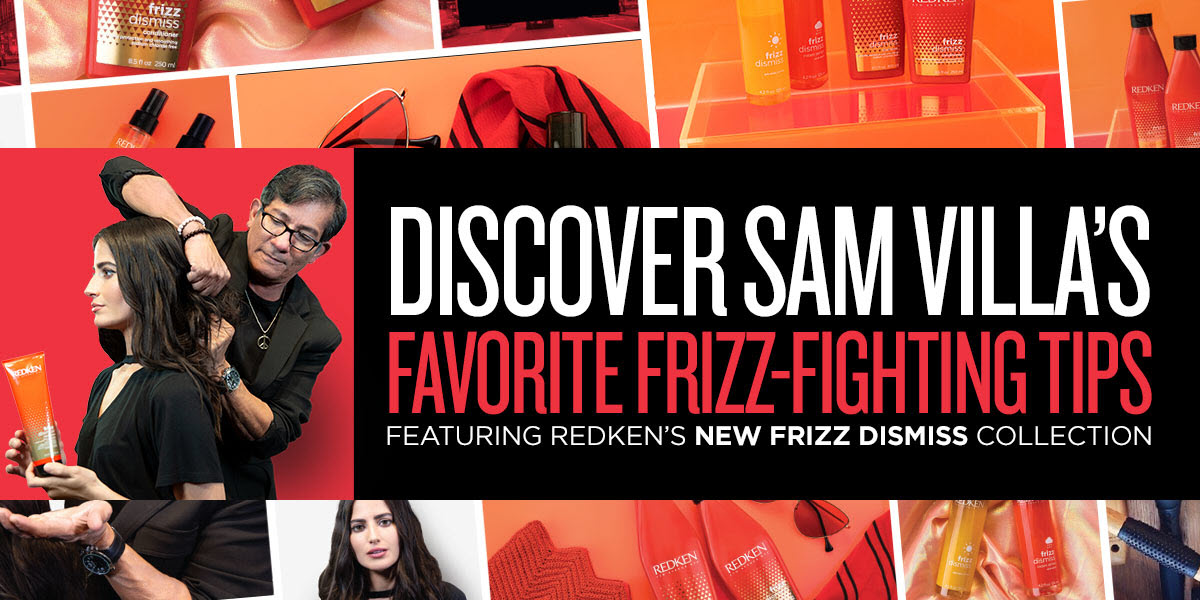 Frizzy hair can be a pain to manage! With the help of Redken's NEW Frizz Dismiss line and a few hacks from the one and only Sam Villa, you can give your clients the smooth, frizz-free locks they have always wanted!

Redken's totally reinvented Frizz Dismiss haircare collection features Sulfate- and Sodium Chloride-free formulas and sustainably sourced Babassu Oil to fight frizz and guarantee silky smooth results with every use.

Here Redken Global Artistic Ambassador Sam Villa shares a few hot tips for using Redken's NEW Frizz Dismiss line on your guests. Offer these up to your frizz clients next time they are in your chair and they will be amazed by the sleek, high shine results!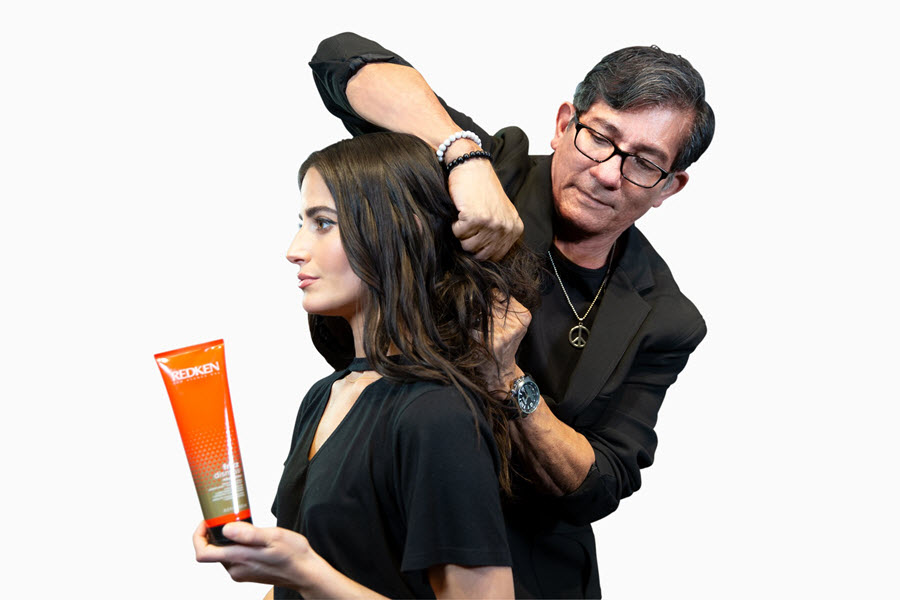 1. Want to control morning frizz on kinky to curly hair? Have your client evenly distribute
Frizz Dismiss Anti-Static Oil Mist
throughout her hair and sleep in a high ponytail with a satin pillowcase. This will help ensure soft, frizz-free curls in the a.m.
2. Have you heard of the praying hands product application technique? To evenly and effectively distribute
Frizz Dismiss Rebel Tame leave-in cream
, take small sections of hair, rub hands over each section in a praying hands positon, and slide out. This allows you to control frizz as you caress the cuticle.
3. Ever wonder how much
Rebel Tame
leave-in cream to apply? Here is a hot tip – Place your hand around your client's hair like a ponytail with your thumb and index finger over the ponytail. Look at the circle to determine how much product to use.
4. Try the pin-it-down technique: Spray a generous amount of
Frizz Dismiss Instant Deflate leave-in treatment
on the top surface of the hair. Comb down the hair before drying to control expansion, fly aways and frizz. With a large- tooth comb, comb the hair down and pin large hairpins against the head, allowing the hair to air dry. Remove the pins and finish with your hands for a soft, smooth result.
5. T-Shirt Wrap Technique: Shampoo and Condition the hair with
Redken's New Frizz Dismiss shampoo
and
conditioner
. Apply
Frizz Dismiss Rebel Tame leave-in cream
with the praying hands technique and finger comb the hair, (hair should squeak after application). Wrap the hair in a T-shirt or microfiber towel and scrunch excess water out of the hair to keep the cuticle compact. Finger comb and diffuse hair on low speed with cool air. Scrunch the hair with the t-shirt and your hands to create soft, frizz free curls!
About Expert
Sam Villa is changing the industry one hairdresser at a time! Whether he's teaching in a hands-on class, on the main stage, or reaching his millions of social media followers, Sam changes people. As the 2017 NAHA Lifetime Achievement Award Winner, he is known for doing things differently to challenge, inspire and motivate. His encouragement to stylists is unrivaled, as he genuinely wants each one of them to reach deep to identify how they can make a change to promote their own growth. His talents stretch far beyond his brilliant cutting and finishing skills; his business tips help stylists think about how they speak to their guests to add value behind the chair. "Sharing is the greatest gift we can give one another…to help each other grow and prosper, we all need to pay it forward," says Sam. With consistent research and a respect for essential techniques, Sam is always on the move for new and unconventional ways of cutting and finishing hair. He shares his knowledge with stylists with the hope that they too will share with others to enrich the industry. Sam is co-founder of the Sam Villa® brand (Allvus, LLC), serving both stylists and consumers with tools including brushes, combs, thermal tools and shears/razors.