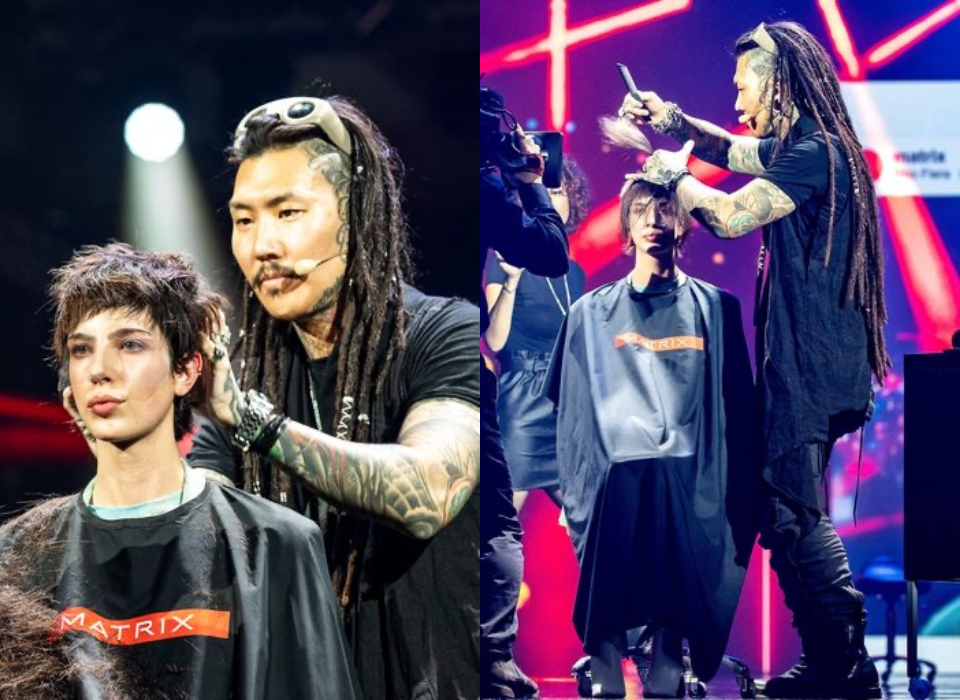 Source: Courtesy of Philip Wolff
Renowned LA-based stylist, educator, Matrix Ambassador and #ItTakesAProTeam Artist, Philip Wolff (@philipwolfhair), specializes in texture types. Since beginning his career in 1998, Wolff has gone on to cut the hair of numerous celebrities, models, and high-end clientele, including the likes of Kim Kardashian and the Samsung family. In 2018, Wolff reached a milestone in his career by partnering with Zen Master to design and create his very own pair of shears called the Wolff Shear.
Read on to learn more about Wolff's journey with Zen Master Scissors.
1. What inspired you to start your career?
I was originally introduced to hair by my mother, who did hair and makeup, after being laid off from a computer manufacturing job at the time. I took that as a sign to get into something totally different, and the beauty industry was the one that kind of chose me in a way.
2. What was your journey in creating the Wolff Shear with Zen Master?
Zen Master was created by Sam Papas of Australia and once we met, we talked about shears and the industry for hours. We clicked instantly and I told him my dream was to create and design my own shear one day. He helped me make that—about 18 months later, the Wolff Shear was born.
I wanted something to my liking, but also something I felt many other artists could benefit from. For me, when it comes to creating a product, it's all about the details as well as superior quality in materials and craftsmanship. With that in mind, we collaborated and co-designed the Wolff Shear to be for those seeking an all-rounder shear. A constant go-to if you will, the shear that fits in your hand so comfortably, it feels like a natural part of you.
Firstly, we wanted a super high-performance alloy, so we chose a Japanese VG10. This is a high-grade of steel that allows for a fluid shape with lifelong stability yet can hold a razor-sharp edge for longer than conventional or lesser grade steels. Secondly, ergonomics was also of the utmost importance. The work we do as hair artists takes its toll on our bodies over the years, so each curve, cut out, bend, chamfer, and rounding of the handle, blades, finger holes and pinky tang was extensively thought out and executed to a super high standard and all done by hand made in small batches. One will not find two that are 100% exactly alike because of this manufacturing method. There is something so personal about an artist's shear of choice and we wanted to make sure we created something that would not only give the performance needed for almost all occasions of cutting, but also to stand the test of time.
3. What are the essential go-to tools in your kit?
The go-to tools in my kit are of the Wolff Shear, in which I use the 7.0" version but there are three sizes available, as well as all sizes available in lefty. Next, are my Zuka Ultimate Onyx Cutting Combs along with the Zuka Ultimate Onyx Cutting Combs that are part of that collection, including clipper combs, barber combs, rat tail combs, etc. I also have my Zuka Onyx Shear & Tool Roll, because one must protect their sharp tool investments and what a better way than this. Lastly, are my razors, my arsenal of round brushes, my Gamma+ XCell Professional Hair Dryer, as well as whatever my styling product of choice is for that occasion.
4. If you had to choose one pair of shears to use for the rest of your career, what would they be?
Zen Master has such an amazing selection of shears no matter what your style or budget, however for me, I'm a bit biased as I will always choose the Wolff Shear. It is available in three sizes 6.0", 6.5", and 7.0", as well as all three in lefty. There's really no reason not to have one in the collection. We designed it to be your everyday, go to, all arounder so for me, it's perfect for my needs as I cut all types of hair textures, styles and shapes wet or dry, coarse or fine, short or long, curly or straight and everything in between.
5. Which three pairs of shears would you recommend to a stylist just starting out?
For a hair stylist just starting out, I'd recommend they start with a cutting shear, a texture shear, and a razor. I would also like to state that not all texture shears are created equally and that there are just as many different types of texture shears as there are regular cutting shears, so do your research and figure out which one is best for you. For beginners, I'd go with a 30-35% texture shear to begin with as it takes out a noticeable amount but nothing too crazy.
6. What is the most underrated Zen Master tool?
There are so many, where do I begin? I'd say there are some real gems when you get into the higher end or specialty shears. You will find very unique blade shapes and shears for specific techniques. The art of scissors is very interesting world if you ever go down that rabbit hole.
7. What was a key moment in your journey as a hairstylist that helped you get to where you are today?
I've experienced countless key moments in my journey as a hairstylist that helped me get to where I am today. And how would that be? I would say because I've been lucky enough to experience almost every single spectrum of doing hair that interested me over the years. The experience gained from all of that has been priceless. From working as an apprentice, to behind the chair, to salon owner, suite owner, runway, celebrity, red carpet, tv (reality and scripted), movie, editorial, magazine, high fashion, commercial, music, campaigns for both professional and consumer, product development, product/tool creation, platform artist, global educator, brand creation, being on and behind camera, seminars, and so on.
8. Did you have any mentors throughout your career?
I had mentors throughout my career but close and from afar I'd say. There were those I worked with closely, those I worked with periodically and those I admired from afar that I eventually got to meet in person, but I just admired either their work or their determination, message and accomplishments.
9. Who do you look to for inspiration?
For inspiration, I tend to find it outside the industry. I pay attention to quite a few other industries that may have nothing to do with hair, but I learn, I get inspired and then start to create in my own way.
10. How do you keep up with the latest hair trends? Any predictions for what will trend in 2023?
I keep up with hair trends in numerous ways. Firstly, I have two kids, so I see what the young are up to. Secondly, I keep my eye on different types of fashion and musicians. Thirdly, I stay up to date with "Hair.com", as that's where I learn what the new coined term is for the trend of the moment. And lastly, I simply refer to what I like or have liked in the past that I haven't seen in a while. Often, this is my choice when it comes to creating something a little different. How trends even come about is quite interesting. Everything comes back around eventually, and truth be told there are many out there that have sported a look for so long, they never left the trend from way back when to begin with lol. For example, the mullet. I remember back in 2017 doing severe bowl cut mullets on social media and it raised some eyebrows to say the least. Fast forward to the end of 2022 and although they've evolved, mullets no longer seem as strange anymore which I absolutely love.
To me, there's a formula that seems to work throughout many industries when it comes to trend or mass appeal. Be bold and daring at first, even extreme. Make a statement and enjoy it. At first it can be shocking. Some absolutely love it, some may even laugh at the idea, but then slowly others start joining in. Then even more join in but they evolve it just a bit, maybe soften it a little or add or subtract something from the original. It then becomes more personalized to a subculture, a style, an aesthetic...a vibe. And sometimes even evolved to a point where it becomes something totally different all together. Some call it watered down, some call it mainstream, call it what you will but all it takes is someone to create or wear something that was inspired by something in their life, or the past, and even if it's not something the masses were expecting, they do it anyway because they simply love it and aren't as concerned about what others think.
11. Next steps or future goals to share?
As 2022 comes to a close, it's kind of surreal to reflect on everything that went on this past year. From doing small intimate hands-on classes to demoing hair in huge auditoriums full of people, from my hometown of Los Angeles to Gothenburg Sweden, Alfredo Lewis and I traveled all over doing live education.
Our goal was to bring live education back to the artists and since the world had that two-year hiatus. The tour was such an amazing experience in so many ways. Connecting with the other artists from all over the world in person and seeing firsthand how important it was to them, as well ourselves, was such a beautiful blend of memorable moments.
When it comes to next steps and goals, we plan to keep bringing it to as many as possible to help keep this incredible industry strong and thriving for decades to come. Afterall, it's the industry that gave me a real chance at life way back when.
About Expert
SalonCentric
Business Building
up next
SalonCentric Uplifts Black Beauty Excellence This New York Fashion Week SS 2024
SalonCentric Uplifts Black Beauty Excellence This New York Fashion Week SS 2024
Written by 
Sarah Dawson
Sep 18, 2023
Read time 5 min