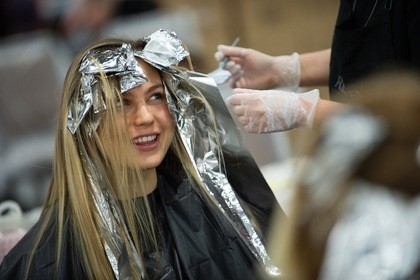 Any established colorist knows how to create an amazing transformation. What they may not know how to do, though, is color their clients in a way that will maximize their earnings potential. And that's where Colornomics comes in.
Taught by Redken Artist Linda Macchi, Colornomics, offered at the Redken Exchange in New York City is a lesson in how to maximize your earnings potential when it comes to time spent behind the chair—in other words, it's the economics of hair color.
Think about it like this: So many of the current trends, from balayage to mermaid haircolor, require a big investment of time to complete. And while these techniques may be able to earn you upwards of $300, they may take up to five or six hours, which breaks down to only $60 an hour. That's not going to help you reach your goals and earn better in the long run.
"The Colornomics class at The Redken Exchange challenges students to change their mindset," she explains. "It's about staying current and up on the trends, but getting the techniques done in a quarter of the amount of time and still being able maximize your earnings per client." After all, she says, "time is money." And since clients don't really want to be sitting in a chair for 3+ hours when they could be out of the salon faster, it's really a win/win for everyone.
The Colornomics class is a three-day program, and pairs haircolor education with business tips for maximizing your revenue with color clients. Then, on the last day, attendees take all of the haircolor trends they've learned and plot out mini service menus using the business best practices presented in the class. Most importantly, they learn how to introduce these services to their clients. "We dive deep into the consultation—it's about selling yourself and selling your brand," says Macchi. "How do you get a client excited in 60 seconds and make her want to say 'yes' to what you're going to offer her?"
For a sneak peek into what stylists can expect to learn in the Colornomics program, Macchi shared her top four business tips for driving your revenue with hair color clients.

GET YOUR CLIENT TO BECOME A LOYALIST
As Macchi puts it, there are three types of clients a stylist will come across: A loyalist, who will always come back to you; an extender, who should be back in the salon in four weeks but extends their style to eight weeks; and the abandoner, who disappears on you. One of the goals of the class is to turn all of your clients into loyalists. "We talk about pre-booking, we talk about retailing, we talk about referrals—we take all of the business components and then create real life scenarios," says Macchi, adding that when stylists get back to the salon after completing the class, they'll not only have great techniques that will keep people coming back, but they'll also be able to make money from them.

DIFFERENTIATE YOURSELF THROUGH SOCIAL MEDIA
A big focus during Macchi's Colornomics class is on social media, and for good reason: Because
social media
can help get new clients in the salon. "With social media, it's bigger, better, different," says Macchi, adding that it's important to differentiate yourself through your social channels (... which means not posting photo after photo of the back of someone's head). "Your Instagram page should be your look book." Throughout the Colornomics course, stylists are expected to post regularly to show their guests what they're doing in order to create buzz, and let them know what they should be excited about when they come in for their next appointment.

MASTER THE ART OF CONSULTATION
"If the consultation is not done the right way, you lose every opportunity to make money and grow your business," says Macchi. "The consultation is huge as far as business, because all a stylist is doing without a great consultation is what that client has agreed to on the appointment book... and that's a missed opportunity, because a consultation is the point of differentiation." And so, a stylist learns to excel in many different areas during the Colornomics course. But one thing each situation has in common? There needs to be a million dollar question. For example, one stylist always asks her guests, "If you could look like anyone, who would it be, and what do you like about her?" which helps give her a sense of exactly what the client wants. "By asking all of these questions, and by finding your own million dollar question, then that sets you up for an amazing visit," says Macchi.
SET CLEAR GOALS
As with any profession, the best way to reach your goals is to know exactly what they are. In order to make the most out of your time behind the chair, ask yourself how much money you want to make and work backwards—break it down into how many days you want to work, and how many clients you want to see, then figure out how much each client needs to spend for you to reach that goal by the end of the year. "If you really want to jump start your income and get to where you want to be, a great way to do it is with hair color," says Macchi. And if you really want to jump start your income as a colorist, Colornomics is the place to learn how to do it.
Learn more about 2019 Redken Exchange class offerings!