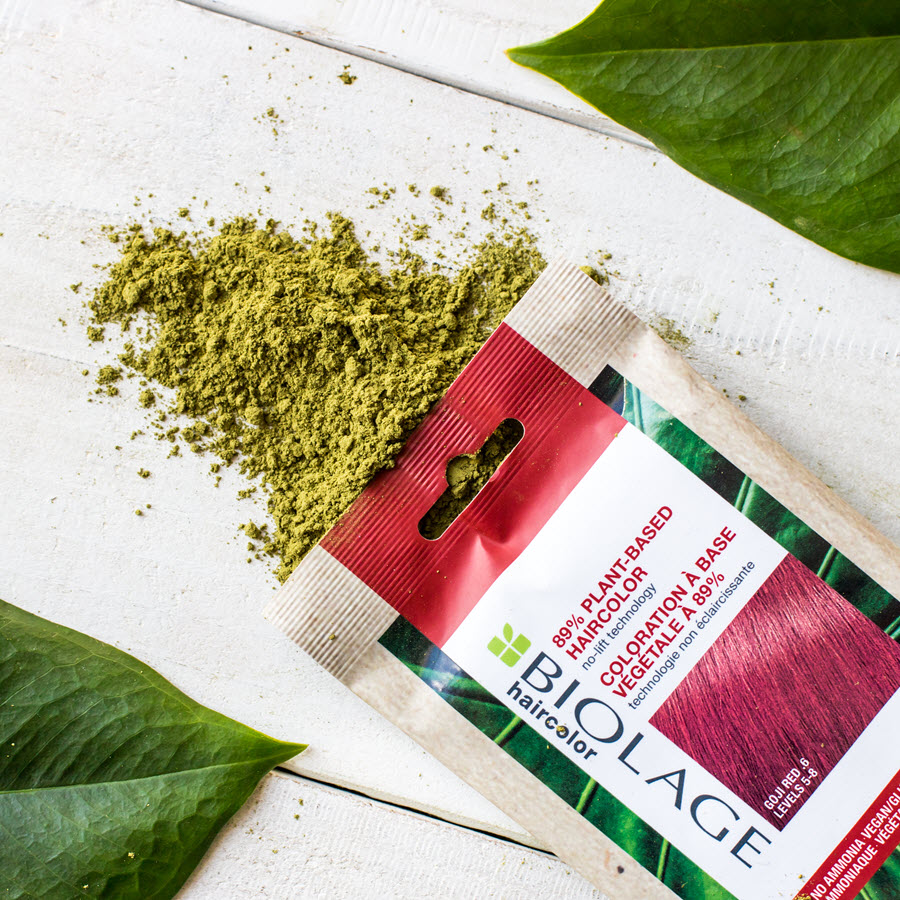 How many of you get that sinking feeling in your stomach just reading or hearing the word henna? Well, you don't need to be afraid any longer. Biolage has launched a new range of plant-based haircolor that contains purified, clean henna.
Traditional henna contains metallic salts which do not react well with any other color, making it next to impossible to get out of the hair. But now,
Biolage Color
has created a deposit only, no-lift, no-ammonia, no-damage plant-based haircolor line. Removing all the metallic salts from henna makes for a clean and purified shade that enables stylists to easily remove it from hair or color over. Also, the palette isn't limited to just red or brown shades as the complete shade palette consists of 20 intermixable hues ranging from lavender blonde to mulberry violet.
Each shade has less than 10 ingredients to deliver brilliant, healthy-looking hair. And 11 of the shades contain clean henna: Elderberry Violet, Chamomile Gold, Pinenut Beige, Rhubarb Blonde, Plum Steel, Chestnut Brown, Clove Brown, Carob Brown, Ginger Copper, Cranberry Brown, Hibiscus Blonde. Coconut oil provides smoothness and shine, and five of the purest direct dyes create a wide-range of shades. The shades also contain cassia leaves to increase shine by 80 percent and strengthens hair.
With henna removal being one of the biggest concerns expressed by stylists, Biolage answered with a new technology that makes removing henna from the hair a reality and not a nightmare. To remove, use a lightener to lighten and lift from the hair―yes, lightener and henna in the same sentence! Check out the video below to see just how easy it is to remove Biolage Color from the hair.
And the breakthrough technology doesn't stop there. The toning shade range allows you to now tone and strengthen the hair in 10 minutes. With natural haircolor services more in demand than ever, you can now offer your clients a wide range of services in significantly less time than traditional henna. For clients who are nervous about color, it's great alternative for the following services: gray blending, toning and strengthening hair, enhancing natural texture and adding shine.
For more on Biolage Color,
watch this tutorial featuring @alfredo-lewis
.
Follow
@biolage
on Instagram to be inspired and learn more.