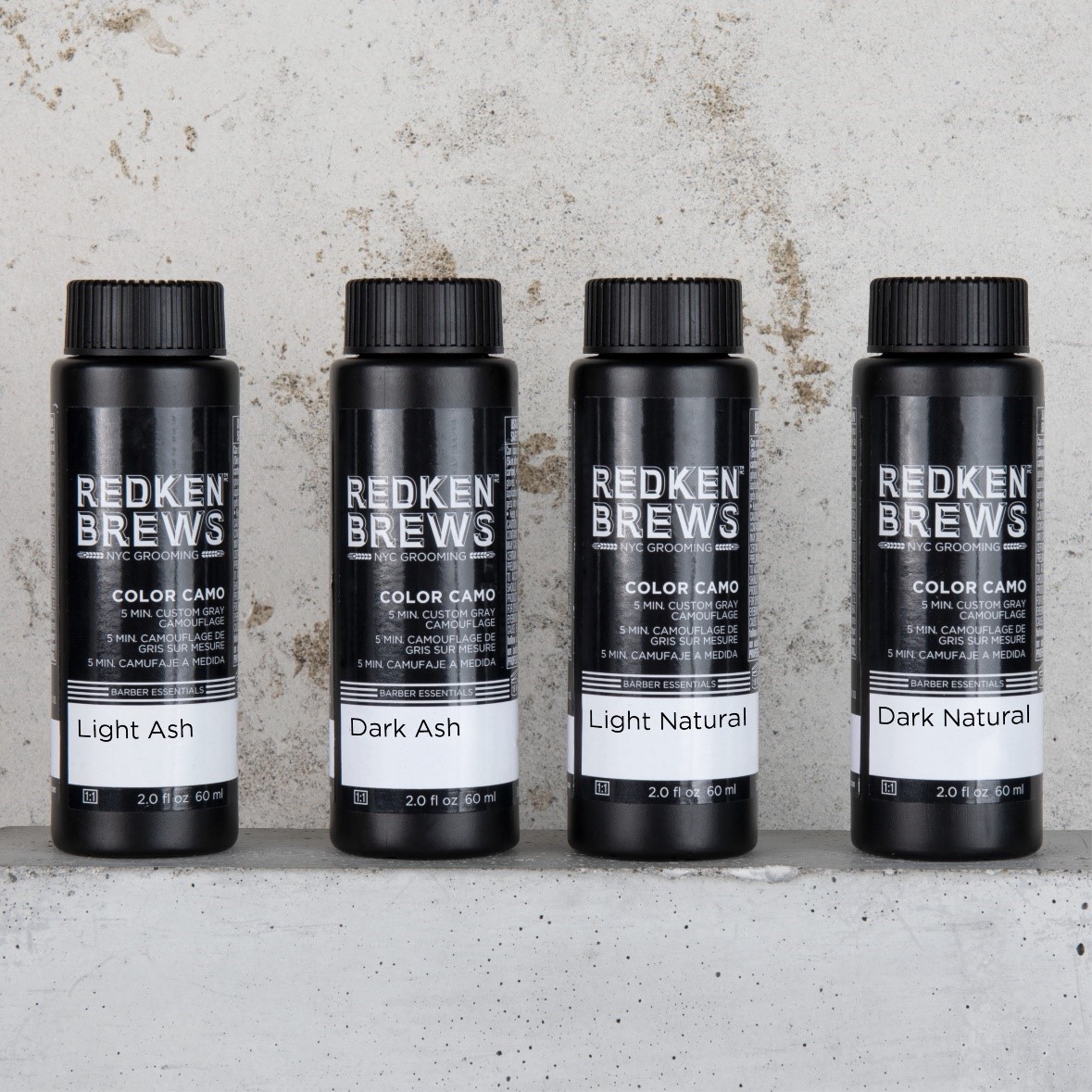 Now you can offer your male clientele the color they're looking for! Offer your clients natural-looking salt & pepper color in 5 minutes. Color Camo is a gray blending service applied at the sink for a discreet application. Did you know? Stylists make an extra $35-$55 with this quick and easy service.
Available in 10 shades in the natural and ash families, Color Camo offers subtle, low-maintenance results for hair up to 50% gray. With a natural fade, Color Camo can be applied at regular haircuts without banding or visible regrowth for an even more natural look.
Used with
Redken's 10 volume Pro-oxide Cream Developer
, camo's gel-like formula adheres to coarse gray hair without dripping
COLOR CAMO TRANSFORMATIONS:


HOW TO USE COLOR CAMO
1. Mix Color Camo with
10 volume Pro-oxide Cream Developer
in a 1:1 ratio. Once mixed, apply immediately to hair.
2. Apply to towel-dried hair using a bowl & brush or applicator bottle in 1/4 inch partings.
3. Start in the area where hair is the most gray—for most men it's the temple area or hairline. Do not overlap with hair that has been previously colored.
4. Process 5 minutes (darkest and black shades, process 10 minutes) at room temperature. Processing time begins immediately upon finishing the application or after the first 3 minutes from beginning the application.
5. Rinse, shampoo and condition with the appropriate
Redken Brews shampoo and conditioner.

HOW TO MIX AND APPLY COLOR CAMO:

HOW TO FORMULATE
Select a shade in the same range as his natural (pigmented) color.
Pick the tone you want to see:
• Ash = gray + blue/violet, which provides a smoky result
• Natural = gray + green/gold, which provides a cool gold result

HOT TIP:
To help ensure proper Color Camo shade selection, take the client's eyebrows into consideration. Men's brows are typically lighter than their hair, so this will help prevent you from selecting a color that is too dark.
For more on Redken Brews, follow
@barbersandbrews
on Instagram.