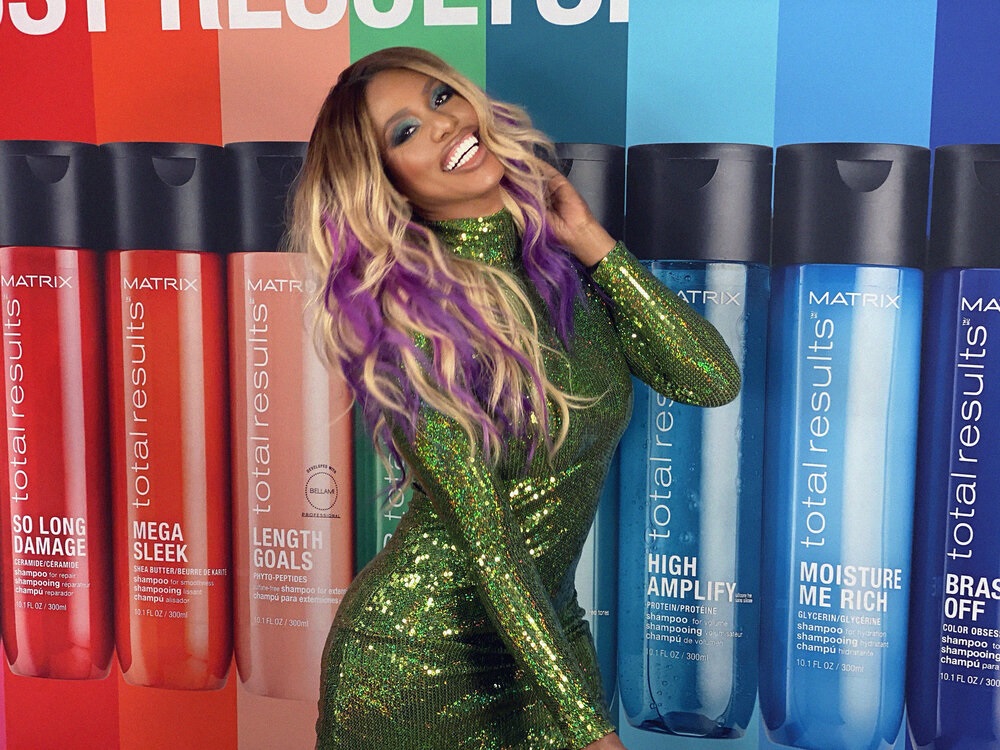 Matrix Total Results is thrilled to announce a partnership with Emmy nominated actress, producer and LGBTQ+ activist Laverne Cox. Cox will join award-winning artists on the Matrix Destination 2020 stage January 19-21 in Orlando, Florida. This unique partnership will have Cox kick off the three-day training event and welcome over 2,000 hair stylists to the Rosen Shingle Creek Resort and Spa. Hair professionals will be treated to a spectacular mainstage opening show Sunday, January 19 featuring the new Brand Ambassador herself. On January 20, she will join Matrix Global Business Ambassador Tabatha Coffey in the opening "Live Your Color" general session discussion. With her charismatic personality and riveting story, she is set to electrify Destination audiences with her passion for beauty.
The Matrix Destination 2020 ethos of "Live Your Color," resonates loudly among beauty enthusiasts everywhere. Beauty is changing and the need to be inclusive is imperative to the business of all hair professionals. Matrix Total Results Brand Ambassador Laverne Cox will share her inspirational messages about strength, conviction, individuality and the important role beauty plays in building confidence for everyone in the general session. Hosted by Matrix Global Business Ambassador Tabatha Coffey, the opening discussion will highlight the changes in the industry specifically around service. The dynamic duo promises to deliver a lively discussion on hair trends, customer service, the impact of beauty on culture, and their specific experience from a professional and client standpoint.
"I am so excited to join Tabatha and some of the most talented people in beauty at Matrix Destination 2020," says Cox. "I am passionate about beauty, and I know that when a person looks their best, this can translate to how they feel as well. I only know how to be my true self and that is why this partnership with Matrix Total Results is the perfect fit!"
Matrix Total Results believes in no labels, just results, and offers a wide breadth of product ranges. Whether it is dry and damaged, color-treated or textured tresses, Matrix Total Results aims to meet the needs of all hair professionals and their client's hair concerns. With this new partnership, the brand hopes to shine a light on the needs of this changing landscape and provide their artists with the tools and training needed to continue to provide the best service to all their clients.
Matrix Destination 2020 promises to be an unforgettable experience for every attendee. Led by a stellar line-up of award-winning artists and some of the biggest names in social media, the schedule includes a theatrical opening night show and afte- party, inspirational mainstage hair presentations and hands-on classes and surprise guests. Thousands of beauty professionals will have the opportunity to elevate their skills, energize their creativity and forge unbreakable bonds with the Matrix family and colleagues. Registration is open now for the premiere education event of the decade. Use code Laverne100 for $100 off registration through December 15.
Buy your ticket
and visit
www.matrixprofessional.com/destination
to learn more. And don't forget to follow all of the excitement at #MatrixDestination2020.