Source: Courtesy of Redken
When it comes to creating beautiful hair in the salon, product isn't an option, it's a necessity. And now more than ever, it's important to use products that are multi-benefit, making your job behind the chair quicker and easier while ensuring beautiful results for your guest.
Enter Oil For All, Redken's new multi-benefit hair oil for all hair types. This hair oil provides a multitude of benefits that will make it a must-have in your finishing routine. Read on learn how Oil For All will be the product to reach for when creating high shine, beautiful end results.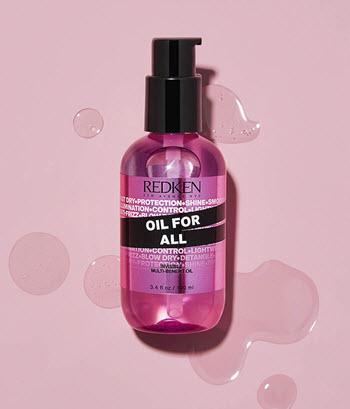 Source: Courtesy of Redken
Adds Illuminating Shine
Shiny, healthy-looking hair is one of the most requested looks in the salon. With Redken Oil For All, you can create instant, glass-like shine in seconds. Simply apply to mid-lengths and ends of the hair, and style as desired. The instant shine boost will be a total wow factor for your guest.
"I love the new Redken Oil For All. For one, it makes getting 'glass hair' an absolute breeze for my clients. It's also the perfect product to add or maintain a high gloss finish for hair, which is perfect when you're getting ready for a Zoom call," says Redken Brand Ambassador Rodney Cutler. "With clients trying to stretch time in-between salon appointments as long as possible, I love Redken Oil For All for keeping that fresh-from-the-salon gloss and shine. Plus, it's formulated for all hair types and textures, making it the perfect, effortless addition to anyone's routine."
Reduces Blow Dry Time And Protects Hair From Heat
If your guest can't go a day without reaching for her flat iron or blow dryer, Redken Oil For All will be a necessity for her styling routine. This hair oil protects hair from heat to ensure strands stay strong and healthy even with frequent heat styling. And if your schedule is often packed with back-to-back guests in the salon, Oil For All will be a timesaver behind the chair as well. Redken Oil For All reduces blow dry time so you can create the perfect high shine blowout in less time.
Locks In Moisture On All Hair Types
Think hair oils are just for dry hair types? Think again! Redken Oil For All multi-benefit hair oil features a super lightweight formula that locks in the hair's moisture without feeling heavy or greasy. It can be used on all hair types, even guest's with fine hair texture.