Festival season is in full swing and with that comes some major hair inspiration! Read on to discover 3 easy, festival-perfect looks that are sure to wow your guests, and shop Redken's must-have products for festival hairstyling in the product carousel below!
LOOK 1: BOHEMIAN CHAIN BRAID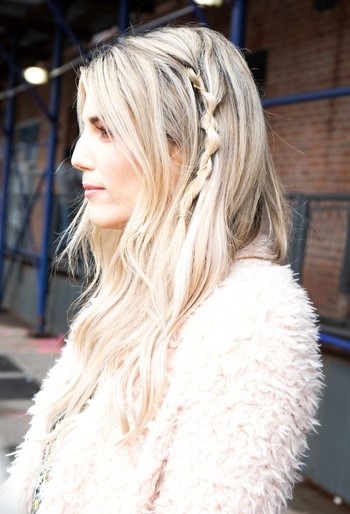 This breezy chain braid mixes bohemian cool with high-shine metallic accents. To get the look, Redken Artist Cassondra Rolph used Redken's dry texture collection. To create this look for your client's upcoming festival, begin by dispensing a dime-size amount of
Redken Dry Shampoo Paste 05
, rubbing the product between your palms before distributing it evenly throughout the hair. This dry shampoo and styling paste hybrid provides reworkable hold with the freshness of a dry shampoo. It also absorbs oil for the perfect, undone look.
Next, section off two 1-inch pieces of hair about two inches back from your hairline on either side. Take one of the sections and tie a metallic thread to the base using a hair elastic.
Using the metallic string as one of your strands, begin to create a traditional three-strand braid. Take the section farthest to the right and cross it over the middle section. Then, take the section farthest to the left and cross it over the middle. Continue repeating these steps until you reach the end of the hair.
To create fullness and volume in your braid, gently pull apart each section with your thumb and pointer finger. Finish your look by spraying
Triple Dry 15
throughout the hair.

LOOK 2: ROMANTIC DUTCH BRAID
If your guest prefers softer, more romantic styles, she'll love this beautiful dutch braid for festival season!
To create this look, begin by blow drying hair with an extra large round brush. Spray hair with
Hot Sets 22
for added heat protection and curl hair using a 1 ¼ inch curling iron. When you're finished curling, mist with
Triple Dry 15
for airy texture.
Next, create a part down center back and begin braiding a section on each side using a dutch braiding technique. Secure your braids with elastic. Finish by pinching and pulling pieces of the braids for added fullness.
LOOK 3: SPACE BUNS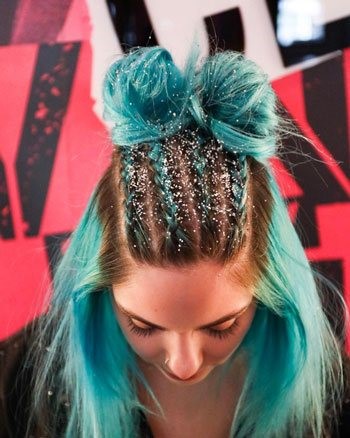 For this gorgeous, glittery look, Redken stylist
Lyndsey Palumbo
got Palm Springs Blogger
Sophie Hannah
ready with a few tried-and-true Redken styling favorites!
To create this look for your guest, begin by parting the hair to make way for the braids and buns, taking a large, clean section at the crown.
Next, create four small braids, securing with an elastic. Taking
Triple Dry 15
and a teasing comb, tease the ends of the unbraided sections to create the shape of the buns, and secure with
Triple Dry 15
and bobby pins.
Finally, add a pop of glitter to the look with Hardwear gel and loose glitter. Festival ready!
Are you excited for festival season? Shop Redken's festival season must-haves below!
Photography: Courtesy of Redken