It happens to us all: we glimpse at our faces in the mirror or in a photograph and realize that we've aged. Our formerly fine lines have begun to etch deeper grooves, our discoloration has become more pronounced and our once-taut jaw lines have become slack.
When did that happen? Skin aging is a gradual process affected by external factors like smoking and spending too much time in the sun, as well as internal factors like genetics. These factors contribute to ROSs, MMPs and AGEs – the three biochemical reactions that manifest wrinkles, discoloration, loss of skin tone and other signs we typically associate with aged skin. Amazingly, these signs start to appear as early as our 20s(!), when production of collagen (which keeps skin firm) and elastin (which keeps skin bouncing back), begins to falter. Cell renewal gradually slows, and skin begins to lose its youthful glow and texture.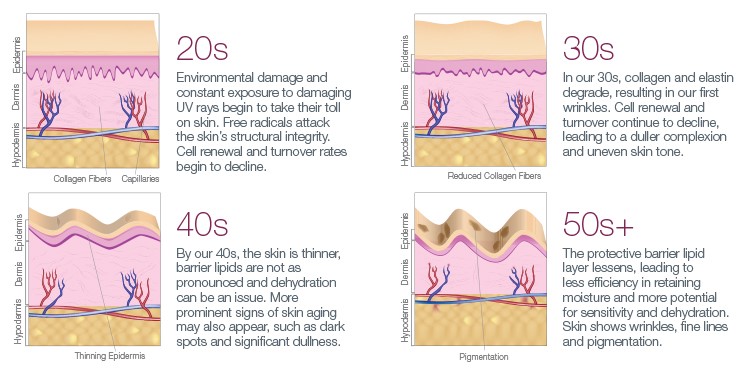 Is this all too depressing? It shouldn't be! The good news is, while there is no cure for aging, there are many steps we can take to control the factors that contribute to skin aging. It all starts with choices.
For instance, did you know that the majority of the structural changes we see in our skin come from UV damage? By choosing to apply a sunscreen of SPF30 or above daily, such as Dynamic Skin Recovery SPF50, we can help shield our skin against future signs of premature skin aging.
Research also shows that choosing to eat more fruits and vegetables helps prevent inflammation that can lead to skin aging, while choosing to eat a diet high in sugar or other refined carbohydrates can accelerate the skin aging process. Smoking is another major no-no when it comes to aging. Cigarette smoke basically assaults your skin with free radicals, robbing it of the oxygen it needs and leaving rough texture, fine lines and wrinkles behind. Choosing to quit can help improve circulation and eventually bring back that healthy glow.
Finally, choosing to commit to a regular skin care routine is tantamount to reducing the appearance of skin aging. Regularly and thoroughly cleansing, exfoliating and hydrating skin is a great start, but paying attention to the ingredients you use is even better. With science on our side, we're able to leverage active skin care ingredients that have been shown to impact the biochemical reactions that lead to skin aging. Dermalogica's AGE Smart® system has been formulated to do just that with unique combinations of the industry's top age-fighting peptides, retinoids and antioxidant vitamins. Look for ingredients like microencapsulated Retinol, Palmitoyl Tripeptide-5 and Magnesium Ascorbyl Phosphate (Vitamin C) to help jump-start your skin care routine, and talk to a Dermalogica skin therapist about how to restore healthy, glowing skin.
Photography: Courtesy of Dermalogica
About Expert
Beth Bialko is the Director of Global Curriculum for the corporate office of The International Dermal Institute (IDI), the skin care industry's "gold standard" for post-graduate education, and Dermalogica. Bialko is responsible for researching, leading and developing the brand's award-winning education curriculum for US and international markets, and integrating new research into the brand's menu. In addition, Beth serves as one of the brand's voices and is a frequent contributor to consumer and trade magazines. She contributes to both Dermalogica's and IDI's websites, blogs, and webisodes, and is a highly-requested guest speaker at training centers across the country. With over 18 years of experience in the skin care industry, Beth has worked as a professional skin therapist for top salons and spas across the United States and successfully owned and operated her own skin care business. Her industry expertise has led her to be featured in industry magazines such as Dermascope, American Spa and Skin, Inc. Prior to relocating to Dermalogica's headquarters, Beth represented the brand as a Master Instructor at Dermalogica's Training Center in Chicago. With a true passion for the skin care industry, Beth's expertise, professionalism and engaging presentation style has inspired countless skin therapists nationwide. Bialko holds a Bachelor of Science degree in Communications from Ohio University. She currently resides in Long Beach, CA with her husband and works at the Dermalogica and IDI headquarters located in Los Angeles.