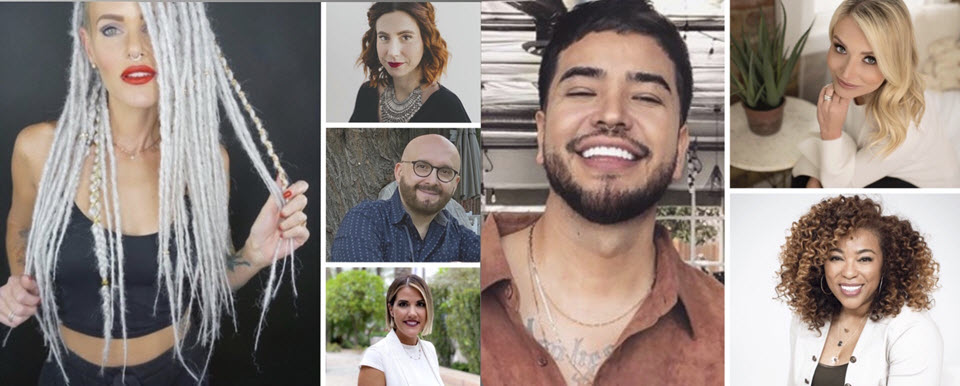 While these are unprecedented times for the beauty industry, no other industry has a community quite like ours. Even though we may be socially distant, we can still remain socially connected. And to stay connected with you, check out SalonCentric's "We're Here For You" series of live online events to help you self-educate while you self-isolate. Featuring our #ItTakesAProTeam and other artists on SalonCentric.com, our App and on social, we've got a dedicated lineup of digital education and virtual hangs to let you learn, grow and feel the love. So be sure to tune in every day, and take this opportunity to develop and level up your skillset and knowledge. And if you missed this week's episodes or just want to re-watch them 6591823416 times, here's a quick recap of our greatest hits.

Live In Your Living Room: How to Perform the Perfect Consultation with Jack Martin
The most important element of any client experience starts with the consultation. Master the art of the perfect consultation with #ItTakesAProTeam Member Jack Martin (@jackmartincolorist) to determine how to best service your clients.


Brands In Your Bathroom: Masks with amika
In this episode, learn how to help your clients pick the perfect hair mask with
amika
Lead Pro Educator Amanda Elaine Killen
(@stylistamandaelaine)
. And don't miss out on her clever advice for incorporating them into your service menu and pricing.
Brands In Your Bathroom: Texture Manipulation with Mizani
Mizani
Global Artistic Director Tippi Shorter
(@tippishorter)
serves up texture manipulation tips for the perfect wash-and-go. Make sure to take notes on how she incorporates various Mizani products in this foundational tutorial.
Live In Your Living Room: Earth Day Styling with Annette Waligora
#ItTakesAProTeam Member Annette Waligora (@annette_updo_artist) celebrates Earth Day with a styling session live in the woods. Tune in to learn how to weave a three variations of a rope braid style including a beautiful updo.


Brands In Your Bathroom: Treat Yo' Self with Daniel Mora
#ItTakesAProTeam Member and
Redken
Brand Ambassador Daniel Mora
(@danielmbeauty)
breaks down how to use Redken Blondage Mask, One United and the brand new Extreme Bleach Recovery Lamellar Water. Get his tips and tricks for maximizing these three great products.
Brands In Your Bathroom: Stay Calm and Mask On with Jaime Wiley
Pureology
Artistic Director Jaime Wiley
(@jamiewileyhair)
invites you into her bathroom to get your self-love and self-care on. Featuring her fave Pureology products and treatments, join in on the pamper sesh and get inspired to treat your clients when you're back behind the chair.
Live In Your Living Room: The Bubble Technique with Sam Daly

Get your creative color on with
Pulp Riot
Educator and #ItTakesAProTeam Member Sam Daly
(@bottleblonde76)
as she showcases how to use her and Kasey Ohara's
(@hairbykaseyoh)
infamous "Bubble Technique" on daring clients.