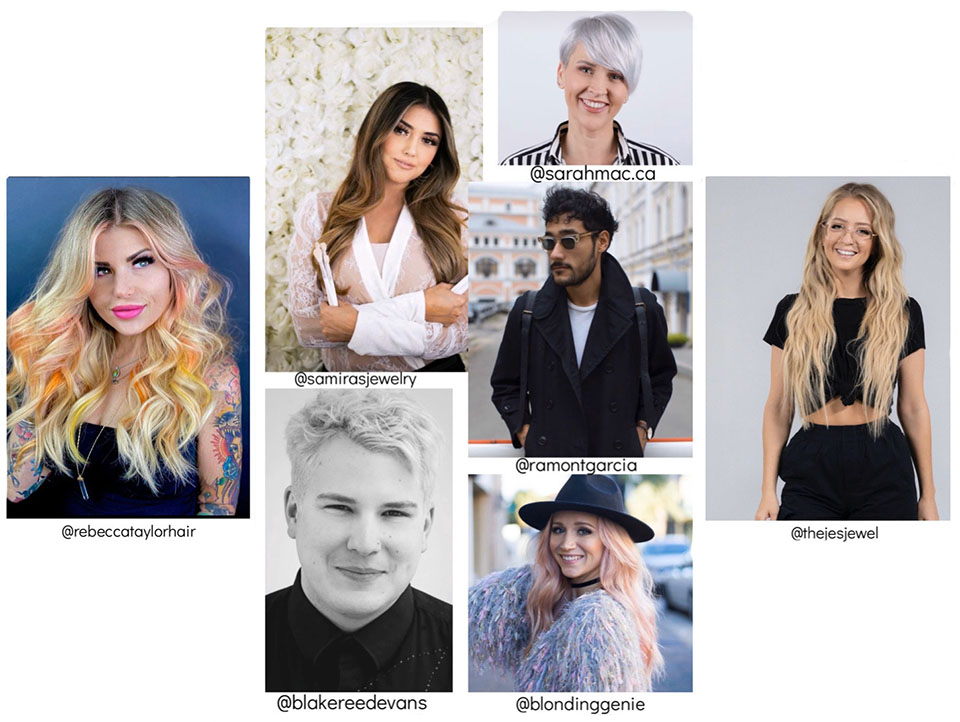 While these are unprecedented times for the beauty industry, no other industry has a community quite like ours. Even though we may be socially distant, we can still remain socially connected. And to stay connected with you, check out SalonCentric's "We're Here For You" series of live online events to help you self-educate while you self-isolate. Featuring our #ItTakesAProTeam and other artists on SalonCentric.com, our App and on social, we've got a dedicated lineup of digital education and virtual hangs to let you learn, grow and feel the love. So be sure to tune in every day, and take this opportunity to develop and level up your skillset and knowledge. And if you missed this week's episodes or just want to re-watch them 6591823416 times, here's a quick recap of our greatest hits.
Live In Your Living Room: Savvy Social Media Advice with Blake Reed Evans
#ItTakesAProTeam Member and Redken Artist Blake Reed Evans (@blakereedevans) shares his passion for and knowledge of everything social media. From how to stay socially active to how to stay connected with your clients to how to potentially generate retail sales right now (and when you're back behind the chair), get socially savvy.
Brands In Your Bathroom: Banish Box Color with MALIBU C
Malibu C Professional Educator and Artistic Team Member Savannah Milner (@blondinggenie) walks you through removing box color and the home remedies to show your clients so they can do it themselves.
Brands In Your Bathroom: Refresh and Reset Your Hair with Rebecca Taylor
Redken Global Ambassador Rebecca Taylor (@rebeccataylorhair) takes you on a tour of her fave products, giving you a sneak peak of the latest Redken drop and demoing how to use them to revive lackluster locks. Plus, you don't want to miss the real talk so tune in.
Brands In Your Bathroom: Romantic Bridal Styling with Shayla Robertson
#ItTakesAProTeam Member and Sexy Hair Visionary Team member Shayla Robertson (@samirasjewelry) demos one of her most requested bridal upstyles. Watch as she takes you from prep to finish and all of the products used to get the look.
Brands In Your Bathroom: Explore Your L'ANZA Love with L'ANZA Healing Haircare
L'ANZA Artistic Design Team Member Sarah Mac (@sarahmac.ca) shares some of her favorite products and the essentials for brightening and restoring hair. Plus, you'll definitely want to tune in for her ultimate surprise guest co-host, Sandy.
Brands In Your Bathroom: His and Hers At-Home Hair Care with Authentic Beauty Concepts
Authentic Beauty Concepts Advocate Ramon Garcia (@ramontgarcia) and his girlfriend Elle offer up a his-and-her take on at-home hair care. Take notes on their differing regimens, including self-care practices during this time of #stayhome.
Live In Your Living Room: A Conversation with
Our own #ItTakesAProTeam Artist Daniel Mason-Jones (@danielmasonjones) and Summit Salon's Heather Bagby get into all the things covering your financial concerns from when salons will be opening back up, what it will look like, SBA loans, PPP and more. This is a must-watch for all beauty pros.
Live In Your Living Room: Content Creation with Jessica Jewel
#ItTakesAProTeam Artist and Pulp Riot Squad Member Jessica Jewel (@thejesjewel) shows you how to use all forms of social media, and to attract the clients and work you want using social media beyond Instagram. Watch and learn to use all the different platforms to get yourself where you want to be.