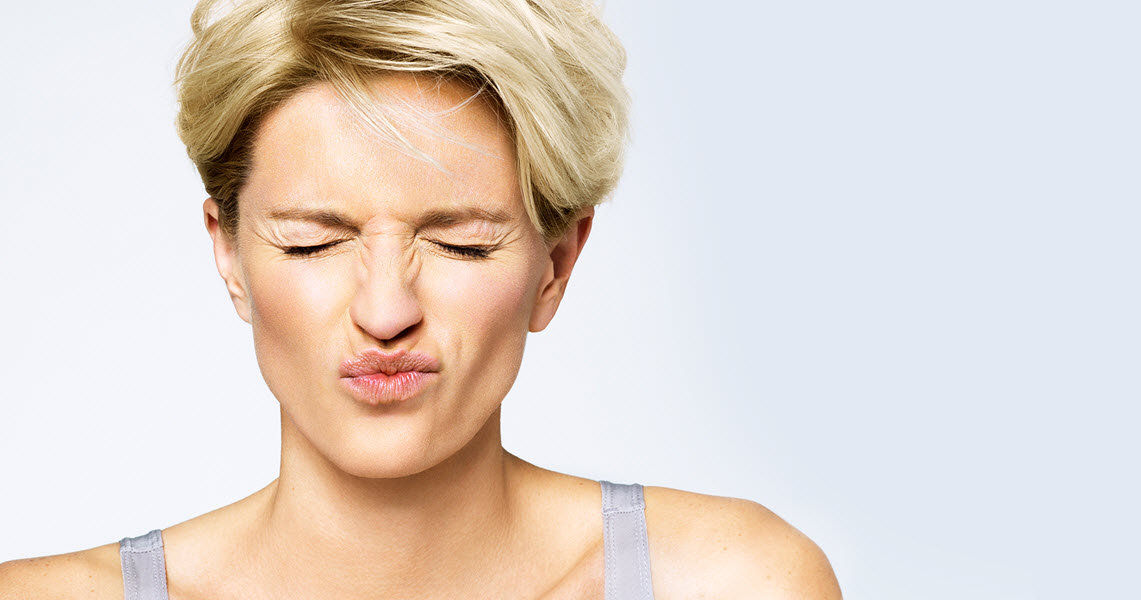 Wrinkles—they're everywhere - in our favorite linen outfit, in our dog's furry face, and in our grandmother's loving smile. And most recently, they have been spotted in the reflection of our bathroom mirror; a result of laughter, smiles, frowns, squints, and surprises year after year. Yes, a mix of emotions has caused these wrinkles, but why do wrinkles appear as we get older? (and what's really causing them?)
First off, wrinkles are a natural part of the aging process. When you repeatedly move your facial muscles in the same motions, grooves form under the skin, which can cause wrinkles. Have you ever noticed a toddler develop laugh lines and crow's feet after a childhood of giggles and temper tantrums? NO, that's because younger, more resilient skin has the ability to bounce back thanks to its strong, lower layer of support structure. Our skin's support structure is comprised of collagen and elastin fibers that act like mattress springs to give skin shape, as well as elasticity and resiliency. As you age, this support structure becomes compromised due to a "perfect storm" of factors. Over time, skin produces less collagen, elastin and natural oils. Plus, it becomes thinner and loses fat, which cause the structure to become weaker and less flexible. Older, more susceptible skin is simply no longer strong enough to resist sun and environmental damage. And don't forget about free radicals, stress, and lack of sleep—those will also contribute to the weakening of this supportive structure. So what can you do to avoid this storm or how do you address it if its already blown through? You need a skincare regimen that strengthens the skin, targets loss of collagen, protects against environmental stressors and delivers a dose of instant gratification.
StriVectin offers a perfect anti-wrinkle regimen! PRO TIP: When layering your skincare, wait a few seconds after you apply each product to give it time to absorb into the skin.
Apply Wrinkle Recode™ Line Transforming Melting Serum.
Wrinkle Recode presents an entirely new and efficacious way to target the root cause of wrinkles. StriVectin's proprietary BioRecode Technology revitalizes skin's own wrinkle defenses to reduce the look of lines, creases - and even deep, stubborn wrinkles - in just 7 days*. This super concentrated formula melts luxuriously into skin to visibly plump, smooth and restore youthful radiance.
*Based on expert grading results after 1 week of use, when used as directed
Follow with SD Advanced™ Intensive Concentrate for Wrinkles & Stretch Marks.
When it comes to performance and results, there are two important types of collagen, Collagen I and Collagen III, that impact our skin's strength, elasticity and firmness. Collagen III is the essential contributor to our skin's bounce and spring, which is why it is known as 'Youth Collagen'. After years of research, StriVectin discovered a way to target 'Youth Collagen' to improve skin elasticity and firmness. And this breakthrough technology is harnessed in
SD Advanced™ Intensive Concentrate
, a first-of-its-kind moisturizer is clinically shown to reduce the look of lines and wrinkles in just 15 days*.
*Based on clinical study at 2 weeks
Then, instantly blur lines with Line BLURfector™ Instant Wrinkle Blurring Primer.
Want skincare with instant gratification? Try Line
Blurfector Instant Wrinkle Blurring Primer
to immediately diminish the look of lines and wrinkles. This skincare-infused primer uses Optical Blurring Microspheres to fill and blur the look of deep-set wrinkles instantly. A blend of skin-loving ingredients fills in lines and creases to prevent makeup from settling into and intensifying wrinkles.
Plus, all StriVectin products leverage NIA-114™ technology, an optimized form of Niacin/Vitamin B3 clinically proven to strengthen the skin barrier, which weakens as we age. A stronger skin barrier helps protect skin from environmental stressors and inhibits moisture loss.
Wrinkles don't have to be your destiny if you take good care of your skin, avoid exposure to sun and environmental factors as much as possible and you stay true to an anti-wrinkle regimen that will combat what our environment and aging do to our skin.
Photography: Courtesy of StriVectin