Welcome to SalonCentric's new series called "enVISION your future" where we hope to help guide you towards turning your career dreams into reality. Through the use of a powerful tool known as the vision board, we want to inspire you in setting your intentions for the New Year as well as in manifesting your goals and dreams. We'll guide you through the vision board creation process while also providing inspiration and motivation from fellow industry artists and superstars with their vision boards, and how the practice has been successful for them. With this series, our hope is to help you towards achieving greater focus, fulfilling purpose and meaningful growth in your career.
Redken Artist and Global Colorist Justin Isaac (
@worldofjustinisaac
) first started making vision boards while teaching an advanced color segment at the Redken Exchange. "I found that the images could express what was lacking with my words and could therefore get my message across better," he says. And clarifying your ideas and wants, and properly communicating them to the universe is half the challenge, right? Here, Isaac talks about how vision boards work for him and what ends up on his.

Why do you create vision boards?
I
create vision boards
to help focus my intentions on a specific feeling or an idea I am trying to capture or make into some reality. There is something very motivating about seeing your ideas, thoughts and feelings come alive on a vision board.

Where do you source your inspiration?
I have always had a fascination with images and magazines of all sorts. I was raised by my grandmother who was blind, and everything in my life has been influenced in some way because of this. My eyes are always wide open for inspiration and opportunities, including my windows and anything else, to allow the light and the world into my space. I have always collected random images that I tear from magazines on a variety of subjects as well as taking photos from everywhere I travel. These images ultimately become the heart, the pulse of my vision board.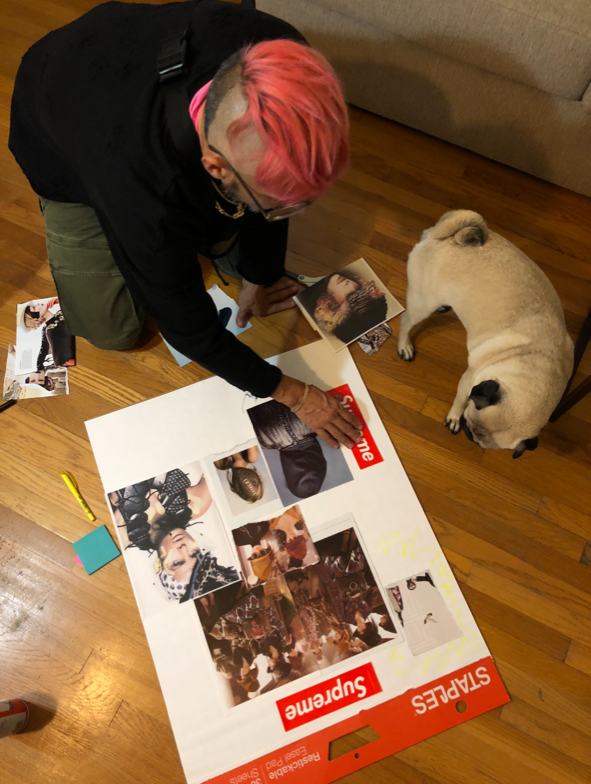 Isaac puts his vision board together.

Any tips for creating or using vision boards?
For first time or newer vision board makers, truly allow yourself the time to create what your mind sees, or what your heart feels as well as dedicating time towards gathering enough resources. You must like your vision board, it must inspire you. It should tell a story.
Photography: Courtesy of Justin Isaac
About Expert
Maureen is a veteran beauty and style editor having worked at AmericanSalon, Woman's Day, People StyleWatch and Teen Vogue, and a contributor for CR Fashion Book, Well + Good, Elite Daily and Glam. You can find her reporting on the latest trends from backstage at New York Fashion Week, interviewing celebrities and beauty industry heavyweights, and fashion styling for editorial photo shoots. The self-professed product junkie, super foodie and wannabe hand model is obsessed with rose gold jewelry, the NYC Flower Market and planning her next big getaway.