It's A 10 and the Trevor Project are teaming up this May in support of LGBTQ young people. It's A 10 is committing a $100,000-minimum donation with sale proceeds from the brand's special edition bottle of their bestselling hero product to go directly towards supporting the Trevor Project's free and confidential 24/7 crisis services. In turn this will allow the organization to reach more than 1.8 million LGBTQ young people in the U.S. who consider suicide every year. "As a philanthropist who wants to see every individual have the same right to succeed and to lead fulfilled lives, I am glad that we were able to produce this special edition of the Miracle Leave-In to help give back crucial funds to support the Trevor Project's admirable efforts to protect LGBTQ young people," says It's A 10 Founder and CEO Carolyn Aronson (@itsa10ceo). Read below to find out more about what Aronson has to say.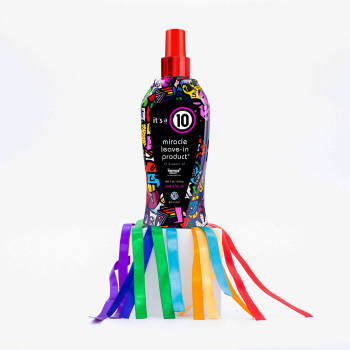 Q: Why was it important to collaborate with the Trevor Project?
A: Suicide in the LGBTQ community is eight times the amount compared to the rest of the population. The Trevor Project has been in existence for over 20 years and supports the community's mental health. We knew that they would be a trustworthy partner to donate to.
Q: How did the artwork on the packaging come to be?
A: We worked with a local Miami Artist, Victor Garcia, and commissioned him to create artwork for the bottle. We felt the bottle's lively design would capture the essence of love and acceptance that The Trevor Project instils in the lives of the LGBTQ young people they serve.
Q: You started your career behind the chair, what is the most important lesson you learned that you continue to practice today?
A: I learned early on in my career; one's work can always have a giving component to it no matter what your career. I would go to people's homes and do their hair for free if they had a life shattering event, a health issue, or a death in the family. What I did could make them feel a little better about themselves instantly, so it was my way of giving in their time of need.
Q: How do your skills as a stylist continue to be used as the CEO of It's a 10?
A: Years of touching thousands of products on thousands of heads definitely gives me that 10,000 hour rule to know how to create a good hair product. Not a single new product gets produced without my stamp of approval and that still means me trying out each and every product.