The secret behind every head of healthy curls is a good haircare regimen, and keeping curls hydrated is a crucial step in that process. Adding Redken's All Soft Mega Curls Hydramelt Treatment into a client's hair regimen will hydrate, define, and re-activate their severely dried curls and coils. It is not only a great way to finish the All-Soft Mega Curl System, but also contains seven percent of Redken's Nourish Complex, which enhances natural curl patterns for increased bounce and definition.
Redken's deeply hydrating leave-in treatment is packed with natural ingredients that provide lasting moisturization for your client's hair. Key ingredients like Aloe Vera, Inca Inchi Oil, and Cactus Flower Extract each possess their own unique hydrating characteristics that work together to transform your locks.
Aloe Vera: Boosts hair strength and structure while also moisturizing the scalp, resulting in healthy, shiny hair.
Inca Inchi Oil: Rich in antioxidants and omega-3 fatty acids, which helps repair and nourish dry, brittle hair, leaving it soft, silky and manageable.
Cactus Flower Extract: Adds shine and bounce to your client's locks, while also hydrating and protecting the hair from environmental damage.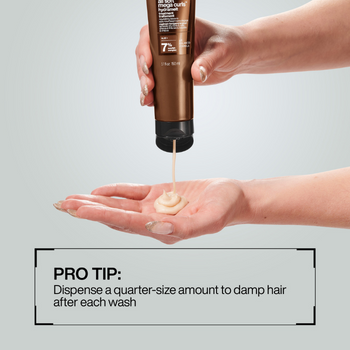 For this regimen, a little product goes a long way. "Don't be misled by the size of the product," says Redken ambassador Leysa Carrillo. After conditioning, apply the treatment to a clean toweled-dried hair and leave in. Stylists can use this treatment before styling for better hair manageability, smoothness and shine, and to reactivate curl definition.
For more on the All Soft Mega Curls Hydramelt Treatment, click here.