The most valuable tool in any hairstylist's arsenal are their hands. And the tools a hairstylist works with are, by virtue, an extension of their hands. So when it comes to getting hands-on, are you picking up the right tools for your craft? We're making it easy for you to get the job done with our picks for best hot tools, brushes, shears and more. Plus, find some of our top tools on sale in our Ultimate Tool Sale happening right now.
BLOWDRYERS
The blow-dry is an essential step in any service, so arm yourself with these go-to dryers for performance you can rely on.
•
Bio Ionic 10x UltraLight Speed Dryer
Coming in at under one pound and with the ability to dry hair in under 10 minutes, this superfast dryer is an all-around winner.
•
BaBylissPRO Nano Titanium Mid-Size Dryer
The combination of power, speed and design make this dryer a top choice. With 2000-watt performance, lightweight ergonomic handling and Nano Titanium technology, silky smooth, healthy hair is achievable in no time.
•
Sam Villa E-T.C. Light Ionic Blow Dryer
The whisper-quiet 1750-watt Italian motor delivers brilliant shine and reduces static and frizz. Thanks to its ceramic-tourmaline ion technology, a curved grip ergonomic design and under one-pound handling, this dryer is an all-around best choice.

CURLING IRONS
With textured styles continuing to trend, creating perfect beach waves, vintage Hollywood curls and modernized marcel waves require curling irons and wands that are up to the task.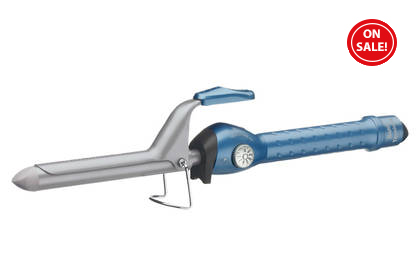 •
BaBylissPRO Nano Titanium Spring Curling Iron
Featuring a Sol-Gel nano titanium/ceramic barrel that provides 50 heat settings up to 450 degrees, this iron delivers smooth, frizz-free curls.
•
Hot Tools Classic Gold Marcel Curling Iron
With pulse technology and 10 heat settings on a rheostat control dial that goes up to 430 degrees, this curling iron gets hot fast and stays hot to reduce styling time.
• FHI Heat Limited Edition Platform Mini Tourmaline Ceramic Curling Iron
This mini iron and pouch is ideal for on-the-go gigs and touch ups. The tourmaline ceramic heater reaches up to 410 degrees and features a 5-ft. cord. Plus, it makes for great retailing to clients who travel.

FLAT IRONS
The straight hair trend is back, and here's what you need to reach for to create sleek strands without the heat damage.
•
GHD Classic 1" Styling Iron
Suitable for all hair types and lengths, the snag-free floating ceramic plates heat up in 30 seconds and glide through hair easily.
•
Bio Ionic OnePass Straightening Iron – Black
This nano-ceramic iron features state-of-the-art heaters that recover in under five seconds to reduce styling time by half.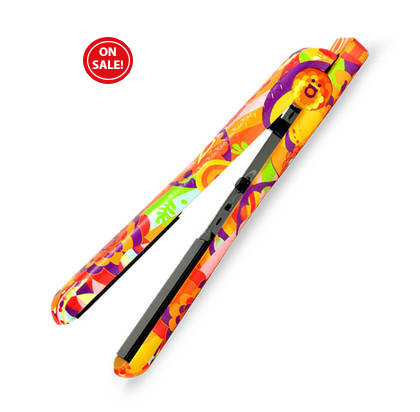 •
amika Strand Perfect Ceramic Styler 1.25"
Solid ceramic floating plates reach temperatures up to 450 degrees for silky, soft hair without tugging or breakage.

SHEARS & RAZORS
You can't do hair without them, and picking up the right pair can make all the difference in precision.
•
Sam Villa Signature Series Swivel Shear
With a rotating crane handle made from 100% Japanese molybdenum alloy and convex blades, this shear allows you to keep the wrist straight and the elbow down in all cutting positions. It's available in 5.5" and 6" lengths.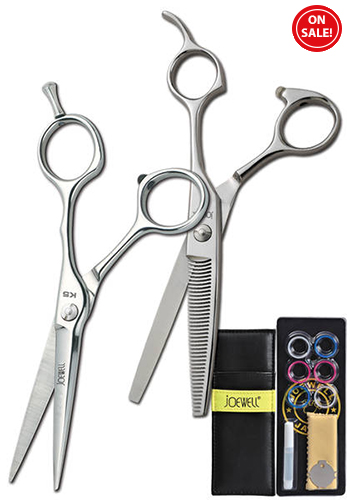 •
Joewell K5 5" Shear & Thinner Combo
Constructed from premium Japanese stainless steel, this shear and thinner set delivers smooth cutting action every time.
•
Surface Titanium Razor
This virtually weightless titanium razor features a scuba grip handle that allows for ergonomic cutting with complete control.

CLIPPERS & TRIMMERS
You can't create a proper fade or hair tattoo without them. These clippers and trimmers will take your craft to the next level.
•
Wahl Sterling 4 Clipper & Bullet Trimmer Combo
This two-in-one combo packs a punch with the popular Sterling 4 clipper and the favorite Sterling Bullet clipper/trimmer.
•
BaBylissPRO Volare X2 Clipper with Ferrari-Designed Engine
A Ferrari-designed engine! Need we say more? This powerful clipper cuts two times faster and has a three-hour run time to make it your new MVP.
•
Andis Slimline Pro Li Cordless Trimmer
Super sleek and lightweight, this corded/cordless trimmer is perfect for outlining, designs and dry shaves.

BRUSHES & COMBS
They're the better half to your cutting tools, and essential to any in-salon service.
•
WetBrush Pro Watercolor Mosaics Detangler
It's the revolutionary brush that redefined the detangler category, but with a modern and chic new print.
•
Cricket Silkomb Pro-50 Wide Toothed Rattail Comb
Featuring a wider tooth pattern, this comb is perfect for thick, coarse and curly hair. Plus, the metal tail is ideal for sectioning and weaving strands.
•
Sam Villa Signature Series Long Cutting Comb
This multi-purpose comb features two distinct tooth patterns, plus a parting pick that allows for expanded cutting options.
•
Olivia Garden NanoThermic Thermal Brush
This brush is designed with extra-large vents for greater air flow and reduced drying time. Plus, its easy-grip, ergonomic handle houses a retractable sectioning pick that makes this brush essential.