Summer is finally here and it's National Sunscreen Day, which means it's time to break out the sunscreen for enjoying a sun-kissed season without the worry of UV damage. And while beauty professionals are attuned to the importance of daily SPF protection in their client's skincare routine, communicating this crucial for reducing signs of aging, hyperpigmentation, sunspots, and skin cancer, and recommending the right product to best suit a client's skin concerns can be tricky. Many formulas can feel heavy and greasy, or even lacking in adequate UV protection. Read on as we investigate the top sunscreens for various skin types and provide the ultimate guide for keeping your client's skin protected all-season long.
1. Best Sunscreen for Dry Skin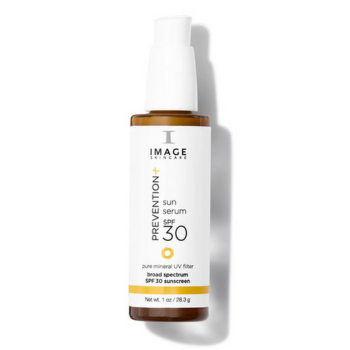 IMAGE Skincare PREVENTION+ Sun Serum - Untinted
SPF: 30
This mineral sunscreen is perfect for clients with dry skin as it protects from harmful UVA and UVB rays with hydrating ingredients like plant squalane to prevent dryness, leaving the skin with a dewy finish.
2. Best Sunscreen for Oily Skin.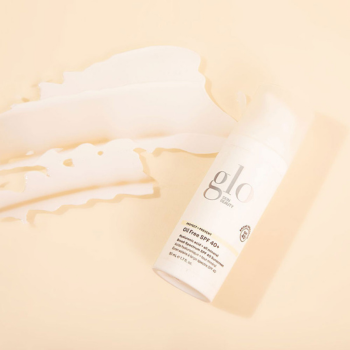 Glo Skin Beauty Oil Free Sunscreen
SPF: 40+
This sunscreen features a lightweight and oil-free formula, perfect for clients wanting to protect their skin against UV rays without clogging pores or causing breakouts. For optimal protection, advise clients to apply generously across skin before sun exposure and reapply every two hours.
3. Best Sunscreen for Acne-Prone Skin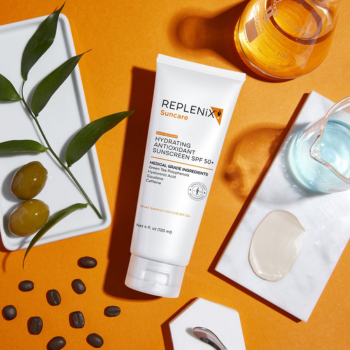 Replenix Hydrating Antioxidant Sunscreen
SPF: 50+
With a completely sheer finish, this dermatologist-developed sunscreen contains clinical grade niacinamide, hyaluronic acid and lactic acid to help improve a client's discoloration, acne scars, moisture retention, as well as minimize the appearance of pores.
4. Best Sunscreen for Mature Skin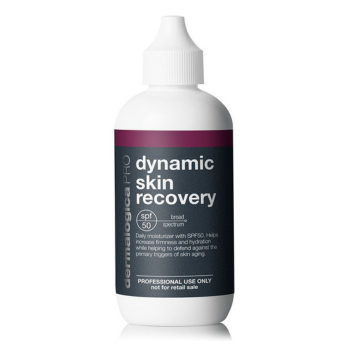 Dermalogica Dynamic Skin Recovery
SPF: 50+
This three-in-one daily moisturizer is perfect for clients with fine lines, looking to hydrate and protect their skin against powerful UV rays. This moisturizer contains a unique polypeptide blend that improves the appearance of photoaged skin with a non-greasy formula that hydrates and smooths the skin.
5. Best Sunscreen Under Makeup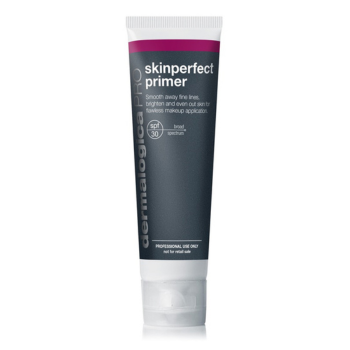 Dermalogica SkinPerfect Primer
SPF: 30
This makeup primer will not only shield your client's skin against sun damage, but also even out their skin texture and create a smoother surface as it contains soy protein-enriched formula. It can also be worn alone over moisturizer, or between moisturizer and foundation application.
6. Best Tinted Sunscreen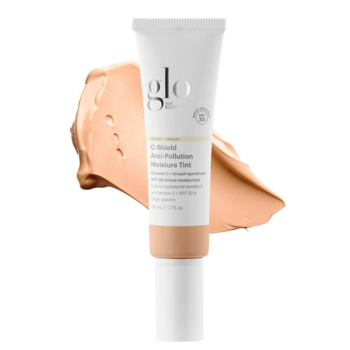 Glo Skin Beauty C-Shield Anti-Pollution Moisture Tint
SPF: 30
This tinted moisturizer combines skincare, sunscreen, primer, and mineral make-up into one product. Suitable for clients of all skin types, this lightweight formula contains natural mineral pigments, SPF and antioxidants that protect the skin while providing a dewy finish. Worn alone or under makeup, advise clients to apply a liberal amount to the face daily and reapply every two hours to sustain protection.
7. Best Sunscreen for Men (Face and Scalp)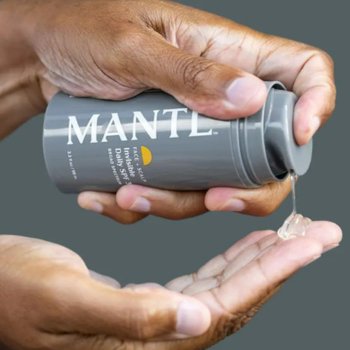 SPF: 30
Specifically designed for clients who are bald or balding, this clear SPF moisturizer contains a mattifying formula that prevents a greasy finish and white streaks. Advise clients to dab the product around their face, scalp, and neck, then gently message in and upward in a circular motion.
8. Best Anti-Pollution Sunscreen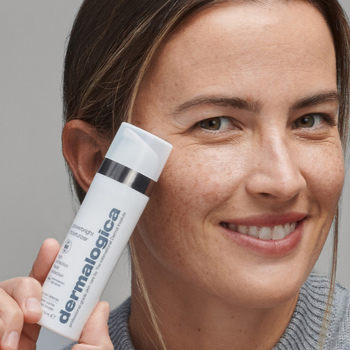 Dermalogica Powerbright Moisturizer
SPF: 50
For clients looking to combat oxidative stress caused by pollution, this SPF moisturizer shields the skin against dark spots, providing prolonged moisture absorption. Advise clients to apply all over the face and neck area, making sure to avoid the eyes, approximately 30 minutes prior to sun exposure.
9. Best Sunscreen for Tattoo Care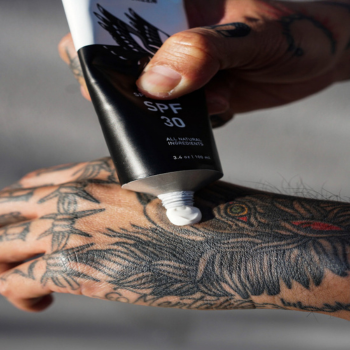 SPF: 30
For clients looking to protect their skin and tattoos from damaging UVA and UVB rays, recommend this 100-percent mineral sunscreen. The formula is made up of antioxidants, vitamins, and botanicals that leave the skin feeling smooth and nourished. For optimal protection, direct clients to apply a generous amount all over their body, at least 15 minutes before sun exposure and reapply every 80 minutes to two hours.