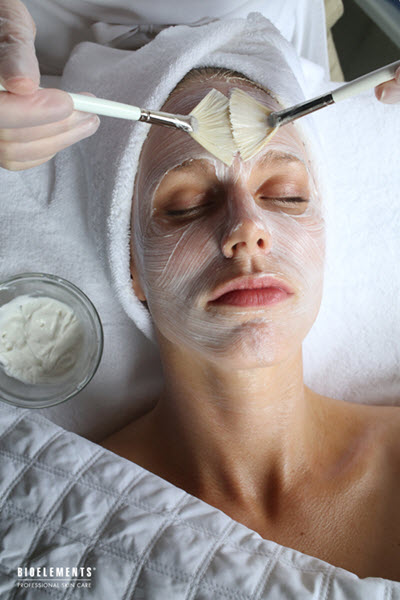 Sun, heat and sweat can make for a perfect storm of summer skin woes. Clogged pores, stinging sunburn, dry patches, irritated skin and the list goes on. So when your client turns to you for some summer skin SOS, what's the best way to keep them calm, cool and collected? Here, Bioelements Director of Education Teresa Stenzel gives her best tips for effectively soothing and protecting compromised skin.
Hyperpigmentation
When treating hyperpigmentation from sun damage, you need to consider the genetic makeup of the client as this can affect how their skin responds to treatment as well as their skin's Fitzpatrick level―a phototyping scale that estimates how different skins respond to UV light. The darker the Fitzpatrick, the more susceptible they are to scarring, and additional hyperpigmentation as a result of an overly aggressive treatment. It's why we recommend a facial that targets pigmentation via chemical exfoliation, and formulas that focus on tyrosine inhibition. Approaching depigmentation in this way will allow the skin to heal and regenerate itself without causing cutaneous inflammation that will further damage the skin or bleach it. Bioelements LightPlex GigaWatt Dark Spot Corrector and LightPlex MegaWatt Skin Brighter both contain scientific and natural tyrosinase inhibitors, and don't cause bleaching or negative cytotoxic effects to the melanocytes.

Acne
During the summer months, oily, acne prone skin is more reactive to heat and humidity. With both factors contributing to an elevation in sebum activity, increased breakouts and congestion come as no surprise. To stay ahead of these changes, perform a series of acne clearing facials. And step up skin's hydration levels by saturating it with Bioelements Acne Toner, followed by Bioelements EnzymeTherapy or Lactic-Plus Peel Level 1 to gently exfoliate without irritating, and sunscreen at the end of the facial. I'd also recommend sending your client home with products like Bioelements Oil Control Mattifier to control the trigger factors that lead to acne.

Sunburn/Overexposed Skin
Bioelements Emergency Soothing Powder blended with distilled water makes an ideal paste that can be applied and left on the skin for 15 minutes to quickly take down any inflammation or redness.

Dry Skin
Dry skin needs more hydration and humectants to shield it from the environment. Air conditioning in cars, homes and offices can dehydrate skin. Bioelements Age Activist Clinical Youth Serum followed by Plump Start, then moisturizer and sunscreen can help protect skin. At night, encourage your client to apply a gentle AHA exfoliant like Bioelements Skin Editor to keep excess dead skin and lines under control.

Photography: Courtesy of Bioelements
About Expert
Maureen is a veteran beauty and style editor having worked at AmericanSalon, Woman's Day, People StyleWatch and Teen Vogue, and a contributor for CR Fashion Book, Well + Good, Elite Daily and Glam. You can find her reporting on the latest trends from backstage at New York Fashion Week, interviewing celebrities and beauty industry heavyweights, and fashion styling for editorial photo shoots. The self-professed product junkie, super foodie and wannabe hand model is obsessed with rose gold jewelry, the NYC Flower Market and planning her next big getaway.