New York Fashion Week Spring/Summer 2024 witnessed not one, but two momentous events on September 8th, 2023: the Black Beauty Excellence Luncheon and "BIG MOTION: An HBCU Runway" show. Hosted by Black Beauty Roster (BBR), the Black Beauty Excellence Luncheon, celebrated Black beauty excellence both in front of and behind the camera, while discussing what is needed to push Black beauty equity forward throughout the fashion, beauty and media industries.

Source: Courtesy of Sarah Dawson
The luncheon event honored industry trailblazers who have made an impact, recognizing hair stylists, makeup artists, designers, models, creators and industry leaders. And much-needed discussions highlighting ways to progress equity and representation across fashion, beauty and media through multiple panels were held. Moderators included Ke'ala Kamalu and Vernon Francois, keynote speaker Dapper Dan, and panelists, Miles Jeffries (@milesjeffrieshair), Sheika Daley (@officialsheiks), Larry Sims (@larryjarahsims), Naeemah Lafond (@naeemahlafond), Tippi Shorter (@tippishorter), and Cortni Spearman (@heycortnay).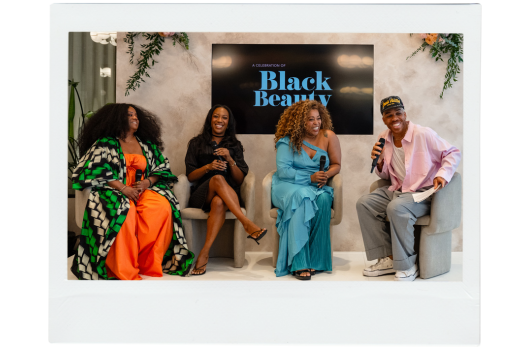 Source: Courtesy of Black Beauty Roster
Of note was the crucial conversation, "Representation Goes Both Ways - Driving Transparency and Impact within Corporations" which stressed the importance of the steps corporations take in order to be intentional about DEI, both internally and externally, in helping to drive more transparent accountability and impact. As a key sponsor of both events, SalonCentric played a pivotal role in their NYFW success, underscoring the brand's ongoing commitment to diversity, equity, inclusion and belonging in the beauty and fashion space. "Our support of the Black Beauty Excellence Luncheon and BIG MOTION Runway show allows us to be a part of a dialogue that includes beauty/fashion industry professionals who work with all textures and complexions," says Gina Meggo, SalonCentric President. "Inclusion and equity is about everyone feeling a sense of belonging and having equal access to opportunities and resources available in our industry. By working together, we will ensure access to opportunities and education, and we'll work together to advocate for critical and necessary changes to the industry."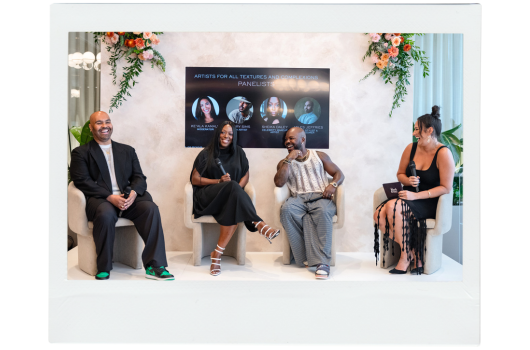 Source: Courtesy of Black Beauty Roster
Headlining the evening at Spring Studios was the joint show called "BIG MOTION: An HBCU Runway" which debuted three labels from emerging designers who are graduates of historically Black colleges and universities (HBCU). Taking the stage at NYFW were Nola McEachin and Shaq Robotham (@thebrandlabel), Founders of The BRAND Label; Undra Duncan (@undracelestenewyork), Founder and Creative Director of Undra Celeste New York; and Chelsea Grays (@__chelsea.g), Founder of the Chelsea Grays label.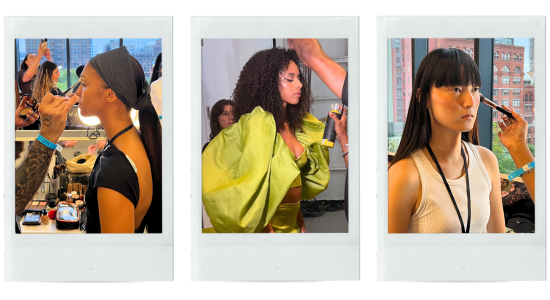 Source: Courtesy of Sarah Dawson
And the two superstars of the "BIG MOTION: An HBCU Runway" backstage beauty team were lead makeup artist, Sir John (@sirjohn), and lead hair stylist, Yusef (@yusefhairnyc). Both artists not only displayed their remarkable skills in makeup and hair, but also their commitment to promoting inclusivity by demonstrating their ability to work with models of diverse hair textures, styles, complexions, and skin tones. Sir John gave voice to the importance of inclusivity saying, "I believe this show is magical. Whenever you can highlight talent within the Black community, it should be applauded and celebrated, so we are here in celebration." Yusef also spoke to the value of diversity in the industry saying, "This show is for a great cause, and I love to see new Black designers get a place on the main stage."
Source: Courtesy of Sarah Dawson
In supporting the BBR luncheon event and the BIG MOTION Runway show, SalonCentric Vice President of Diversity and Inclusion, Kareema Acker notes that this was truly the act of not just having an objective, but ensuring your actions are authentic and in harmony with your organizational behaviors. "We are committed to being an active ally for minorities in the beauty space," says Acker. "One of our big initiatives coming this fall is a grant offering 60 beauty professionals the opportunity to receive $10,000 each from SalonCentric and L'Oreal USA. Additionally, we are co-founders of The Texture of Change which is a movement calling for texture hair education curriculum to be included in cosmetology licensing requirements."
"Creating spaces where amazing artists and talent of color can be seen, heard and celebrated is critical to creating a culture that is truly inclusive," says Maude Okrah, Black Beauty Roster Founder. "We are proud to lead this mission forward."
Source: Courtesy of Katera Jefferson