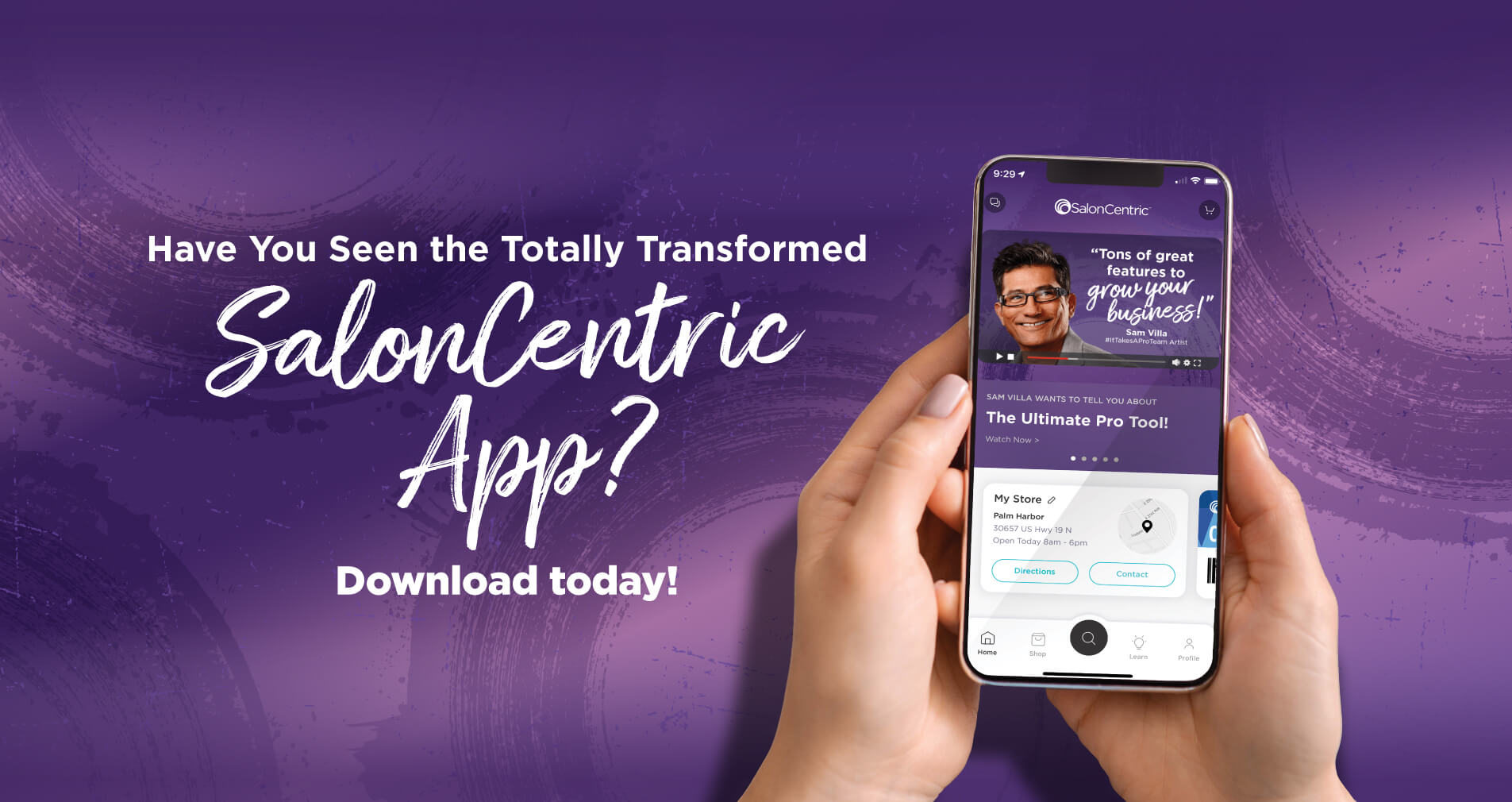 New decade, new you, new app, #amiright? With 2020 well underway, and all those New Year resolutions getting checked off, isn't it time to also update the way you shop and do business on your phone? Cue the all new SalonCentric Mobile App.

With more than 450,000 downloads and nearly 80,000 stylists using the App each month since its inception four years ago, today's new and improved App is ready to serve as the beauty professional's go-to resource. Having spent much of the past year talking to independent stylists, suite renters and salon owners to understand how they use the App and what could be done to make it better, SalonCentric took this feedback to heart to redesign and produce the ultimate pro tool for customers. With a modern design and a more user-friendly interface, <INSERT QUOTE ABOUT FEATURE(S) ESPECIALLY HELPFUL FOR USERS GROW THEIR BUSINESS>
<INSERT INTRO TO SAM VILLA VIDEO>

Other exciting features to check out:
• An enhanced Quick Shop barcode scanning to make salon inventory replenishment fast and easy.
• Order tracking and order history for customers, whether they shop online, in a store or with an SSC.
• Thousands of inspirational and educational videos and articles in a brand new Learn section shared from Pro Beauty Central.
• An enhanced voice and text search returning results from all sections of the app (products, articles, classes and more).
• A Chatbot functionality to help answer the most frequently asked questions.
• A new Profile section that contains customer's coupons, rewards cards, favorites and their Pro Beauty Perks loyalty tier.
• Easy access to the SalonCentric Membership card right on the home screen.

<INSERT QUOTE ABOUT WHAT MAKES THIS APP DIFFERENT FROM COMPETITOR APPS>

<INSERT QUOTE ABOUT APP RELAUNCH PLAYING INTO SC INNOVATION/BEING A FORWARD-THINKING LEADER IN THE INDUSTRY>

<INSERT QUOTE ABOUT FUTURE IF APPLICABLE>

Come on, get app-y!
About Expert
Discover expert advice from SalonCentric and the industry's most trusted artists and educators. Whether it's the latest, on-trend techniques or tips that will boost your business, they're here to make sure you reach your full potential!