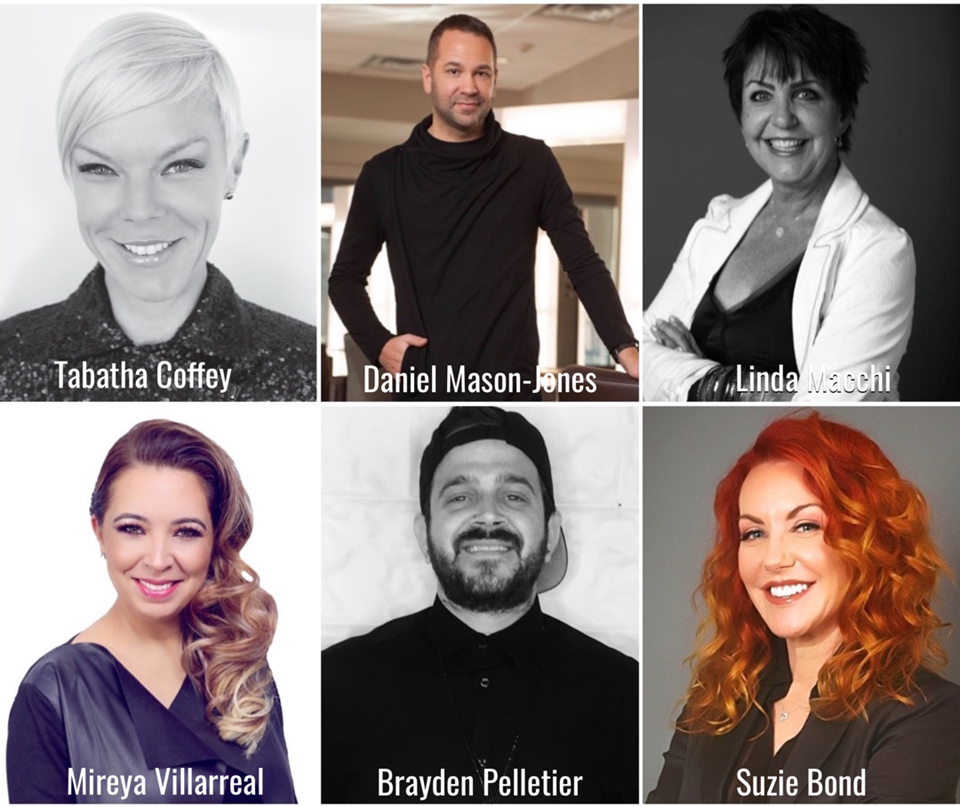 As we take the next step forward together, SalonCentric wants to make sure you come back strong and stay strong for years to come. The beauty industry as we knew it is no longer, and while navigating this dramatic transformation, we want to help by giving you the steps you need not only to survive, but to thrive in this new normal.
Join SalonCentric for Business Reimagined: The Next Step Forward on Sunday, May 31st from 11:30 am - 6:00 pm ET/8:30 am - 3:00 pm PT for a full-day digital conference featuring invaluable insights from the industry's top leaders, a solid plan for building your comeback, and tips for creating a safe and clean experience for your clients, your staff and yourselves. Plus, participate in an interactive Town Hall with special guests, and a Happy Hour with high energy DJ duo, the Vargas Brothers.
"This entire experience has been an eye-opener for our industry," says Daniel Mason Jones. "I feel that many beauty professionals have realized that we have been doing things wrong. And many people found themselves in financial hardship, and within days of closing up shop. We as an industry need to step it up, dig into deeper education and stronger business practices." Mireya Villarreal agrees, saying that, "This pandemic has forced everyone to think differently. The unprepared, or anyone that has never been through a hardship like this will be impacted most. The key is making sure you change your mindset, learn and adapt quickly to survive and thrive." Throughout the full-day conference, Brayden Pelletier hopes attendees will walk away with the tools for not only "dealing with the day to day surprises of our new business, but how to feel setup and empowered for whatever comes our way in the future."
"If a stylist really wants to 'live their best life,' this is the time," says Linda Macchi. "It is a time for change, challenge, and huge opportunity. We will give them proven solutions for the obstacles they already had, and prepare them for the career and future they dreamed of." Now is the time to reimagine the way you learn, work and grow your business.

Featured Artists and Class Descriptions
Suzie Bond (@suziebond), L'Oréal Professionnel Educator
The Business of Color + Correction with Suzie Bond
Suzie Bond will share efficient methods to regain control of your hair color business. Learn application methods for optimum results in minimal time, consultation tips to quickly identify the corrective steps needed, and how to charge your worth while respecting your guests' loyalty after this time apart.
Tabatha Coffey (@tabathacoffey), Matrix Global Business Ambassador
Conversations with Tabatha
A good conversion can change a life, especially in times of change and uncertainty. Join Tabatha Coffey for a conversation about returning to business, managing stress and the power of human connection.
Linda Macchi (@linda_877), Redken Global Business Artist and Brayden Pelletier (@justbhair), Redken Artistic Squad
Challenge = Change
Are you ready to go back to business? Is your salon ready? How about your clients? If you are wondering how to take all of the challenges and turn them into opportunities and make a change, tune into Linda Macchi & Brayden Pelletier as they share the realities of opening the salon in our new world, so that you can skip the learns and go right to work. Turn your challenges into amazing & profitable changes!
Mireya Villarreal (@Mireya_Villarreal_), #ItTakesAProTeam Artist
Next Level Thinking
Mireya Villarreal, Founder and CEO of Pink Pewter will be talking business and the foundational habits necessary to break through to the next level. Learn the behaviors necessary to develop an entrepreneurial and unstoppable mindset. Learn how to break through the barriers that prevent you from growing your business and brand, and avoid costly mistakes from a hairstylist and business owner who started in a 600-square-foot salon to growing an international brand sold in over 30 countries.
Daniel Mason-Jones (@danielmasonjones), #ItTakesAProTeam Artist
Digital Restart with Daniel Mason-Jones
Join Daniel Mason-Jones as he shares new ways to navigate these uncharted territories by creating a sustainable career in beauty. Daniel will be teaching social media and business-building strategies that will help you survive the new normal
Town Hall Q&A
Tune in for a live, interactive Q&A with industry leaders. Ask your questions in real time and participate in what is sure to be an engaging conversation. Here's who's on tap:
Daniel Mason-Jones on Social Media & Returning to the Salon
Mireya Villarreal on Diversifying Income
Steve Sleeper, Professional Beauty Association Executive Director on Industry Law, Funding, State of the Industry
Christa McDearmon on All Things Sanitation