Want to kickstart your business with up to three times more clients? Learn how with these tips and tricks for incorporating Express Color Services into your service menu.
Add on Add-On Services
When clients come in for a trim or cut between color services, there is often regrowth. This is the perfect scenario to ask if your client would like a quick gray touch-up using Redken Color Gels 10 Minute Express Permanent Color. In virtually the same amount of time it takes to cut and style your client's hair, you can add on a root refresh. It earns incremental dollars for you while giving your client a beautiful fresh cut and stunning, gray-free locks. How's that for a win-win?
Say 'Yasss' to Walk-In Clients
Have you ever had a client come in last-minute and desperate for a quick touch up right before an important event they "forgot about"? Well, now you never have to see tears well up in her eyes again as you say 'Sorry, I'm totally booked!' With Color Gels Lacquers 10 Minute saying 'no' to a walk-in root refresh is a thing of the past. Whether you are refreshing just the grays that show when she styles her hair or covering all regrowth, you can have her in and out in as little as 25 minutes.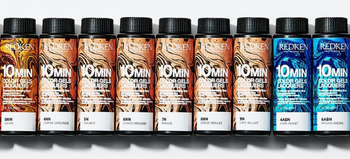 Service Multiple Clients at Once
Color Gels 10 Minute is the perfect sidekick to turn you into a multitasking mastermind. Waiting for your lightening service client to process? Why not fit in two Color Gels 10 Minute root refreshes while you wait? Balancing the books while managing inventory? No reason you can't spend 10 minutes on that half inch of regrowth that just walked in. No matter what you're doing, you certainly have time for more dollars made possible with Color Gels 10 Minute.
Say Goodbye to Hollowness
We all have clients with those stubborn grays that just don't take color as well, leaving hollow areas following a regular color session. Rather than going back in with traditional permanent color, use Color Gels 10 Minute's supercharged formula to fill in hollowness in a flash. Using a small amount of formula at a 1:1 ratio with Pro-oxide developer, apply Color Gels Lacquers 10 Minute to hollow areas using a mascara wand, gloved fingers, or a brush – whatever you are comfortable with that suits the situation. And just like that, you've saved both yourself and your client an extra half hour. She looks fantastic, you look like a hero, express color to the rescue.
Combine with a Backbar Treatment for a Luxe Experience
Just because it's quick AF doesn't mean it can't be an experience. After your client is done processing, take the opportunity to give her a backbar treatment with Redken's Acidic Bonding Concentrate and she will walk out with hair that looks and feels like she spent hours in the salon.
Set Aside a Block of Time Just for Express Clients
Setting aside an assigned block of time for Color Gels 10 Minute clients is a great way to compartmentalize express color clients andstreamline your schedule. It lets you focus on the imperative speedy application and processing time without having to also manage your other traditional color and lightning clients. Think of it as your own little assembly line, with clients coming in every 15 minutes over the course of three hours or so, servicing two or three clients at a time. Cover, process, repeat. Cover, process, repeat. You're the Henry Ford of root coverage!
Don't be a Permanent Color Cannibal
Color Gels 10 Minute wasn't designed to be a complete replacement for your traditional permanent hair color, and it shouldn't be used that way. Express color is case specific and should only be used within a variety of scenarios.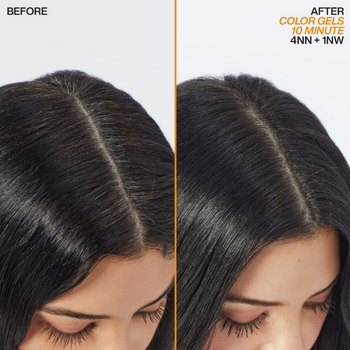 How to Advertise an Express Service
An "express service" or "express root refresh" can mean different things to different people, so rather than advertising these services using industry buzz words and leaving it open to interpretation, it's best to simplify and speak to them in a way that is more easily understood. "Lunch break root refresh" or "half hour gray coverage service" are ways to describe express services that are immediately understood by potential clients.
How to Upcharge for Express Services
Money and pricing can be a sensitive topic for many people. Whether you're trying to explain how and why you charge more for an express service to a client or justify it to yourself, try thinking about these different scenarios: When you order an Uber, you have the choice to wait 10 minutes for a car or wait 2 minutes for one at a premium price—Color Gels 10 Minute is the two-minute wait. When you order something online, you can get free shipping and wait 5-7 days for delivery or pay extra to have it delivered next day—Color Gels 10 Minute is next day shipping. And if you want to fly to London, you can spend eight hours on a normal plane or pay extra and spend half the amount of time on the Concorde—Color Gels 10 Minute is the Concorde. Time is money, not just for you but also for your guests. An express service frees up time in their day so they can focus on the other things they need and want to do and therefore, is worth more.
Redken Artist Rosa Cisneros-Ngauama's tips for fail-proof formulation with Color Gels 10 Minute:
Determine client's natural level

Determine her percentage of gray. Color Gels 10 Minute works best on clients with 50% or more gray hair

If your client is less than 50% gray, please keep in mind the color result will likely appear darker than expected since lift is minimal. For clients with lower levels of gray, consider formulating one to two levels lighter than desired result to prevent results being too deep

Keep in mind that Color Gels 10 Minute provides only one level of lift. If you are looking for more lift than that, you'll want to use a different Redken permanent line

Always process for 10 minutes, and no longer than 15 minutes. Start your timer just as you begin your application. If you leave the formula on any portion of the hair for longer than 15 minutes, the color will process deeper than intended
Pro application tips:
Use a bottle for quickest application

Apply a long bead of color to sectioned hair, and then use a gloved finger to spread the formula along gray regrowth for each section

Keep in mind the clock starts as soon as the color touches the hair, not when you are finished with the application. If you aren't confident you can do a total application in 10 minutes then just focus on those grays that show when she styles her hair and branch out from there. And of course Redken's Smart Pause technology helps prevent overprocessing by providing virtually the same results between 10 and 15 minutes, giving you that 5 extra minutes of wiggle room!
About Expert
Discover expert advice from Redken and the industry's most trusted artists and educators. Whether it's the latest, on-trend techniques or tips that will boost your business, they're here to make sure you reach your full potential!
up next
Build Your Business With Color Gels Oils
Build Your Business With Color Gels Oils
Written by 
Redken Team
Sep 21, 2023
Read time 5 min