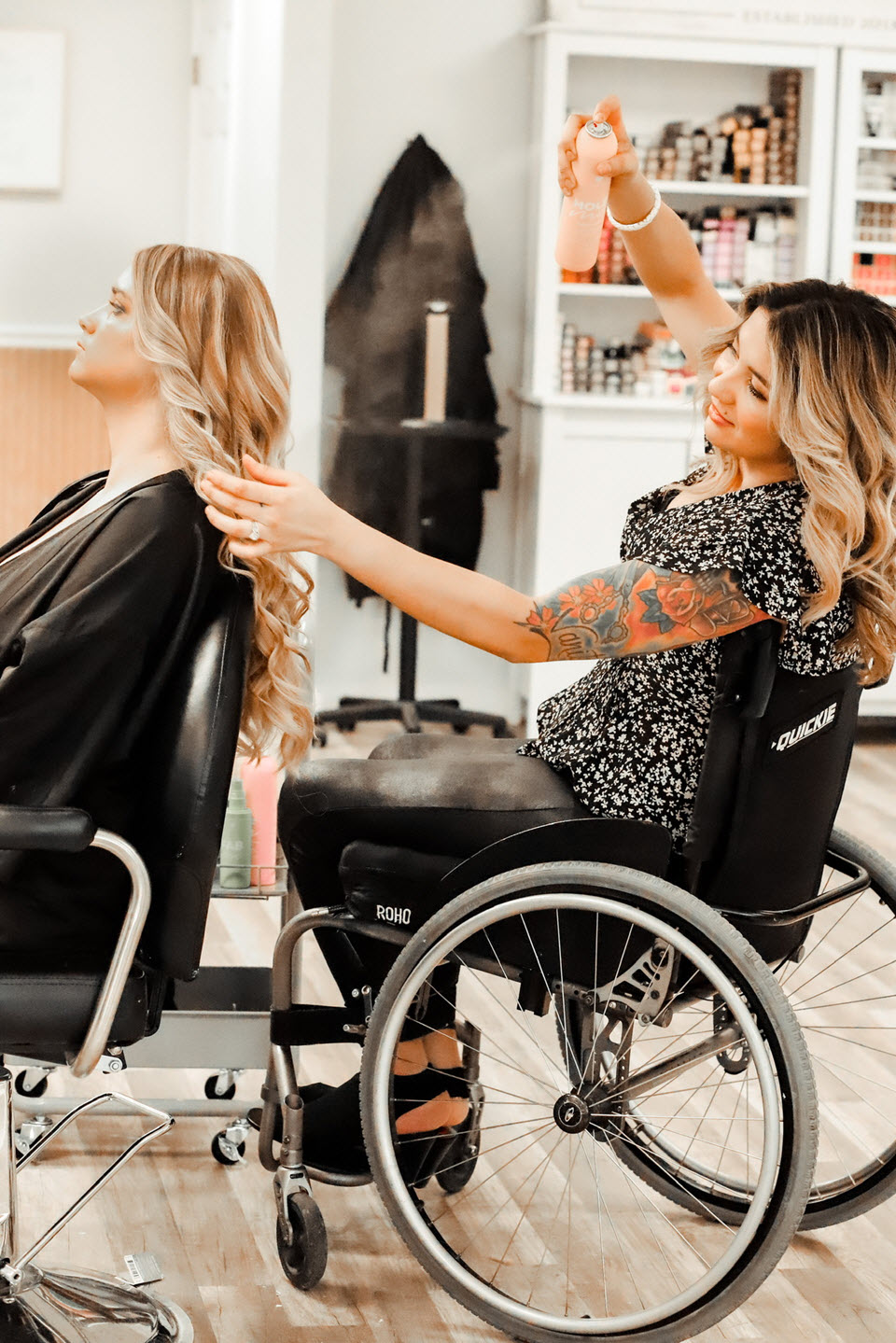 Source: Courtesy of Yara de la Torre
While stylists everywhere continue to face challenges brought on by months-long shutdowns due to the COVID-19 pandemic, this wasn't Yara de la Torre's first experience being forced to sit out of work for an extended period of time because of circumstances beyond her control. The Key Largo, FL-based balayage artist, Sunlights Balayage Educator and owner of Lashes & Curls, suffered a devastating accident in April 2019 that put her in a wheelchair, but she's been fighting her way back ever since, and is proof positive that the comeback is always stronger than the setback.
The Accident
"I fell off the second story of my home. I am notorious for being clumsy, and this time I hurt myself pretty bad, worse than ever before. I got locked out of my house and tried to break in through my bedroom window. The ledge around my house doesn't have a railing, and I lost my balance and fell back about 10 feet—maybe even less. It wasn't a big fall, but I landed on pearock, and one big rock that we later found was likely the one that ended up shattering my T12 vertebra, which burst and sent thousands of little bone pieces flying inside my body. It pierced my spinal cord and caused immediate paralysis."
How It's Impacted Her Life
"My life before my spinal cord injury (SCI) was crazy. I took on much more than I should have, and my plate was definitely fuller than it should have been. But I'm a lot easier on myself these days. Since my SCI, not much has changed in my daily life, but the way in which I do things definitely is. Simple tasks like showering, getting dressed, getting in and out of the car, are much more time consuming now, but still very much possible. I do the best I can with my 'new normal.' And I will say this—it's been a big adjustment. It's the type of thing you think will never happen to you. My fiancée and our two kids have been my biggest strength and supporters through all of this. Loresa, who I one day hope to marry, has been my everything throughout all of this. She has never once left my side, always encouraging and comforting me, and just being there with me every step of the way. Our lives have been altered in many ways, but all positive. We have since grown closer together, bought a second home, taken over another business and enjoying our children grow up. I have been in active recovery since May 2019, and my search for alternative medicine and therapy is ongoing and never ending.
Returning To The Salon
"Continuing to do hair was never an option for me. Even as soon as my fall happened and I felt the paralysis setting into my body, I moved my hands and arms and thought to myself, 'Ok, I have my hands.' I went back to the salon around September 2019, five months after my accident, and going back to work was scary. The first person in my chair was my fiancée, and I can't even begin to explain how painful and sad that day was. She would help me by holding up my elbows with the palms of her hands because I was just too weak to hold my arms up. Her hair was a hot mess after I was done, but she smiled, lived with it and told me she loved it. I kept going back to the salon and doing relatives' hair or close friends, until I finally gained enough strength and confidence to do it well.
Doing hair is part of my identity. Without it, I'd be lost. I wholeheartedly believe that if I didn't have this undying passion for hair, I wouldn't be as far in my recovery as I am. I skipped right through the 'depression' stage of my mourning because I knew I had a higher purpose and I knew that my clients, my hair family all around the country, my team and my students were right there waiting for my comeback and cheering me on."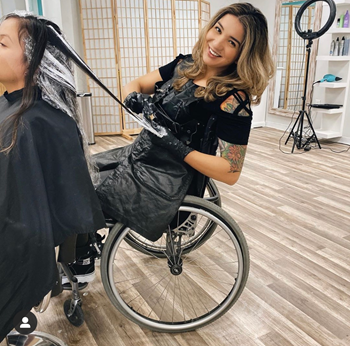 Source: Courtesy of Yara de la Torre
How Her Business And Career Were Affected
"Being out of work for five months was hard. My good friend and stylist, Mikaylah took over my clientele, management of the salon, orders and more. We would FaceTime while I was still in the hospital, and have consultations with my clients over video chat. She would send me pictures of our color book and we would formulate together. She kept our little hair home afloat our our dream alive.
When I made my way back to the salon in September 2019, and slowly started seeing clients again, I got stronger and more confident, and began working on my salon business by joining Britt Seva's Thriver's Society, a business coaching program designed especially for hairstylists. Britt and her team gave me the necessary tools and strategies to grow Lashes & Curls more than ever before. In November 2019, I began the rebranding process of my salon with a new logo, new website, new vision and a new mission: To become the home of balayage in my town. I hired a new stylist, and now with a team of four, including myself, I have worked hours on hours to make this mission a reality. In March 2020 [prior to COVID-19 closing], I can confidently say that my salon has been the best it has ever been."
#MotivationMonday (And Everyday)
"We, as hairstylists, have something very special that no other industry has. We have each other, we have community and we have the ability to reach out to others who share the same passion as we do. Lean on that. I know that I am not the only stylist who sees our career as a true passion. I literally see and feel flames burning within me when I think about hair. That is precious and rare to find, and if you have it, know that is a gift you should never let go, no matter the circumstances. Our love for hair will save us. I know, because it saved me."
When Miley Cyrus sings, 'There's always gonna be another mountain/I'm always gonna wanna make it move/Always gonna be an uphill battle…../The struggles I'm facing…../Sometimes might knock me down but/No I'm not breaking…../Just got to keep going/And I gotta be strong/Just keep pushing on,' in "The Climb," surely she must've been talking about Yara.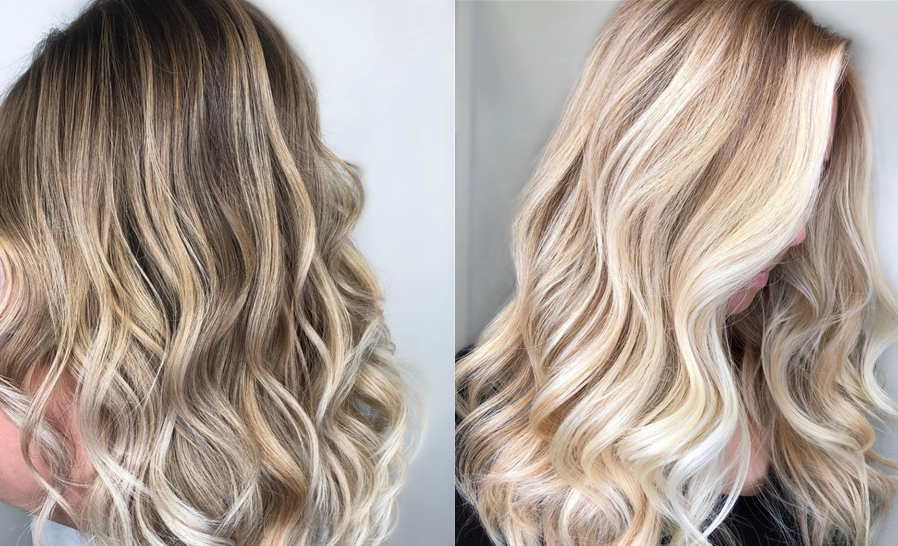 Source: Courtesy of Yara de la Torre