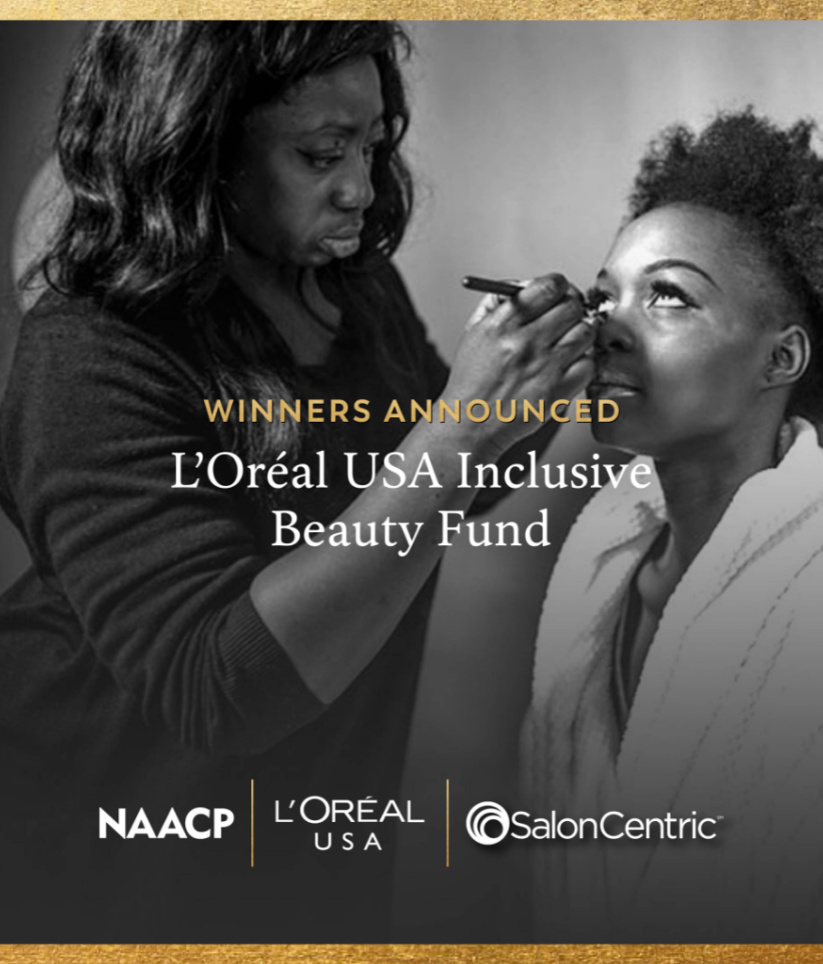 L'Oréal USA announced today the recipients of its inaugural round of funding for the grant program the beauty leader launched in partnership with the NAACP. A program of L'Oréal USA's Inclusive Beauty Fund, 30 Black-owned small businesses, Black entrepreneurs, and professional services will be given one-time grants of $10,000 each. With Black-owned businesses significantly affected by the economic fallout of the pandemic, the funding is a means of support and encouragement to continue expanding diversity and inclusivity throughout the beauty industry.

Grants were available to new or existing beauty businesses of all kinds, including but not limited to salons, spas, barber shops, stylists, makeup artists, entrepreneurs, startup founders, haircare specialists, and beauty schools.

"As a leader within the industry, it's our responsibility to engage and offer support across the various sectors of beauty especially in challenging times. To have the ability to aid and amplify a small business, product or service is a point of pride for L'Oréal and I'm honored to initiate the first stage of Inclusive Beauty alongside the NAACP. We are thrilled to engage this network of beauty players," said Angela Guy, Chief Diversity & Inclusion Officer, L'Oréal USA.

L'Oréal USA teamed up with the NAACP to identify the most promising prospects in need of the investment.

"We are very proud of the partnership between L'Oréal USA and the NAACP to be able to award these 30 winners. Not only do they ensure these Black-owned beauty businesses can navigate through these challenging, unprecedented times, but the funds also support the continued growth and success of these businesses. As the heartbeats of their neighborhoods, the longevity of these businesses is critical to supporting and uplifting entire communities. We look forward to seeing the exciting achievements these Black-owned businesses and entrepreneurs accomplish over the coming years," said Yumeka Rushing, Chief Strategy Officer, NAACP.
In addition to one-time funding, L'Oréal USA is committed to providing grantees with professional business development support from its leading beauty brands and its professional beauty products distributor, SalonCentric. Grant recipients are listed below.

- Alexis Baxter, Cosset, Philadelphia, PA
- Alvaro Lopez, Neno Clips, LLC Norwalk, CT
- Angel Heard, Style Express LLC, Cincinnati, OH
- Anthony Lebeouf, Turned up hair care, Baton Rouge, LA
- Avian Regan, Manestream Beauty Bar, West Orange, NJ
- Brandon Johnson, The Cultural's Elite, Pittsburgh, PA
- Christiana Osawe, Touched Beauty Studios LLC, New Brunswick, NJ
- Jena Mehlberg, Catalyst Salon LLC, Orlando, FL
- Jerrid Robinson, Hair by Jer Bear, Largo, FL
- Jessica Kidd, House Of Bombshell LLC, Baltimore, MD
- Kay Cantrell, Let it Blō, Savannah, GA
- Krystal Dailey, The Beauty and Brains Experience, the BABE, Bedford, OH
- La Toya Stirrup, KAZMALEJE, Cutler Bay, FL
- Lavon Green, Salon One, Twenty-Four Camden, AR
- LEIA' LOVE, Leia' Love Hair & Nail Salon, Fairlawn, OH
- Lylanda Edwards, Gabrielle's Salon & Extensions Boutique, Austin TX
- Marisa Pizzonia, ColorLab, Brookline, MA
- Martha Griffin, Boujie Couture Salon LLC, Baton Rouge LA
- Mozel Avery, Texture Factory, Scottsdale, AZ
- Natasha Davis, Trimz on a Whim, Indianapolis, IN
- Nicole Grant, MG Studio Professional Haircare, Detroit, MI
- Oluwakemi Balogun, Vixen Lash Studio, Philadelphia, PA
- Regina Holden, Tiny Textures Salon, Richmond, VA
- Regina Pickett (Gina)G Hair & Beauty Lounge LLC (G HAIR LOUNGE), Tempe, AZ
- Sterling Mason, Kut'n Loose, Durham, NC
- Sundrae Miller, Adara Spa Incorporated, Raleigh, NC
- Teresa James, Virtuous Hair Studio, Edgewater, Park NJ
- Tomica Sarver, Styles by tomica llc, Atlanta, GA
- Weena Jerome-Alexandre, Weena Jerome, New York, NY
- Ziyadah Deen, Naturally Chic Hair Salon, Baltimore, MD
About Expert
Discover expert advice from SalonCentric and the industry's most trusted artists and educators. Whether it's the latest, on-trend techniques or tips that will boost your business, they're here to make sure you reach your full potential!
up next
The 9 Best Sunscreens For Your Client's Skin Concerns
The 9 Best Sunscreens For Your Client's Skin Concerns
Written by 
SalonCentric Team
May 25, 2023
Read time 5 min