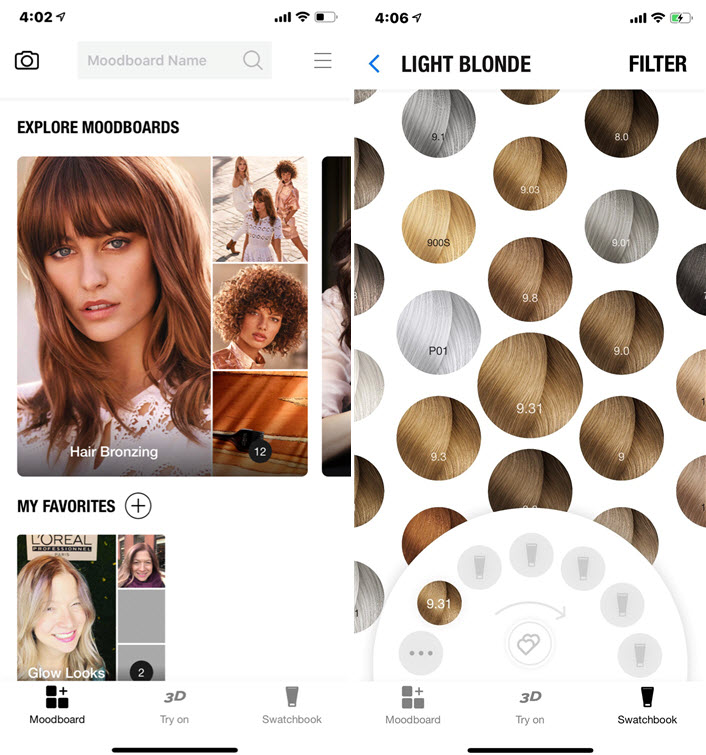 Courtesy of L'Oréal Professionnel
Who couldn't use a helping hand on the reg? Well, L'Oréal Professionnel aims to do just that with the launch of Style My Hair Pro, a first-of-its-kind actionable app geared specifically for the professional hairdresser. It's a hair color consultation app with the intention to modernize the in-salon color consultation. For clients who fall into the rut of "just do what you did last time" or those who avoid risk-taking, the goal was to give the colorist a tool to inspire clients, and to spark that very conversation. Eighty percent of clients are more likely to buy a service after a mobile experience with augmented reality. The Style My Hair Pro App has 3D try-on technology so clients can see a realistic look of how different hair color and techniques will look on them. Additionally, the App allows every hairdresser to create mood boards, perfect for sharing your vision for each client or just to get you inspired, and the ultimate digital swatch book that has every shade from each of the L'Oréal Professionnel color lines. Finally, the digital swatch book directly links to SalonCentric.com for ease of purchase at every shade level.
At the core of the App is the realistic, virtual consultation that makes the client feel at ease on what to expect. In these times where in-salon consultations may be limited, stylists can perform virtual consultations using this App to save time, ensure a seamless client experience, and make clients feel more relaxed by following these steps:

1.Call client on FaceTime. Ask your client: "Let's talk about your hair and what you want to accomplish with your look. Is that ok?"
2.Have client sit/stand in a well-lit area. Have them show the front, side, back and parted to show scalp. Ask your client what they like about their hair, what they would change, what lengths they are comfortable with, what have they done to their hair since the last visit, and what they would like for their next visit.
3. Listen and rephrase. This is the key to staying on the same page.
4. Open Style My Hair Pro App. Ask for and upload a picture of the client or take one in app and try on different haircolors. Once desired color is found, create mood boards for each client and save photos. If you're in need of some shades, order color directly from the Style My Hair Pro App, available for iPhone and Andriod.
5.Review cut, color, and style selected with client. Discuss which Serie Expert products are needed to maintain. Our Serie Expert Favorites to prolong color: CC Blondes/ CC Brunettes/Serie Silver/Blondifier
6. Verbally give service and confirm booking with client.
To watch the full tutorial on virtual consultations, click here.
Here are some of the App's highlights―pun intended:
1. Inspiration: Featuring a section loaded with different moodboards, think of it like a professional Pinterest. Plus, hairstylists can also make their own personal moodboards and show clients what they've been creating as of late.
2. Augmented Reality Try-On: As a client tries on a shade, the enhanced technology allows for the color to be directly laid onto the client's hair so that when they move their head, the color follows as opposed to a static lay on.
3. Shade Finder: Functioning as a digital swatch book containing every single LP shade, it eliminates the need for a physical swatch book to make it more portable and accessible for colorists to narrow down the perfect shade for clients. The App also informs the colorist whether the chosen shade is from INOA, DIA or Majirel lines, for example.
4. One Click Purchase: Each L'Oréal Professionnel shade in the App links to its corresponding product page on SalonCentric.com to make purchasing easier.
5. Reference Bank: Offering technical guides and color formulas, colorists can easily look up the answers to questions they may have.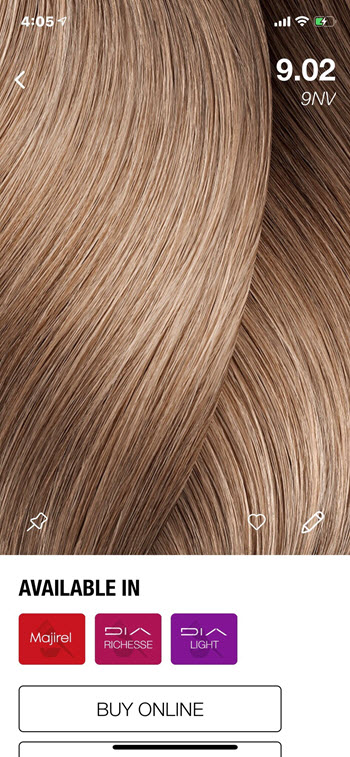 Courtesy of L'Oréal Professionnel
Tara Brzycki, owner of Salon Ablaze in Circleville, Ohio says, "I have been using this app during consultations, and my clients are ecstatic. They have fun trying new looks and learning how to be realistic about color ideas they may have. It's what I needed to help my clients understand what will and what won't work for them. If they ask for a hair color, but a tone doesn't complement their complexion, I can instantly show them the difference in tone against their actual face. Clients love being able to see it right before their eyes. And personally, I feel like it builds trust between us because once I tell them and show them, they're more confident in trusting my expertise." L'Oréal Professionnel Artist Brandon Curtis says, "This App is a great tool for increasing your service ticket. Through moodboards, you can show the many forms of dimension that any color can have which helps to add on balayage and foiling services to any single process. Plus, the 3D Try-On technology is perfect for demonstrating the importance of glossing their highlights in between visits."
In the long run, the hope is that this App will help to increase the number of color consultations, and in turn, increase the number of color services, especially with clients who haven't previously colored their hair.
Style My Hair Pro is currently available for download at the Apple App Store and the Google Play Store.