Redken x Mizani Ambassador and SalonCentric ITAPT Artist Jamal Edmonds (@lamajbackwards), introduces a new gray coverage technique: Blend and Blur, perfect for textured hair clients. This is an ideal technique to provide elevated gray coverage and dimension for your textured hair clients while providing a soft-hold style for curls, coils, and waves. Using the newest innovation in both Redken and Mizani's portfolios, Jamal shows us how to rejuvenate coarse, wiry grays while ensuring clients' curls stay defined.
Redken's new Color Gels Oils permanent haircolor allows you to not only cover grays, but also rejuvenate them. Color Gels Oils features a hair rejuvenation technology that allows stylists to cover grays and provide increased shine and condition. And the ammonia-free, vegan formula contains two percent apricot oil for additional smoothness to help with hair's manageability and with an MEA+ engine, the color is deep and saturated, with up to 100 percent coverage on every shade.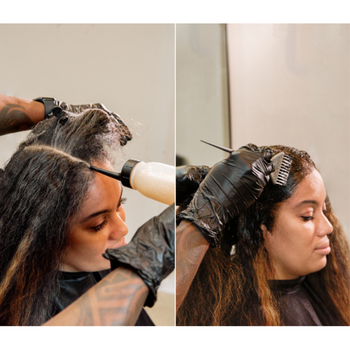 Color Gels Oils is perfect for the Blend and Blur technique as it can help rejuvenate even the most coarse, wiry grays. Jamal says, "Oils help add condition to curly hair while processing, leaving it shiny and smooth, and it won't compromise the curl pattern." After using Color Gel Oils, finish off the look with Mizani True Textures Coil Stretch Cream to achieve the perfect wash 'n' go that lasts. The Coil Stretch Cream helps elongate, define and shape coils for a soft-hold finish without drying out your client's coils. A paraben- and silicone-free formula with a kind ingredient blend of sea moss, coconut, olive and marula oils, this styler feels like a cream but holds like a gel—a perfect finish to the Blend and Blur technique. Check out the step-by-step below.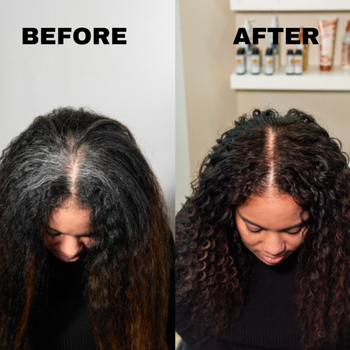 STEP-BY-STEP:
COLOR:
Step 1: Mix Color Gels Oils 7NN and 20-vol Pro-oxide Developer to apply to Zone 1 for gray coverage, using Redken's Liquid Applicator Bottle or bowl and brush.
Step 2: Mix Shades EQ 07M and Shades EQ Bonder Inside 07NCh with Shades EQ Processing Solution to dry hair for a tonal refresh on client's Zone 2.
Step 3: Process and rinse out
Step 4: Style with Mizani True Textures Coil Stretch Cream.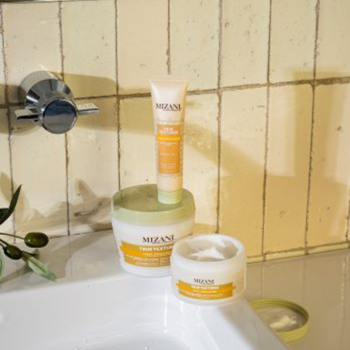 STYLE:
Step 1: After cleansing and conditioning, scoop a quarter-size amount of the Mizani True Textures Coil Stretch Cream on your palm and emulsify.
Step 2: Section hair and apply in subsections starting at the ends and working towards the root.
Step 3: Once the product is saturated into each section, use your preferred wash-n-go technique and continue applying in subsections throughout head until finished.
"Oils helps add condition to curly hair while processing, leaving it shiny & smooth and it won't compromise the curl pattern." 
- Jamal Edmonds
(@lamajbackwards)