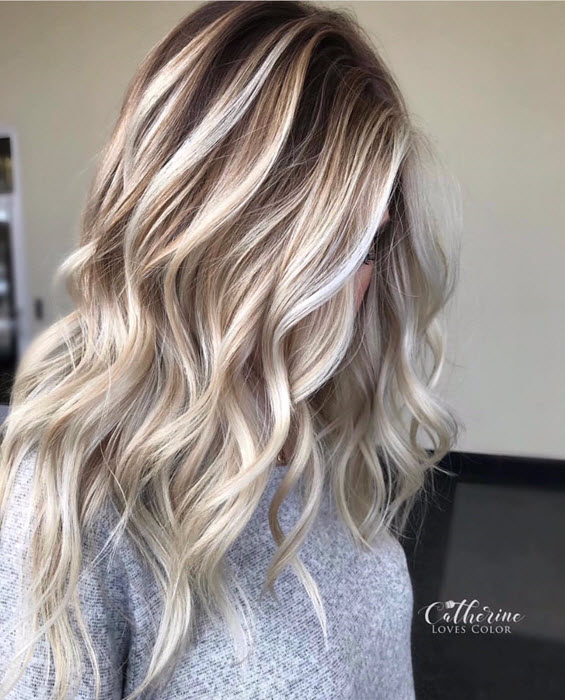 It comes as no surprise that Catherine Long, better known as @catherinelovescolor, recently took home top honors at the Behind the Chair One Shot Hair Awards for best hair painting. A quick glance at her Instagram feed instantly reveals next level blonde work even to the untrained eye. Here, a breakdown of her winning hair painting look for you to recreate in your chair.

Products Used:
Oligo Professionnel Blacklight Balayage Clay Lightener 40 Vol on the new growth and
Oligo Professionnel Blacklight Balayage Clay Lightener 20 Vol on the mid-lengths to ends

Ones to Try:
Redken Blonde Idol Dust Free Conditioner Lightener
Pulp Riot Clay Lightener
Kenra Simply Blonde Clay Lightener

Olaplex Bond Builder 1/32 oz.
Redken Shades EQ 6N and 7NB in equal parts for lowlights
Oligo Professionnel Blue Shampoo
One to Try:
Surface Blonde Violet Shampoo
Moroccanoil Hydrating Conditioner

Step-by-Step:
Section hair into 3 sections, separating the back from the sides just behind the ear.
Start in the back section at the nape, making a brick pattern by grabbing a triangle section and painting in a V-shape.
Apply the lowlight right to the middle of the V, as needed, and make your way up the head.
Starting on the heaviest side first, take a diagonal section and paint on a slant, adding lowlight under the slant.
Continue up the head until both sides are complete.
Let process for 45 to 50 minutes with no heat.
Rinse hair without shampoo and apply an Olaplex standalone treatment before you tone. This helps the toner last longer and the color will take more evenly.
Shampoo with Oligo Professionnel Blue Shampoo, no conditioner at this stage.
Create a root shadow using Redken Shades EQ 6N ¾ oz. and 7P ¼ oz. only one inch down. Then apply 9P to the mids and 9P/Clear to the ends.
Rinse and condition with Moroccanoil hydrating conditioner.
Pro Tip:
Don't over-paint. Stand back and look at the hair―look at how it falls, look at where dimension should live in that hair. That's how I paint. In the past, I just painted to paint and was never happy with the outcome. Now I pay attention to every placement, every detail.

Photography: Instagram/@catherinelovescolor
About Expert
Maureen is a veteran beauty and style editor having worked at AmericanSalon, Woman's Day, People StyleWatch and Teen Vogue, and a contributor for CR Fashion Book, Well + Good, Elite Daily and Glam. You can find her reporting on the latest trends from backstage at New York Fashion Week, interviewing celebrities and beauty industry heavyweights, and fashion styling for editorial photo shoots. The self-professed product junkie, super foodie and wannabe hand model is obsessed with rose gold jewelry, the NYC Flower Market and planning her next big getaway.