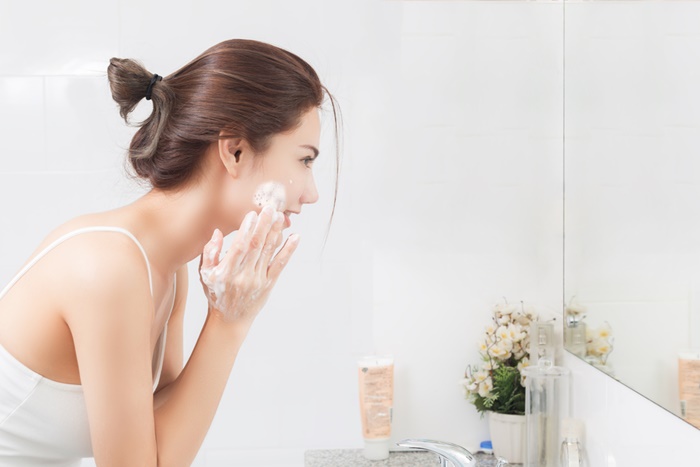 Still using the same acne products you relied on as a teen? They're probably not working like they used to. That's because there's a big difference between the acne we get as teenagers and the acne we get as adults.
Teen acne is part-genetic, part-hormonal and greatly related to increased oil production—an unfortunate side effect of puberty. Teens usually break out all over the face, neck and chest. But their skin tends to regenerate quickly, and they eventually outgrow acne.
In contrast, adult acne tends to be deeper, more painful and more cyclical. It is usually caused by stress or hormonal fluctuations, and found around the mouth, jaw and chin. Because cell turnover slows with age, adult skin can take longer to heal than teen skin. Redness can also last longer, and acne can be complicated by sensitivity, dehydration and pigmentation issues.
How to Treat Adult Acne
To get clearer skin as an adult, focus on targeting the four main contributing factors of acne: overactive sebaceous glands, cell proliferation, growth of acne-causing bacteria and inflammation.
Look for multifunctional products that contain ingredients like Salicylic Acid, which helps clear away dead skin cells; Benzoyl Peroxide, which helps kill bacteria; and soothing botanicals like Tea Tree Oil and Licorice.
Practice Good Skin Care Habits
While teen and adult acne differ, both crowds can benefit from the following habits, which help promote clear skin:
Clean makeup brushes regularly, wash pillowcases weekly and disinfect cell phones daily to help reduce bacteria.
Avoid ingredients such as Lanolin, Isopropyl Myristate (common in powders), Mineral Oil (which can prevent skin cells from shedding properly) and fragrance (a common irritant).
Be careful not to cleanse with hot water or over-exfoliate. Both habits can dry out the skin, which can lead to wrinkles.
Avoid pore-clogging, congestion-inducing habits like working out with makeup on.
Finally, since many adult acne issues are triggered by stress, focus on reducing your stress level. Get more sleep, balance your diet, drink more water, limit caffeine consumption, exercise and don't smoke! Do this, and you'll be on your way to clear skin in no time!
MediBac Clearing® is Dermalogica's answer to adult acne, we suggest trying the Clearing Skin Wash, Overnight Clearing Gel and Oil Control Lotion.
Photography: Shutterstock
About Expert
Carrie Adkisson is a Master Instructor for Dermalogica and the International Dermal Institute and is a licensed skin therapist in Oklahoma and Texas with 17 years of experience in the industry. She has worked in many different business settings including full service salons, spas as well as retail focused environments. Carrie has developed curriculum for undergraduate and post-graduate students at The International Dermal Institute and was a featured speaker at the International Congress of Esthetics in Dallas for a National Esthetic Teacher Training course.