Happy Birthday Mother Earth! Earth Month is here and if you aren't doing so already, why not give some of your energy and focus to conserving and restoring our beautiful planet? Your salon can be a cleaner, greener place with just a little bit of effort. What's new on that front? There's a brand-new recycling program from SalonCentric that makes it incredibly easy for you to take your salon to zero waste by recycling used products and packaging.
How does saloncycle work?
Step One: Jump online and order the specially-designed SalonCycle boxes or bags for your salon.
Step Two: Place the SalonCycle containers in high traffic areas and drop in your recyclable salon waste.
Step Three: Once the containers are full, simply ship them off—they all come with pre-affixed UPS shipping labels.
That's all there is to it—with SalonCycle recycling is as easy as tossing used containers in a bin.
What can you recycle with Saloncycle?
Metal hair color tubes
Used foil
Plastic product lids and containers
Break room waste such as coffee capsules, straws, utensils, cups and snack wrappers
Paper, including newspapers and magazines.
Gloves
Masks
Excess hair color
Hair clippings

Intrigued? As an extra incentive, Biolage has come up with a special Earth Month offer. From April 18 to April 30, you can go to a SalonCentric store and bring in your items to recycle in the special Biolage branded recycling. (Note—this special box only accommodates metal, plastic and paper.) Give it a try and if you decide to go all in with more SalonCycle containers, you can order them online and even use LEVEL points when you order.)
Also, available only in April, get limited-edition Color Last hybrid paper and plastic bottles. Containing Biolage Color Last Shampoo and Conditioner, the containers are made from 100 percent recycled paper and plastic, excluding the pump, with 40 percent less plastic versus the traditional Color Last bottle.
5 More ways to be part of the change in your salon
Once you lean into SalonCycling, you may be inspired to explore more ways to increase eco-consciousness in the salon. Here are some cost-effective ideas that will have a huge impact on the planet:
Skip the disposable cups and keep thousands of pounds of waste out of landfills. Invest in reusable coffee cups and water glasses instead for your salon beverage offerings.
Launder consciously by waiting until the washing machine is full before you do the towels and capes.
Rethink the lighting in your salon if you haven't done so already. These days, energy-saving LED light bulbs are the way to go. They reduce energy consumption by a whopping 75% and last 25 times longer than traditional light bulbs. You'll also love your lower electric bills!
Adjust the thermostat. Just a few degrees can make a huge difference on your energy consumption. Consider turning the heat down just by four degrees in the winter and the air conditioner up four degrees in the summer. It will be barely noticeable to staff and clients, but you'll see—it will make a huge difference in your energy bills!
Reduce water usage. One drop of wasted water every two seconds equals more than 1,000 wasted gallons per year! Turn the water off when you're massaging in hair color shampoo or conditioner. Check all the shampoo bowls and salon faucets for leaks. Install low-flow nozzles in sinks and toilets. Then sit back and watch your water bill go down, down, down!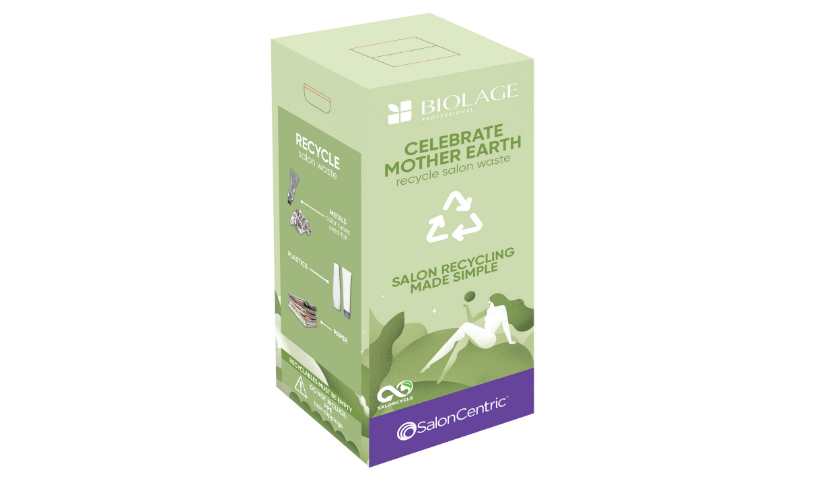 Ready to recycle? Explore the complete SalonCentric SalonCycle program.
About Expert

Discover expert advice from Biolage and the industry's most trusted artists and educators. Whether it's the latest, on-trend techniques or tips that will boost your business, they're here to make sure you reach your full potential!