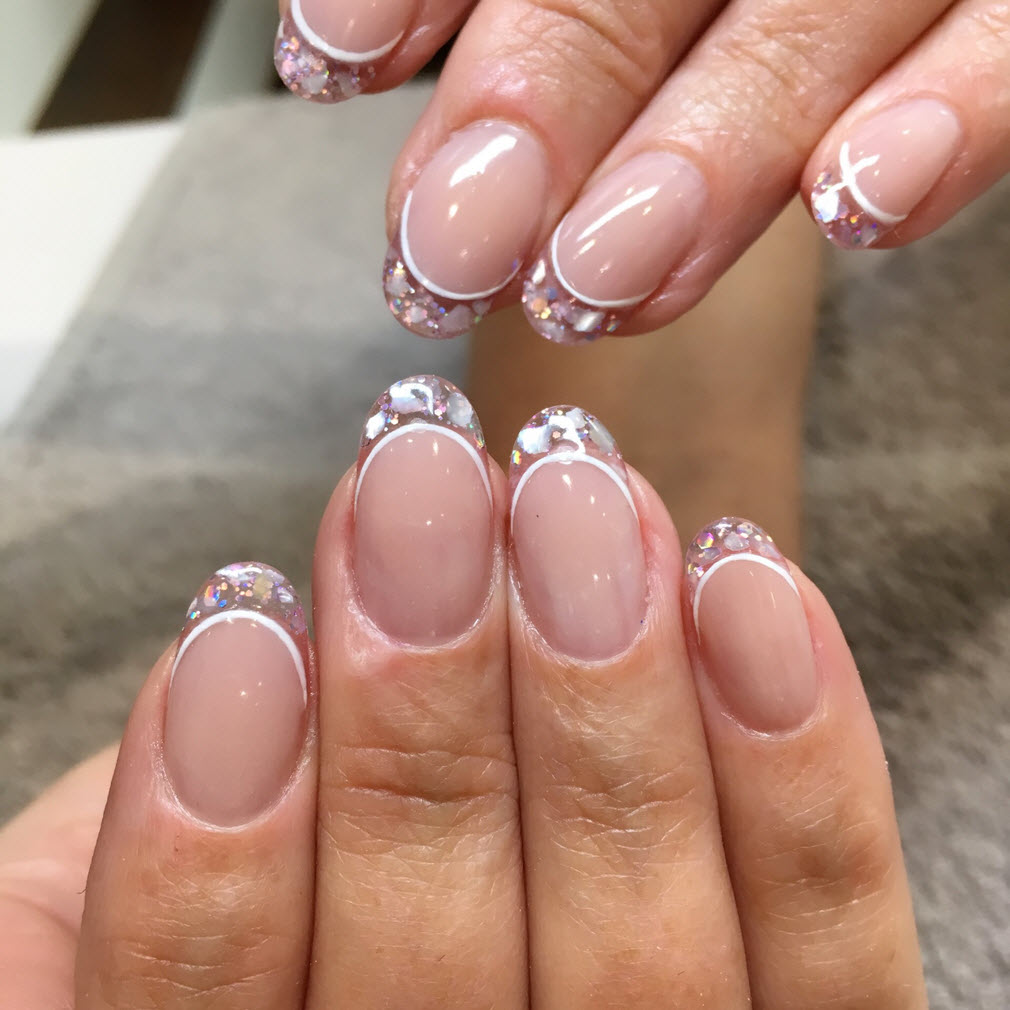 Source: Courtesy of @sammyblissnails
If this isn't nail art perfection, we don't know what is. A modern fantasy nail meets classic French meets trendy negative space. It all makes for an overall design that's versatile enough for any setting be it a wedding, an event or casually strolling the sidewalk. Using nail enhancements, crushed shells and glitzy glitter,
CND
Education Ambassador Samantha Birkett-Leigh
(@sammyblissnails)
creates nails that you'll definitely want to show your next client. So, save immediately on your phones and check out the step-by-step below to get the look.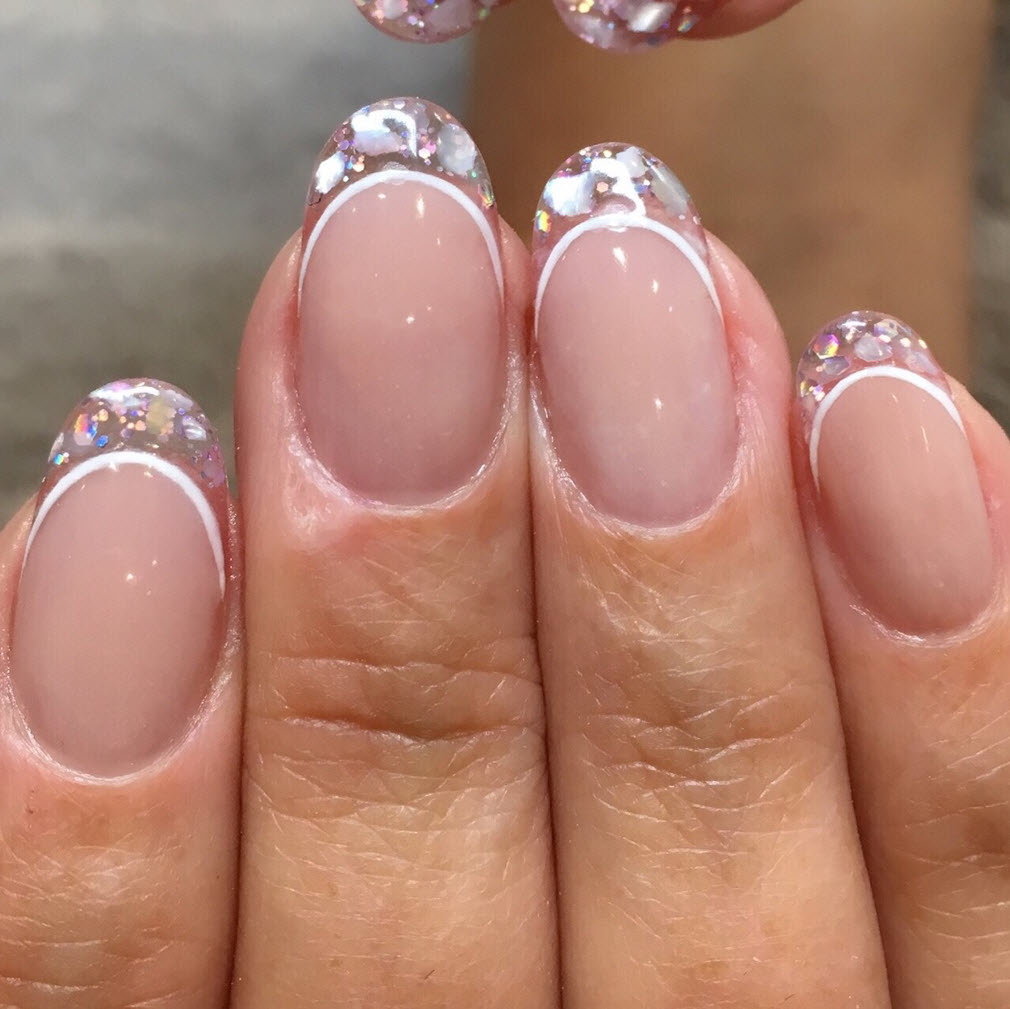 Source:Courtesy of CND

Products Used
CND PREP products
CND Retention+ Sculpting Liquid
CND Perfect Color Sculpting Powder (warm pink opaque)
CND Retention+ Sculpting Powder (clear)
Crushed Shark Eye Shells
Lecenté Fantasy Multi Glitz Glitter
CND Shellac in Cream Puff
CND ShellacOriginal Top Coat
CND LED Lamp
Detailing Brush
IPA

CND Solar Oil
CND No.10 Sculpting Brush

Get The Look
• Perform a thorough PREP of the natural nail.
• Apply warm pink opaque L&P to the nail (if needed, apply a CND sculpting form to extend the client's nail bed).
• File the free edge to create a smile line using a 180 grit file (like CND Blizzard or Hotshot). Make sure the file is at a 90-degree angle with the extension edge to keep it crisp. You don't want it to taper downwards.
• Remove any excess dust using IPA.
• Apply a CND sculpting form. You will need to customize it to fit the deeper smile line.
• Using clear sculpting powder, apply a thin layer to create the tip.
• Once you've sculpted all 10 tips and they are set, carefully remove the forms. I like to do this when I am sculpting with a clear product so that I can see where I would like to place the embellishments.
• Pick up a tiny amount of your chosen glitter on your moistened brush and place sparingly on the tip (you should still be able to see through the clear tip).
• Using a tiny bead of clear, pick up and place the crushed shell pieces where you would like them.
• Encapsulate the tips with a larger bead of clear, taking it over and onto the nail bed so that it's flush. Add an extra bead to the apex if needed.
• File finished nails using CND files and buffers.
• Wipe with IPA to remove dust.
• Using CND Shellac Cream Puff and a fine detail brush, paint a thin line where the smile line meets the nailbed.
• Cure in the CND LED lamp for 1 minute on button 2S.
• Apply CND Shellac top coat.
• Cure in the CND LED lamp for 1 minute on button 3.
• Wipe with IPA.
• Finish by applying CND Solar Oil and then massage.
Pro Tip
• Go easy on the amount of embellishments you use in the tip. You want to be able to see through it.
• Use Retention Plus Sculpting Powder in clear when creating a clear tip so that the clarity is so sharp, you don't have to worry about bubbles.
• If you'd rather not remove the sculpting form after creating the first thin layer of the tip, use a clear form instead. That way you'll still be able to see through it.