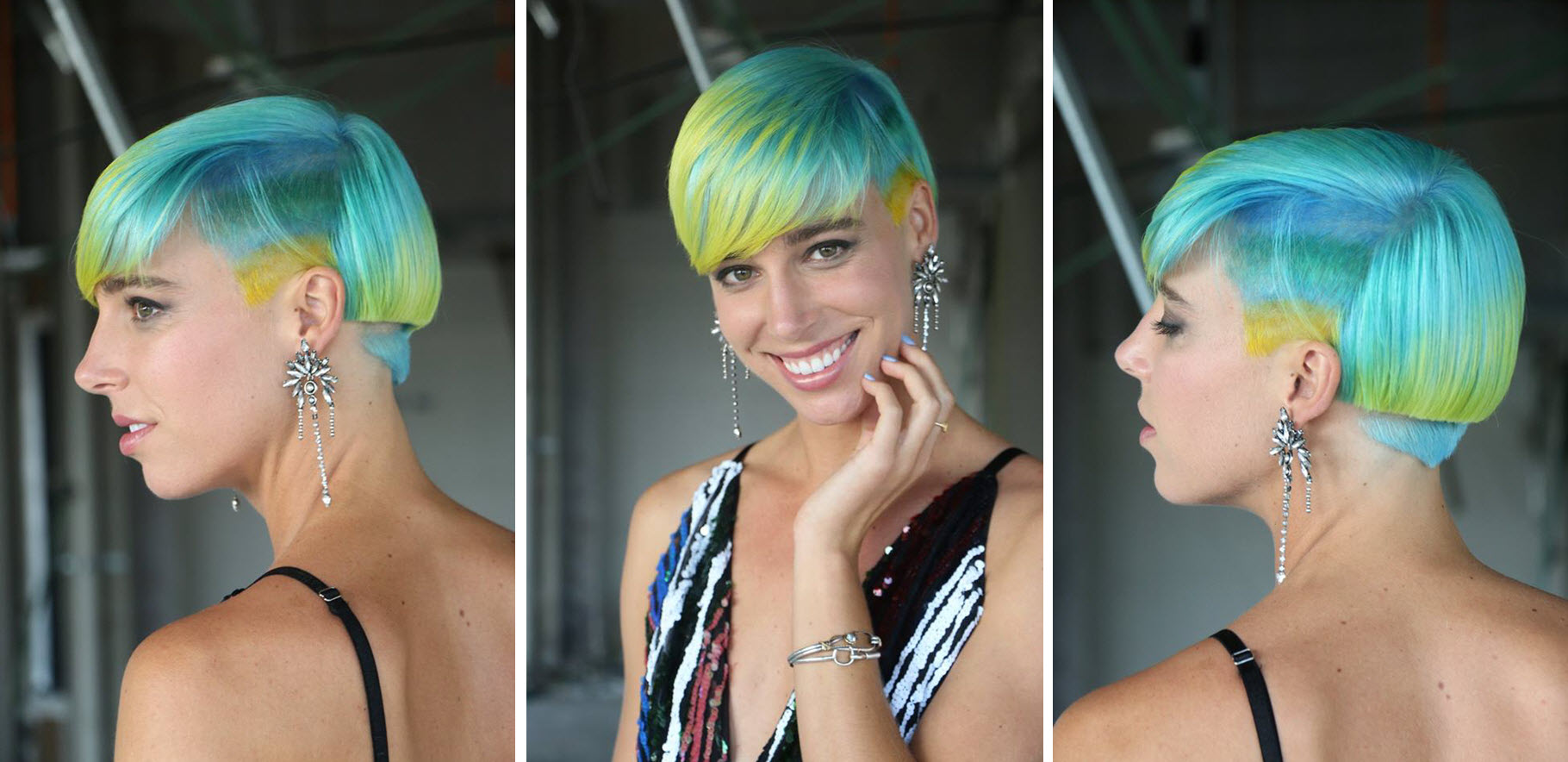 Matrix Artistic Director Daniel Roldan (
@d_roldan
) is as eclectic an artist as he is a traditional one. A cutting and color rock star, Roldan is also a world-renowned educator. He has traveled the world over for the last 10 years, on behalf of Matrix, to share his special brand of insight and talent on a global level. During the recent Matrix Elevate Me Artist Training in Cancun, Mexico, Roldan created this visually stunning color melt that evokes cool aquatic vibes. Find out how he crafted this bold look below.

Products Used:
Product Club Feather Bristle Brush
(to apply and melt)
Formula A:
•
Light Master
•
30 Volume Matrix Cream Developer
•
Bo
nd Ultim8 Step 1
Formula B:
•
Light Master
•
20 Volume Matrix Cream Developer
•
Bond Ultim8 Step 1


Formula C/Color Melting:
•
SoColor Cult Aqua Bay semi
•
SoColor Cult Aqua Bay & Clear semi
•
SoColor Cult Lucky Duck Yellow semi

Step-by-Step:
• Working in 1/8-inch horizontal sub-sections for even saturation, apply Formula A ½-inch away from scalp through the ends.
• Once mid-lengths lighten to pale yellow, apply Formula B to new growth and process up to 50 minutes.
• Rinse thoroughly, cleanse lightly and towel dry.
• Apply Formula C from scalp area and feather down into mid-lengths.
• Next, add SoColor Cult Clear semi into formula to dilute and feather further down mid-lengths.
• For final formula melt SoColor Cult Lucky Duck Yellow into the ends.
Pro Tip:
When melting the colors, brush the lightest tone into the darkest tone. This way the lightest shades stay light. Then, slide your brush to create a strong melt. Also, when rinsing hair from light to dark, make sure to get all of the color out before shampooing.
About Expert
Maureen is a veteran beauty and style editor having worked at AmericanSalon, Woman's Day, People StyleWatch and Teen Vogue, and a contributor for CR Fashion Book, Well + Good, Elite Daily and Glam. You can find her reporting on the latest trends from backstage at New York Fashion Week, interviewing celebrities and beauty industry heavyweights, and fashion styling for editorial photo shoots. The self-professed product junkie, super foodie and wannabe hand model is obsessed with rose gold jewelry, the NYC Flower Market and planning her next big getaway.