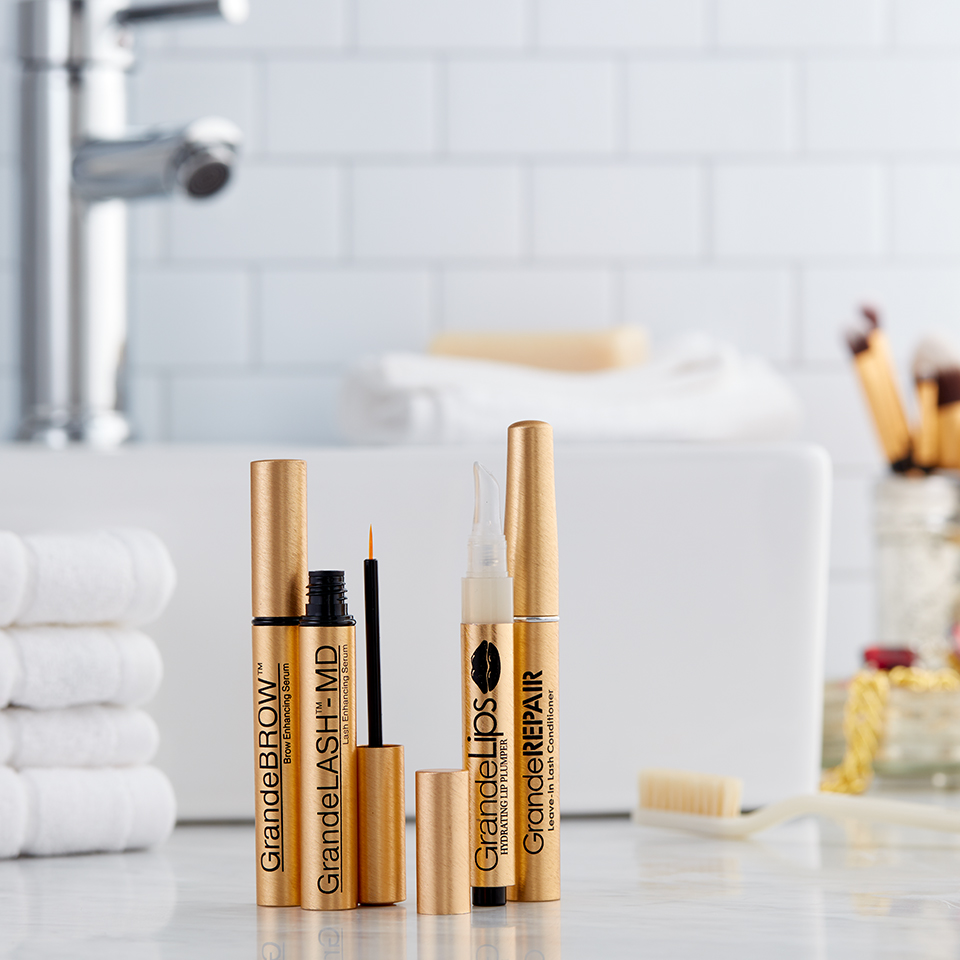 Courtesy of GrandeCosmetics

People all over the world are looking to home remedies and DIY treatments to supplement their normal beauty routines. There's no denying the world looks a little different right now, but making time to care for ourselves is one of the best things we can do when everything feels upside-down. When you feel good about yourself, it's easier to tackle almost any situation. Consider this, your home is probably where you feel most comfortable, you can kick back, relax, take your bra off and really let loose. So why not make your cozy home your own personal salon? Pour that glass of whatever you have left, light some candles and let's get started.

Take A Breath
Breathe in and breathe out. Close your eyes, and take a deep breath in through your nose and out through your mouth. Why are we reminding you how to breathe? Because every organ in your body needs oxygen, and your skin is your biggest organ. So take a few calming deep breaths to get yourself in the right mindset, and let the air circulate through your body. Ahhh…..now that we're all zen, let's get beautified.
How To Brow
Start at the top and work your way down. First up: brows. Let's fill those babies in.
GrandeBROW
is the serum you never knew you needed, and you won't be able to live without. It's so easy to get swoon-worthy brows with this little gold tube, you'll swear it's filled with pixie dust. Swipe the applicator brush across one brow, dip the wand back into the tube, then swipe across your other brow. Done. How easy was that?
No Lashes? No Problem!
One swipe can change your life, or so the dating apps say, but in this case we're talking about
GrandeLASH-MD
. If you, like many of us, are counting down the number of lash extensions you have left at this point, GrandeLASH-MD is here to help. Safe for use with extensions, GrandeLASH-MD allows you to create the appearance of long, lush lashes from the comfort of your home. If you've always dreamed of Instagrammable lashes, now's your chance.
Perfect Pout
Plump it up! Imagine coming out of quarantine with a naturally plumper looking pout.
GrandeLIPS Hydrating Lip Plumper
is a high gloss, volumizing lip plumper infused with a nourishing cocktail of Volulip™ and hyaluronic acid for both instant and long-term benefits. It instantly improves lip volume in three to five minutes and hydrates dry areas. Plus, when used two times a day, for 30 days, you can see an increase in overall lip volume. The best part? It combines effortlessly with other lip products.
Whether you're spending your days working from home, walking your dog 100 times, learning a new hobby or wrangling your kids to try your hand at homeschooling, all the beauty treatments we talked about will be working for you throughout your day. It's an instant mood-booster knowing that your beauty routine keeps working long after you're done applying the products. And bonus? They're all cruelty free.