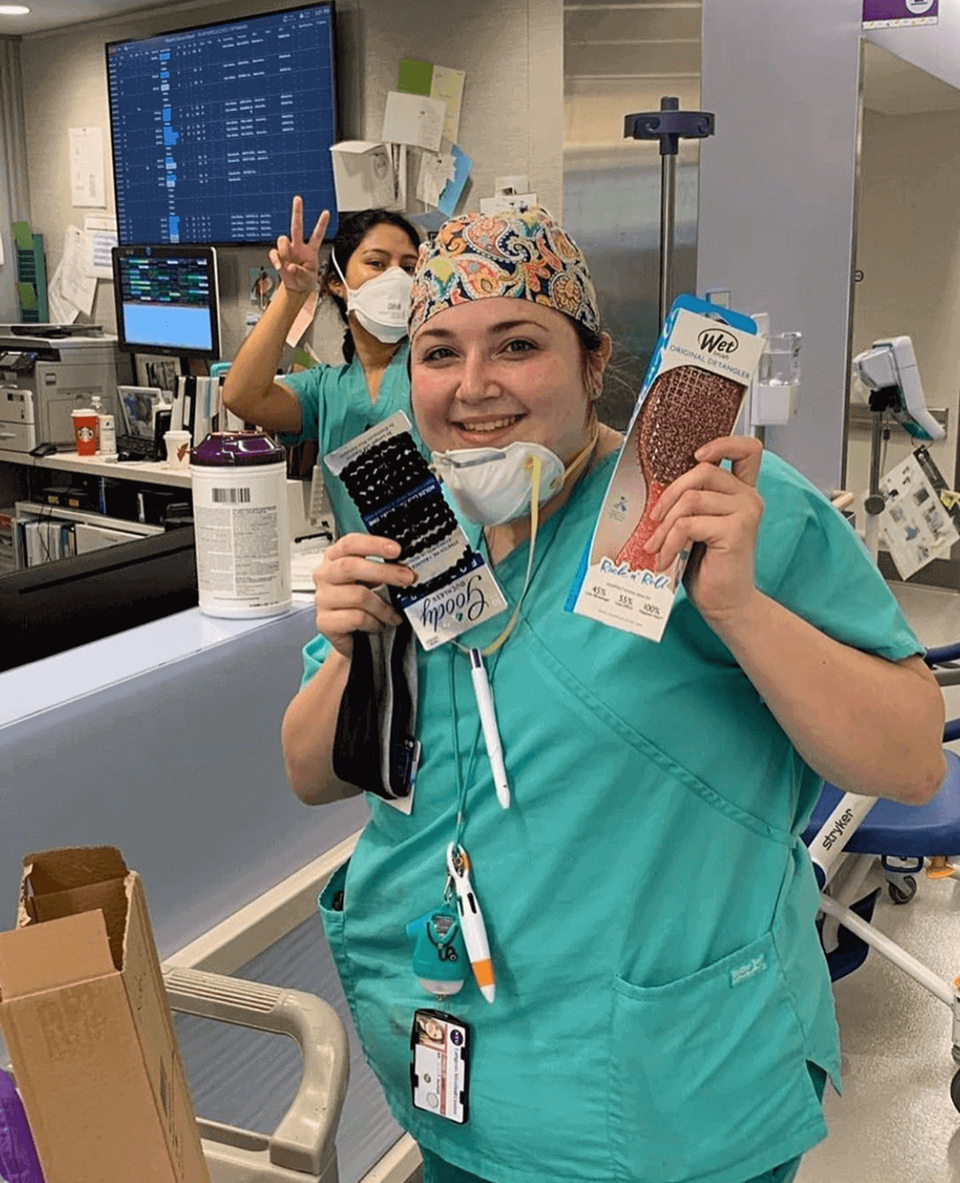 From donating personal supplies to producing disinfectants to making major donations and more, beauty brands are helping to protect and uplift the lives of healthcare professionals, frontline workers and the community-at-large during this COVID-19 crisis. With this month hosting #HospitalWeek, #NationalNursesWeek, #NationalEMSWeek and #GivingTuesday, here's a shout out to all of the pro beauty brands stepping up to make an impact with their philanthropic efforts and charitable offerings in helping those affected by the coronavirus pandemic.
ANDIS
The Andis Foundation has contributed to the Professional Beauty Association's (PBA) efforts to provide financial relief to barbers and stylists across America who are struggling during this difficult time.
BEAUTY BY IMAGINATION
The parent company of WetBrush, Bio Ionic, Ouidad, Goody and several other beauty brands has made mask donations to surrounding New York City hospitals, rehab centers and nonprofit associations, in addition to donations of Goody headband and headwrap products.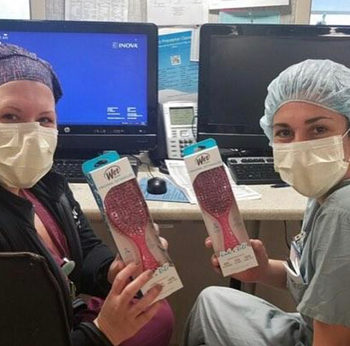 Source: Courtesy of WetBrush/@thewetbrush
CND
The iconic nail brand is partnering with nonprofit Beauty Changes Lives to distribute $100,000 in financial grants to nail professionals in the United States whose lives have been negatively impacted by COVID-19. "My hope is that these grants can help express our gratitude as well as provide a bit of temporary relief to those who have supported our brand, so we may get through this time together," says co-founder Jan Arnold.
CONAIR
The Stamford, CT-headquartered brand has provided 300 boxed lunches to the workers of their local hospital, and shipped over 700 refurbished coffee makers to local police, fire, EMS and hospital locations. Plus, the Conair HBA team has donated materials to make button headwraps to help response workers avoid mask chafing.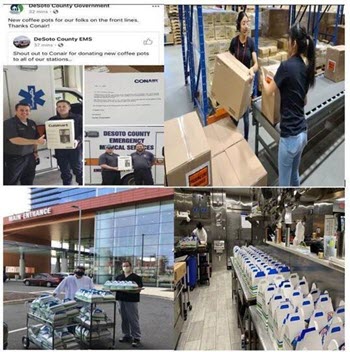 Source: Courtesy of Conair
DERMALOGICA
While the skincare brand has donated products all around the world, in the US alone, Dermalogica has donated $117,000 worth of Calm Water Gel and Skin Smoothing Cream to medical professionals, hospitals, and front-line workers to help mitigate skin problems caused by prolonged use of personal protective equipment (PPE). In addition, they've also partnered with Unilever to have over 80,000 hand sanitizers formulated, and shipped to UCLA Health to further support community initiatives.
FRAMAR
Framar donated their nitrile gloves to over 50 different assisted living facilities, hospitals, grocery stores and police departments across North America. These organizations were picked from a social media outreach program where Framar followers notified of locations they believed were the most in need.
GRANDE COSMETICS
Grande Cosmetics has pledged to donate a significant portion of sales proceeds to Feeding America to subsidize access to food for those most in need during this unprecedented time. "I didn't grow up wealthy, and I put myself through college working as a waitress. I know what it takes to be in the service industry, especially as a salon or spa professional whose work includes touching people daily," says founder Alicia Grande. "I am grateful to those individuals in particular as they helped me get my start in the industry. As I see many of them now suffering, I decided it was my turn to take action and give back."
INVISIBOBBLE
Invisibobble has donated products to more than 15 hospitals across the US to help staff fighting on the front lines.
KENRA
Kenra Professional and parent company Henkel will donate 2 million euros to the World Health Organization (WHO)/United Nations (UN) Foundation COVID-19 Solidarity Response Fund along with selected organizations. In addition, plans to donate 5 million units of personal and household hygiene products, and the production of disinfectants to help public institutions, hospitals and physicians in their fight against the virus, are in the works.
L'ANZA
The family-owned company has made a financial contribution to the Professional Beauty Association (PBA) COVID-19 Relief Fund, donated to the Angel Food Project Food Bank which feeds the homeless and this in need, and started a "Get Rooted Campaign" where profits are being allocated to the World Health Organization's COVID-19 Solidarity Response Fund.
NORVELL TANNING
Norvell is donating 20 percent of sales at www.NorvellTanning.com to the American Nurses Association as a small token of appreciation for all that nurses do to protect and care for our health and well being.
PINK PEWTER
Pink Pewter CEO, Mireya Villarreal, personally visited Roseland Community Hospital in Chicago to donate 10,000 accessorized headbands to the hospital's staff, not only to boost morale but to help with a functional problem they've experienced wearing masks. "Thousands of nurses and doctors have been complaining that their ears are hurting from prolonged mask usage and getting sores from wearing them for long periods of time," says Villarreal. "So I created these items to relieve the stress on their ears." Plus, these headbands also help in securing medical hair nets. "These doctors, nurses and staff are all putting their lives on the line for us," she says. "I donated hair accessories to hopefully put a smile on their faces even if it was just for a minute while they wash their hands or look in the mirror."
Source: Courtesy of Pink Pewter
SAM VILLA
Sam Villa held a "Socialthon" in May that included a full day tele-thon filled with education from the biggest names in the industry to donate directly to the PBA COVID-19 Relief Fund.
SALONCENTRIC
The national professional beauty distributor has worked very closely with the PBA to develop and contribute to a COVID-19 Relief Fund to provide immediate funding to stylists and salons in need of financial assistance.
WAHL
The Wahl Clipper Corporation partnered with their trusted manufacturing vendors to produce 100,000 face shields by mid-April, and distributed them to local and regional hospitals to protect healthcare workers on the frontline, with plans to continue to produce large quantities with a very short lead time. In addition, Wahl has teamed up with the PBA to help provide relief for those in need.