"But wait," you're thinking. "It's still daylight savings time. Way too soon to start thinking about the holidays." In reality, it's not. Holiday shoppers begin thinking about gift-giving four to six weeks prior to the holidays. To be ready, you need to have a clear program in place for the special items, promotions and activities you'll be offering for the season. So, do yourself a favor and start your holiday planning ASAP. You'll increase your seasonal profits and you won't be scrambling at the last minute, when you have dozens of other things to do.

The Gifts of Beauty
Lucky you, most salon vendor partners create adorable holiday gift sets and special promotions each year—they do the work for you. SalonCentric offers a wide range of holiday-themed items, and you can get a sneak peek as early as October 1. Select products based on your clients' preferences as well as items that align with your salon brand, whether it's fun and funky, upscale and chic, etc.
Once you've made your product selection, create an appealing space to display the items. If you're a solo artist, space may be limited, but if it's possible to carve out space for a small display table or a few shelves, you'll make it easy for clients to shop. In a larger salon, a central table or free-standing shelving in the reception area works well. Get creative with your festive display. Decorate with holiday-wrapped boxes or bags, bring in pretty ornaments and be sure to place signs calling out the prices near the products.
And don't forget to take advantage of your online and social media platforms. According to John Harms of Millennium Software, 65% of shoppers refer to social media when looking for holiday gift ideas. One way to turn likes into sales? Hold holiday-themed contests on your Instagram feed. Invite clients to enter via a special hashtag and gift the winners with something from your holiday gift set assortment. With a promotion like this, you'll generate more activity around your own social media platform, as well as building engagement with clients and potential clients.

'Tis the Season for Gift Certificates
Gift certificates for salon services not only put money in your pocket, they bring clients to your chair. What's more, they take an enormous amount of stress out of gift-giving. It's reassuring and easy for a guy to know he's gifting his wife or girlfriend with a pampering salon or spa experience. Salon business consultant Ivan Zoot recommends using the bonus method—the person who purchases the gift certificate gets an additional, smaller certificate at a reduced rate or free. The gift giver can then use the certificate for himself or herself (potential new client!) or add it to the original gift amount. Make certificates redeemable in January, suggests Zoot, to boost traffic during this typically slower month.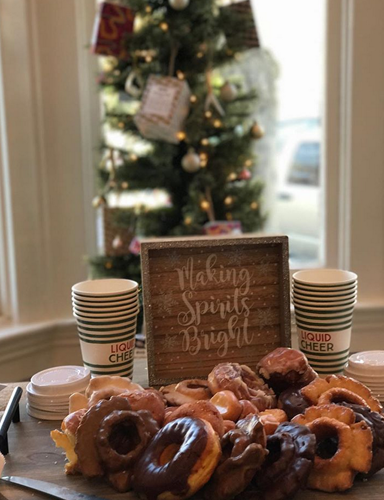 Photography: Courtesy of Instagram/@bellafreshsalon

Plan a Party
Celebrate your best clients with a holiday get-together. In addition to showing them your appreciation for their business and loyalty with food, drinks, music and maybe even a holiday sweater event, turn the evening into a retailing opportunity by prominently displaying your holiday gift options. Create a gift basket and raffle it off, with all proceeds going to one of your favorite charities. Bring out the thermal tools you carry and do quickie styling demos to stimulate holiday sales of these high-ticket items. Your clients get to cross people off their gift lists, you boost revenue and everyone's holiday becomes jollier.

Photo Credit: Getty Images
Copy Credit: Modern Salon