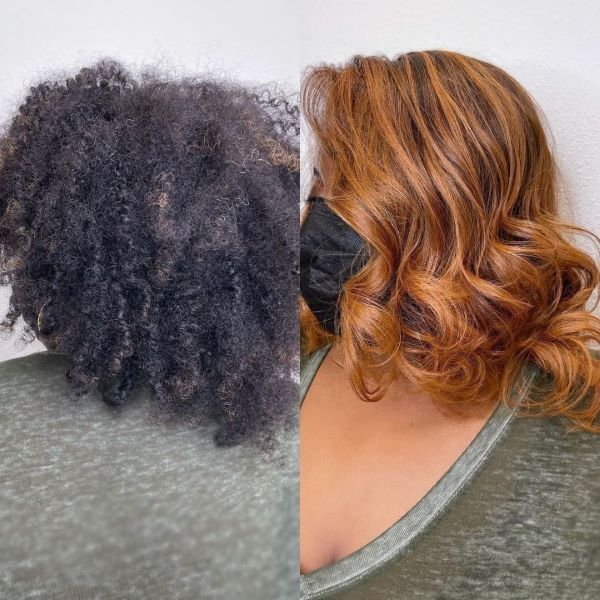 The end of year holiday rush is upon us, and to help you prepare for your back-to-back appointments, we've rounded up this winter's latest color trends, complete withformulasto help get the perfect look. Whether your client is looking the perfect autumnal Thanksgiving shade or a complete hair transformation to ring in the new year, these winter ready colorsare the perfect inspiration for the holiday season.
Our advice: No matter what level you're taking your client to, be sure to use the right products to protect their hair. While we always recommend the nourishing Acidic Bonding Concentrate treatment for those undergoing lightening services, be sure to stock up on the must have color duo this holiday season Shades EQ Bonder Inside and Flash Lift Bonder Inside Lightener.
An all-in-one toner and bonder, Shades EQ Bonder Inside is everything you love about Shades EQ Gloss with a bonus. To help with the residual alkalinity left on hair after lightening services, this gloss helps strengthen sensitized hair bonds, even porosity and pH levels, and conditions hair. For maximum protection, pair with Flash Lift Bonder Inside Lightener—our lightening powder with a built-in bonder. To help give your clients all the added protection possible during this hectic holiday season, all color formulas below have been created with our beloved Shades EQ Bonder Inside or Shades EQ Gloss and Flash Lift Bonder Inside Lightener.
TONED DOWN GOLDEN BLONDE
For clients looking to refresh their blonde or go lighter during the winters months, it's the perfect time to try this warm, toned down blonde. Achieved by pairing warmer hued highlights with chocolate lowlights, the golden blonde shade creates dimension on all types of hair. Especially perfect for those looking to go lighter, Shades EQ Bonder Inside will ensure strong, protected hair after lightening services. See some of our favorite toned down blonde formulas below.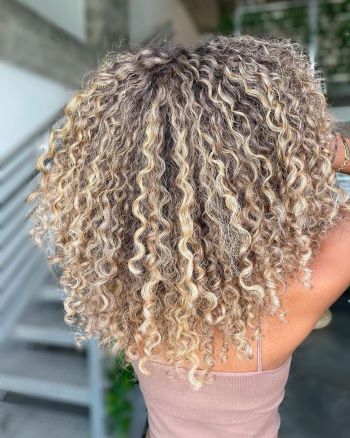 Curl expert @Beeblondor's golden transformation adds depth and dimension to these lived in curls. To protect her client's dark textured hair, she lifted the with Flash Lift Bonder Inside and finished with a Shades EQ Bonder Inside formula for maximum protection.
Formula:
Lifted with Flash Lift Bonder Inside
Shades EQ Bonder Inside 010N + 010GI + 010V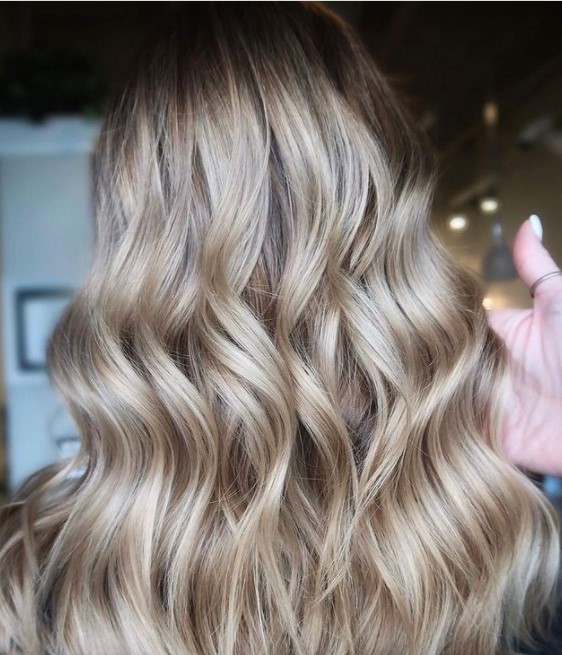 Using one of the newest Shades EQ Bonder Inside shades, @denisdesuzanne_shows how to add depth with even the simplest of formulas. This glossy light blonde showcases the beauty of 010NB Caramel shade and the added shine provided by the new bonding formula.
Formula:
Shades EQ Bonder Inside 010NB Caramel Cloud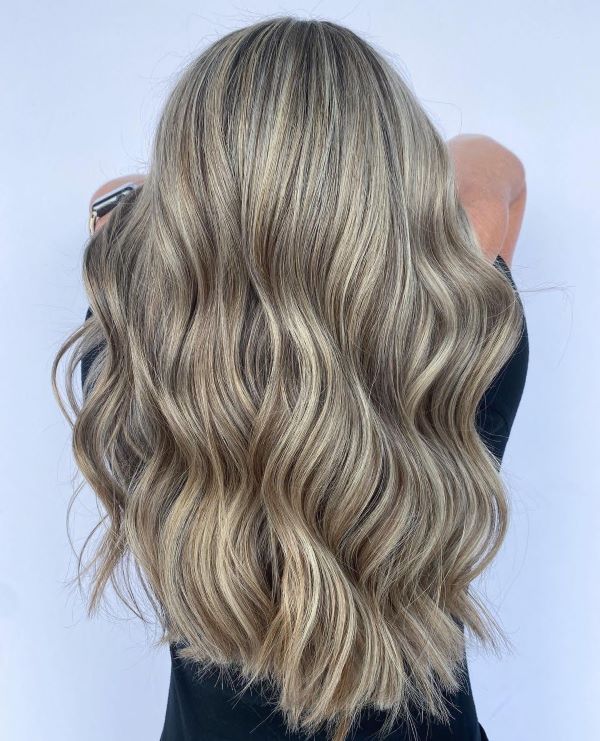 Another take on the toned down blonde, this blended balayage by @Hannahjeanbeauty allows for an easy grow out. Give your clients more time to enjoy family and friends this holiday season balayage only needs to be retouched every 8-12 weeks, requiring less frequent maintenance then traditional highlights.
Formula:
Shades EQ Bonder Inside 09T Chrome + 010T Platinum to tone
COPPER HAIR
The color of the moment seems to be extending into every season. While copper first blew up last spring, the varying shades and tones has made it one of the most desirable colors of the year. Characterized by warm and rich hues, copper is the standout color among the red family for this winter. Whether your client's undertones work better with cool-toned orange shades or deep reds, the depth allows this color to pop on all hair types and textures.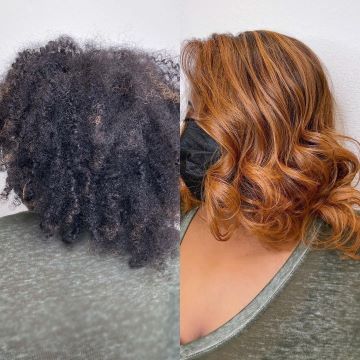 @Rachel_redd created this stunning deep copper transformation on her client's beautiful textured hair.
Formula:
Shades EQ Gloss 06AA Bonfire + 06GG Midas Touch +07N Mirage + Orange Kicker + 000 Crystal Clear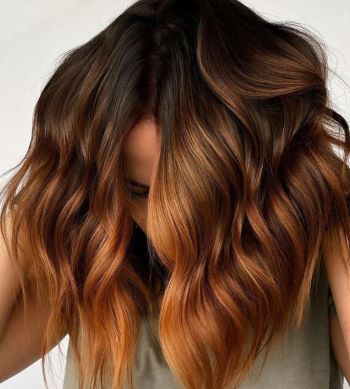 @Live_love_dohair's beautiful autumnal creation is the perfect hair color for this year's Thanksgiving celebrations. By blending with dark roots, the copper color pops and allows for a more natural grow out.
Formula:
Root Smudge: Shades EQ Gloss 04NB Maple
Global Gloss: Shades EQ Gloss 06RB
Cherry Cola + 06R Rocket Fire + 07CC Urban Fever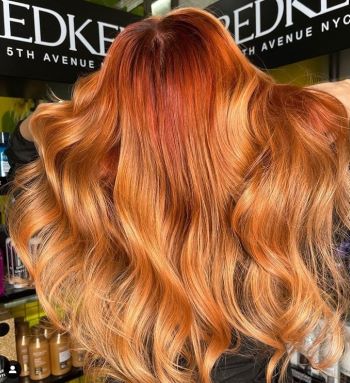 This bright and stunning copper created by @StyledbyClaireLouise_Blow is perfect for those looking more for orange hues.
Formula:
Lightening with Flash Lift Bonder Inside + Pro-Oxide Cream Developer 20 volume
Zone 1: Shades EQ Gloss 06R Rocket Fire
Zones 2 + 3: Pastel Peach
DARK CHOCOLATE:
There's no better time to go dark than winter, and many of your clients will be looking to you to find the perfect shade. Consider this rich, chocolate brown when looking for a dark brunette color. Whether your client is looking to add a light ombre or wants a solid brunette color, this dark base is our go-to color this holiday season.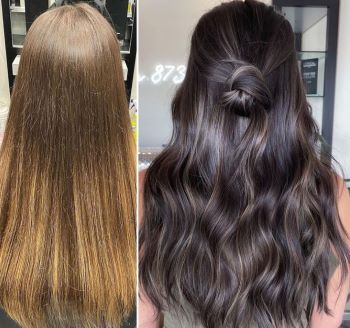 This brunette transformation by @hairbyshannonmckewis a dream. Using a reverse balayage technique and subtle teasy lights, she took her natural level 6 client to this multidimensional, dark chocolate shade. The best part? She shared her delicious formula below.
Formula:
Teasylights: Flash Lift + Pro-oxide Cream Developer 20 Volume
Zone 1: Shades EQ Gloss 04NA Storm Cloud + 03N Espresso
Lowlights: Shades EQ Gloss 04N Chicory + 04NA Storm Cloud
Global Gloss: Shades EQ Gloss 09M Sand Dunes + 07M Driftwood + 08T Silver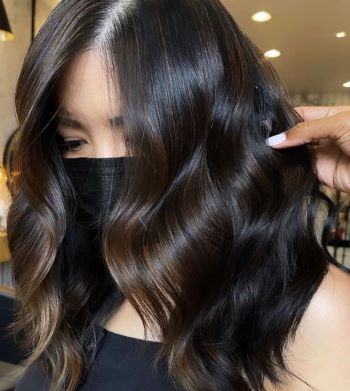 This classic chocolate brown shade is one of the reasons we fell in love with these hues. For this transformation, @Brooklynhairstook her client to a level 7 before using the Shades EQ Gloss formula below to
Formula:
Shades EQ Gloss 06GN Moss + 07N Mirage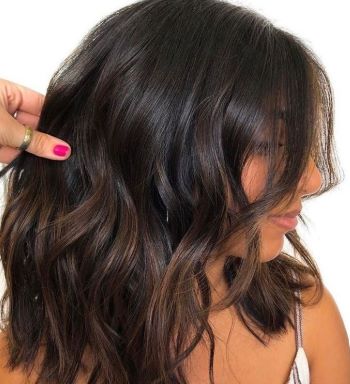 For clients looking for a rich, deep rich brunette shade try this formula by @faith_hairstylist. With hints of caramel, this dark chocolate color is an elevated take on the classic winter color.
Root Smudge: Shades EQ Gloss 04N Chicory
Mids and ends: Shades EQ Gloss 1 oz 06NB Brandy + ½ oz 06WG Mango + ¼ oz 07V
Crushed Amethyst + ½ oz 000 Crystal Clear
About Expert
Discover expert advice from Redken and the industry's most trusted artists and educators. Whether it's the latest, on-trend techniques or tips that will boost your business, they're here to make sure you reach your full potential!
up next
Build Your Business With Color Gels Oils
Build Your Business With Color Gels Oils
Written by 
Redken Team
Sep 21, 2023
Read time 5 min