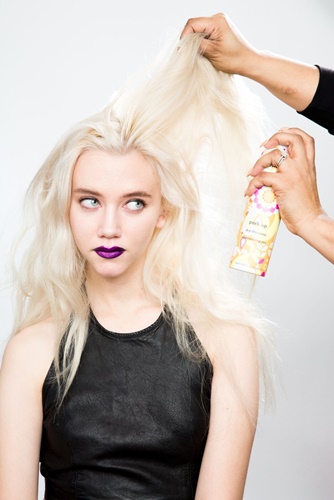 Is there a more versatile, multi-tasking, workhorse of a product than dry shampoo? Both stylists and clients will likely agree on this hero product's style-saving abilities. And while the older generation of dry shampoos contained talc, cornstarch and even fuller's earth clay―a naturally occurring substance commonly found in kitty litter―today's latest formulations and delivery systems are far more technologically advanced and capable of doing much more than just soaking up oil and grease. They're stylers and color extenders, curly hair saviors and wedding day hair go-tos. "It's an absolute must for bridal stylists," says Christina Carlsson, an Amika Pro Educator and salon owner. "You never know what type of hair you'll encounter on someone's big day and dry shampoo helps stylists be prepared for almost anything." Here, a quick reference of the different types of dry shampoos currently on the market, ready to take a coveted spot or two in your styling arsenal.
Dry Shampoo Spray
Dry shampoo sprays are the most user-friendly for a wide variety of different hair types according to Carlsson. "They can be easily layered to your desired result whether it's for building extra volume or creating a refreshed, clean sensation." And newer versions contain tinted formulas which are suitable for color-treated and darker strands.
Ones To Try:
Redken Pillow Proof Blow Dry Two Day Extender Dry Shampoo
Pulp Riot Berlin Dry Shampoo
Surface Trinity Dry Shampoo
Verb Light & Dark Dry Shampoos
UniqOne Dry Shampoo
Moroccanoil Dry Shampoo Light/Dark Tones

Dry Shampoo Powder
Loose powder is perfect for creating volume in finer hair types. It's more concentrated than its spray counterpart so just a little goes a long way. Plus, it can be distributed exactly where you want as opposed to applying from 6-8 inches away as with a spray.
Ones To Try:
Verb Dry Shampoo

Dry Shampoo Powder Spray
The breakthrough delivery system on these powder sprays allows for targeted, customizable, mess-free application. Sprayed on roots, not on scalp, powder sprays easily add texture and volume while absorbing excess oil and impurities.
Ones To Try:
Alterna Caviar Anti-Aging Sheer Dry Shampoo
Amika Vandal Volume Powder Spray
Healthy Sexy Hair Hair Laundry Dry Shampoo Spray

Dry Shampoo Foam
Lighter in texture than traditional dry shampoos, foams leave hair softer and less matte. "They're great for cleansing thick hair," says Carlsson, and the powderless formulation doesn't leave behind an ugly white residue on darker locks.
Ones To Try:
Amika Phantom Dry Shampoo Foam

Dry Shampoo Blotting Tissues
Super portable and perfect for on-the-go touch ups, dry shampoo blotting tissues are the newest iteration in the category. They're infused with oil absorbers to spot clean without disturbing the rest of hair.
Ones To Try:
IGK Swipe Up Charcoal Dry Shampoo Hair Blotting Tissues
Photography: Courtesy of Amika
About Expert
Maureen is a veteran beauty and style editor having worked at AmericanSalon, Woman's Day, People StyleWatch and Teen Vogue, and a contributor for CR Fashion Book, Well + Good, Elite Daily and Glam. You can find her reporting on the latest trends from backstage at New York Fashion Week, interviewing celebrities and beauty industry heavyweights, and fashion styling for editorial photo shoots. The self-professed product junkie, super foodie and wannabe hand model is obsessed with rose gold jewelry, the NYC Flower Market and planning her next big getaway.