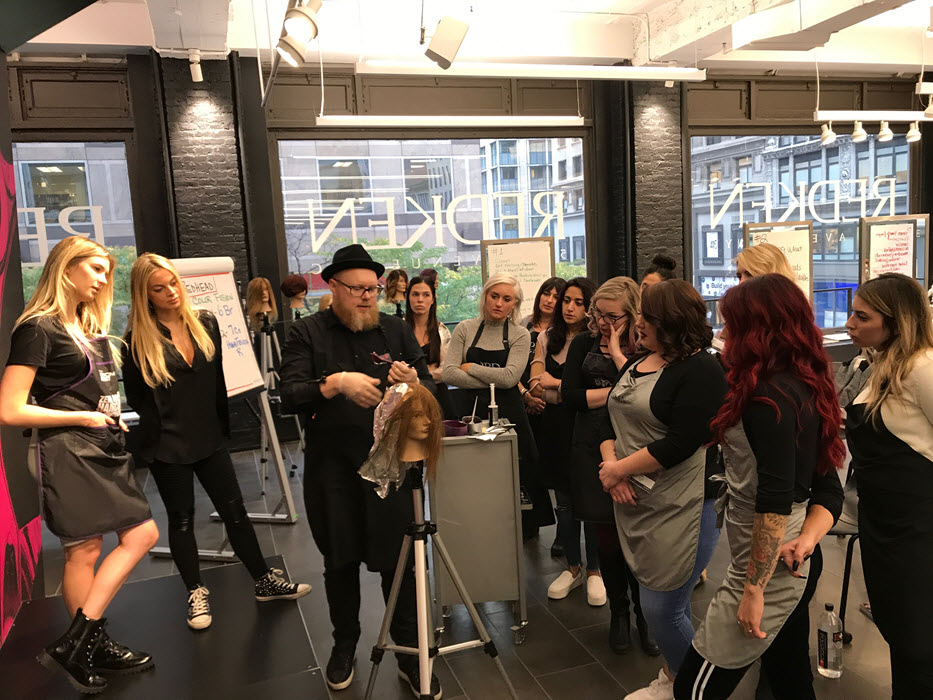 Which is better—curling up with a cup of your favorite tea and your phone to watch a balayage demo in your living room or joining colleagues in a live balayage class with a seasoned instructor? Turns out, it's both, according to education experts from
Matrix
,
Redken
and
L'Oréal Professionnel
.
"We love digital education at
Redken
because we can get quick tips, product knowledge and inspiration, anytime, anywhere," says Redken VP of Education Sheri Doss. "Yet as stylists, we like to touch, feel and play with products and with hair, so hands-on education is also extremely important. Both are essential in the development of a career."
So how do you blend the two? According to Matrix VP of Education Martin Dale, it's all about pre-learning, live education and post-learning. For example, let's say you want to improve your cutting skills. First, visit the new online digital learning platform called ACCESS, launching in early 2019 across all L'Oréal Professional Products Division brands to begin learning some cutting basics. Or, visit your favorite brand's website, where you can find loads of digital tips and knowledge refreshes. Then, sign up for one of your brand's cutting classes, at a location near you, or at their main academy. Afterwards, revisit ACCESS, or your digital destination, to expand and reinforce your new cutting skills. This method, believes Travis Parker, L'Oréal Professionnel Artist and owner of Travis Parker Salon, is the most effective way to learn. "ACCESS will support online learning as well as a blended learning experience," Parker explains. "And we appreciate the benefits of a digital platform for its ability to provide us with endless content. But we still need to understand the 'why' and the meaning in what we're learning. A teacher can deliver the information in the way you learn best, so you find that meaning."
Finally, don't rule out multi-session educational events, like the biennial
Redken Symposium
, taking place January 22-29, 2019 in Las Vegas. The program includes 32 classes and panels, as well as three hands-on sessions led by world-renowned Global Ambassadors. Now that's how you kickstart your education for the new year.
Photo Credit: Getty Images