Clients are ditching full coverage color and embracing their natural gray tones by opting for the latest trend in gray coverage: Gray Blending. Like the balayage technique, stylists are creating a graduated, natural-looking effect using tones of silver with complementary shades of color. The result is a seamless and multidimensional transition, perfect for clients wanting a low-maintenance style.
Stylists can own this trend by offering dedicated services for their loyal gray coverage clients using products formulated for the gray blending technique. Discover a step-by-step breakdown from Celebrity Hair Colorist, Jack Martin (@jackmartincolorist), on how to create the gray blending transformation using the Matrix Silver Lining Service Kit.
Silver Lining is suitable for clients who are anywhere from 50 to 100 percent gray – it's an artistic service that requires the stylist to match the hair's natural gray tones with lowlights and toner. It's a one-day solution to the historically painful process of growing out color-treated gray hair.
- Jack Martin
The Silver Lining Service in Three Steps:
Lift to remove previous color.
Tone overall for a stunning silver.
Lowlight for envious dimension.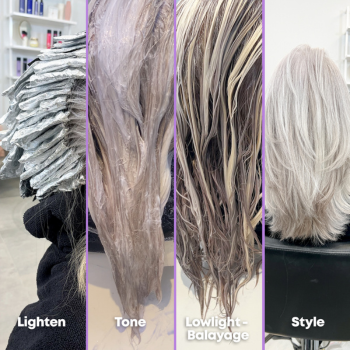 Pro Tip: After the initial transformation, pre-book clients so they can come back for a tone refresh and gloss service every six weeks, as well as for a lowlight refresh every three months.
Jack Martin's Favorite Matrix Products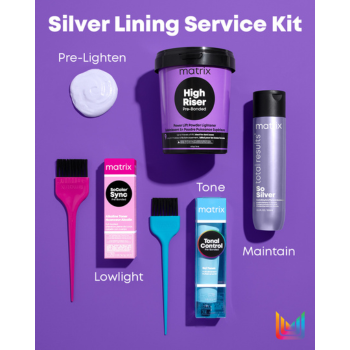 Clients with gray hair need maximum protection, which is why using lightener and color that is pre-mixed with bonder inside is key to maintaining and strengthening hair bonds. To lift, Martin uses Matrix High Riser Pre-Bonded Level 9 Lightener, as it delivers a powerful lift and protection.
Martin follows by toning with the four newest Matrix Tonal Control Pre-Bonded Acidic Gel-Cream Toner shades with Pearl and Titanium reflects: 10P Pearl Power, 8P Mother Pearl, 10T Chrome + Collected, and 8T Slay in Silver.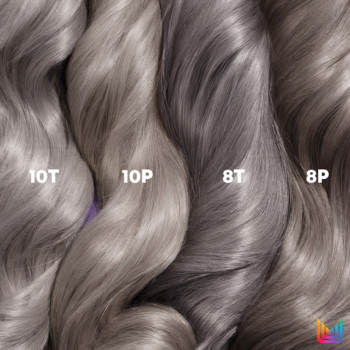 With these Tonal Control shades, a client's natural gray regrowth is recreated so they no longer have to go through the painful process of growing out their hair for 12 months or more. It's really an impactful transformation. Clients then leave the chair feeling happy, beautiful, and most importantly, empowered.
- Jack Martin
To add dimension and mimic the natural highs and lows of gray hair, Martin recommends the newest SoColor Sync Pre-Bonded Alkaline Toner shades available in deeper-level Pearl and Titanium reflects: 6P, 4P, 6T, and 4T. The shade 10NV comes in an alkaline base and is ideal for pre-toning unwanted warmth from the hair.
Martin finishes by sending each client home with a customized haircare regimen to protect and maintain their new color transformation.
Here are some of Jack's favorites: