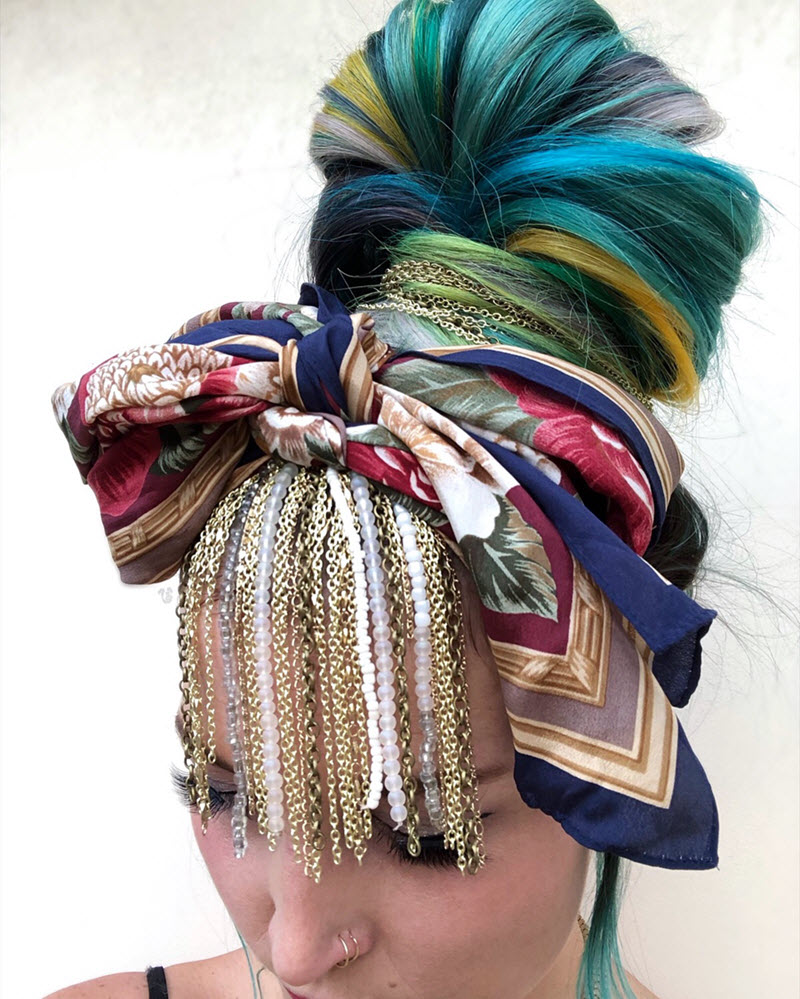 Let the festival hair games begin! It's that time of year again where Coachella, Lollapalooza, Bonaroo, Governor's Ball and Glastonbury flood your feeds with nonstop, double tap-worthy looks. With eye-catching, creative hairstyles keeping heads turning and the camera lenses snapping, there's no shortage of inspo. We're catching up with the artists on the front lines of festival hair, all season long.

Liz Cordis @liz.colors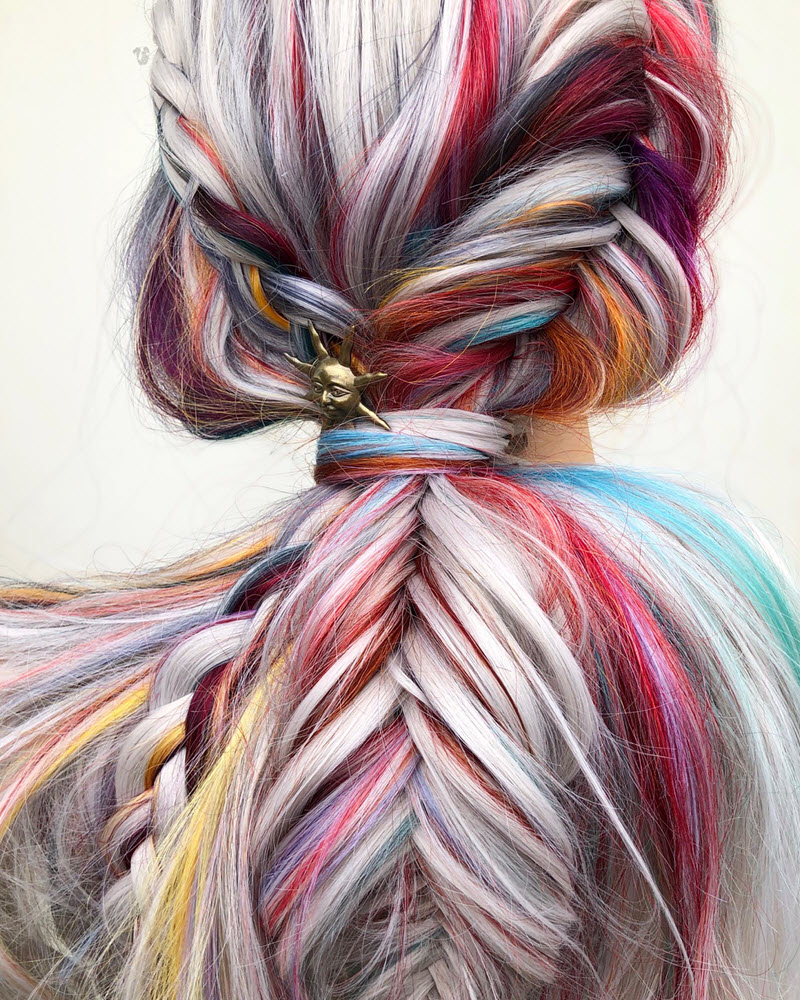 Photography: Courtesy of Liz Cordis/ @liz.colors
Trends To Watch
One of the two trends I think we're going to be seeing a lot of this festival season is chain accessories. There are so many ways to add chains into the hair. Whether braiding them in or wrapping them, the possibilities are endless. The second trend I think we'll be seeing is a lot of is colorful braids. But let's be real. It's been a popular thing with festival hair for so long, and it's not leaving anytime soon. Multiple clients of mine have come to me for their rainbow hair before taking off to Coachella. The best line for this pastel, neon, or super pigmented colorful looks is
Pulp Riot
, in my opinion. The client can really get the most bang for their buck when using
Pulp Riot
, since it fades true to tone. You basically get a few colors for the price of one as you're enjoying the fading process.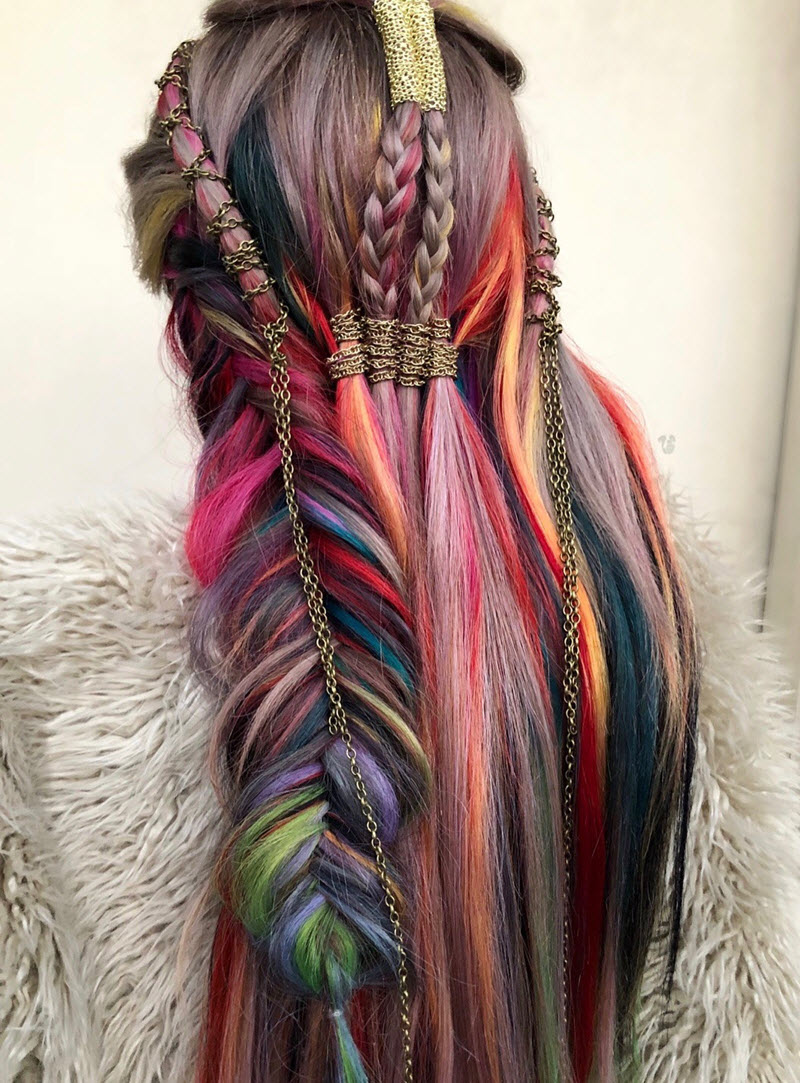 Photography: Courtesy of Liz Cordis/ @liz.colors

Favorite Festival Look Ever
My favorite festival look I've done is probably this chain braided look paired with such a unique color. The color was created initially using Pulp Riot's permanent line,
FACTION8
. Then I clipped in some extensions that were colored with
Pulp Riot semi-permanents
for extra pop and interest. I used the
Undone Texture Spray by amika
to give it a bit of texture before starting the braids. Then after braiding, I used
Design.Me Hair Puff.ME
powder for more texture while I was doing final touches on the look.

Get The Look
1. Start with a two-strand infinity braid created with a chain. Wrap the chain around two sections of hair in a tight figure 8 pattern. When you run out of chain, pin to secure.
2. With the remaining ends of the hair in those two sections, braid into classic three-strand braids. Close those off with clear elastics.
3. With those two braids, pick up two additional sections and create a four-strand infinity braid with a second chain. Wrap the chain over, under, over, under, back and forth around your four sections.
4. Around halfway down, add a section of hair to either side. When you run out of chain, pin to secure.
5. Take a section of hair on one side, and wrap a third chain around it, mindfully creating an X pattern with it.
6. As you work your way down, pick up hair and add it to the section on either side.
7. Tie the chain off in a visible double knot, and pin it underneath to secure. Leave the chain longer this time so it can drape through the style.
8. Repeat on opposite side.
9. Finally, add a fishtail braid on one side under your X-wrapped chain section. Pull the fishtail apart every so often to create a fuller, fluffier braid.
Pro Tip
If you wait until the very end to loosen up segments of the braid, it gets much harder so fluff it up as you go along.
Photography: Courtesy of Liz Cordis/ @liz.colors
About Expert
Maureen is a veteran beauty and style editor having worked at AmericanSalon, Woman's Day, People StyleWatch and Teen Vogue, and a contributor for CR Fashion Book, Well + Good, Elite Daily and Glam. You can find her reporting on the latest trends from backstage at New York Fashion Week, interviewing celebrities and beauty industry heavyweights, and fashion styling for editorial photo shoots. The self-professed product junkie, super foodie and wannabe hand model is obsessed with rose gold jewelry, the NYC Flower Market and planning her next big getaway.