Let the festival hair games begin! It's that time of year again where Coachella, Lollapalooza, Bonaroo, Governor's Ball and Glastonbury flood your feeds with nonstop, double tap-worthy looks. With eye-catching, creative hairstyles keeping heads turning and the camera lenses snapping, there's no shortage of inspo. We're catching up with the artists on the front lines of festival hair, all season long.

Amanda Fator (@amandafator)
Sexy Hair Platform Artist
Photography: Courtesy of Amanda Fator/@amandafator

Trends To Watch
Two trends everyone should be looking out for are decorated, high ponytails and braids embellished with metallic thread.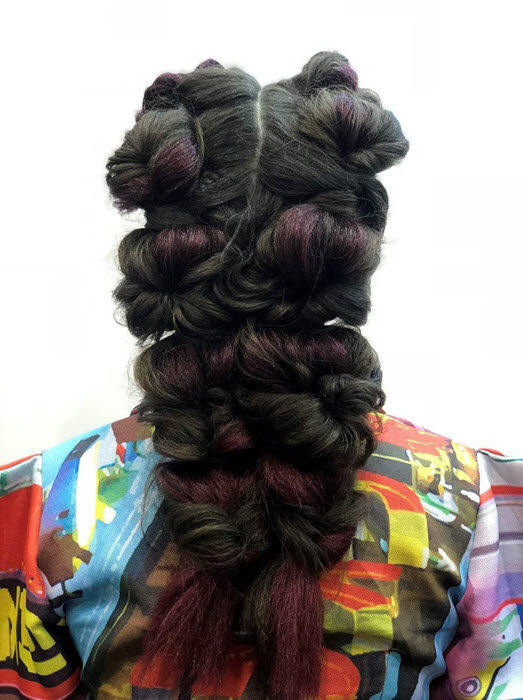 Photography: Courtesy of Amanda Fator/@amandafator

Favorite Festival Look Ever
My all-time favorite festival look is this "topsy" pony.

Get The Look
1. Prepare the hair by spraying
Hot Sexy Hair Protect Me
throughout.
2. Crimp from roots to ends with
Sexy Hair's Texture Lock Pro Ceramic Crimper
.
3. Divide the hair in half down the center from front to back. Starting on one side at the front hairline, create a small section approximately 2'' from the hairline and secure with an elastic.
4. Take a large piece of brightly colored synthetic hair and secure the middle of the strand onto the same elastic near the hairline.
5. Pull the elastic back slightly to create space to loop the ponytail up and through the hair on top of the elastic, creating a "topsy" ponytail.
6. Puff
Big Sexy Hair Powder Play Lite
into the section and expand, exposing the brightly colored hair.
7. Repeat this all the way down to the ends and secure with an elastic, then repeat on the opposite side.
8. Finish with
Healthy Sexy Hair So Touchable Hairspray
for a soft but secure finish.
Photography: Courtesy of Amanda Fator/@amandafator
About Expert
Maureen is a veteran beauty and style editor having worked at AmericanSalon, Woman's Day, People StyleWatch and Teen Vogue, and a contributor for CR Fashion Book, Well + Good, Elite Daily and Glam. You can find her reporting on the latest trends from backstage at New York Fashion Week, interviewing celebrities and beauty industry heavyweights, and fashion styling for editorial photo shoots. The self-professed product junkie, super foodie and wannabe hand model is obsessed with rose gold jewelry, the NYC Flower Market and planning her next big getaway.