Source: Courtesy of AIIR
As featured in SalonCentric's 2022 Holiday Lookbook, learn how to get this look by AIIR Artist Team, Samantha Lindsay (@samlindsayartistry), Lauren Wohlin (@l.a.dub), Samantha Lindsay (@samlindsayartistry), Alexandria Burkfield (@zandriadreamsbig), Mack Weaver (@mackweaver_), Justin Proctor (@justinproctor_).
Products Used: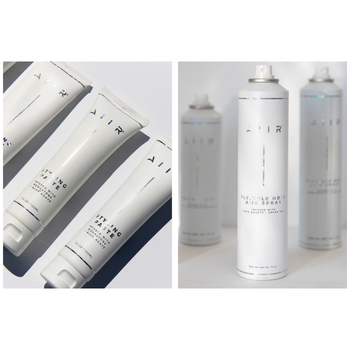 Step-By-Step:
Step 1: Gather the hair into a ponytail at the base of the neck. Leave two front sections out. Use AIIR Styling Paste to smooth away any flyaways.
Step 2: When securing the hair elastic, do not pull the hair all the way through. This will create a low bun.
Step 3: Take the hair remaining at the bottom of the bun and divide it into two sections.
Step 4: Next, secure this hair with a small elastic at the top of the first elastic-leave space in between the two elastics so that a hole is created.
Step 5: Now turn the hole you created into a figure eight.
Step 6: Stick the bun through the figure eight and secure the hair with a bobby pin.
Step 7: Finish off the look and give it lasting hold with AIIR Flexible Hold AIIR Spray.
About Expert
Discover expert advice from SalonCentric and the industry's most trusted artists and educators. Whether it's the latest, on-trend techniques or tips that will boost your business, they're here to make sure you reach your full potential!
up next
Hair Stories Episode 6: Multicultural Hair Care For Kids
Hair Stories Episode 6: Multicultural Hair Care For Kids
Written by 
SalonCentric Team
Sep 16, 2023
Read time  min