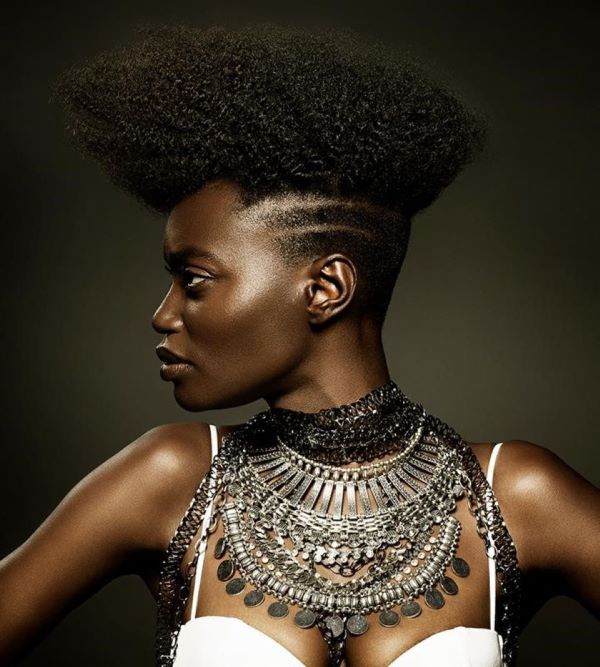 Photographer: Richard Monsieurs
Step-by-Step
Shampoo hair using Mizani Clarifying Shampoo to cleanse hair and scalp of any previous oil and debris.

Then shampoo using Mizani Thermasmooth Shampoo. Towel dry.

Apply Thermasmooth Conditioner to the hair and scalp letting conditioner sit for 13 minutes in the plastic cap.

Rinse off conditioner and apply Mizani 25 Mircle Milk Leave-In Conditioner.

Detangle hair using a paddle brush from the ends to the roots.

Apply two pumps of Mizani Thermasmooth Smooth Guard to hair while it's wet or damp.

Pre-stretch the hair using a blow dryer. Hold hair in the direction you want it to go and stretch the hair with the blow dryer and comb attachment.

When dry, spray two pumps of Mizani Thermasmooth Shine Extend Spritz.

Create a dime-sized organic part, and use a pencil-sized Marcel iron wrapping the full length of hair around the iron counterclockwise. Hold for approximately six seconds.

After six seconds, slide the hair off the curling iron and let it cool.

Repeat steps eight and nine until all the hair is curled.

Once all hair is curled, run your fingers through the roots to break up the parting in the scalp.

Take a styling pick and lift the hair one to two inches from the scalp until you create volume at the root.

Do not disturb the mid-shaft to ends of curls.

Spray Mizani HRM and Mizani Lived-In Texture Spray to create the foundation.

Finish with Mizani HD Shine for sheen.
Products Used
Mizani Lived-In Texture Spray

Mizani Humidity Resistance Mist

Mizani Thermasmooth Shampoo and Conditioner
Pro Tip
Spray Mizani Lived-In Texture Spray and backcomb the hair to create more volume.
About Expert
Discover expert advice from SalonCentric and the industry's most trusted artists and educators. Whether it's the latest, on-trend techniques or tips that will boost your business, they're here to make sure you reach your full potential!
up next
Hair Stories Episode 6: Multicultural Hair Care For Kids
Hair Stories Episode 6: Multicultural Hair Care For Kids
Written by 
SalonCentric Team
Sep 16, 2023
Read time  min